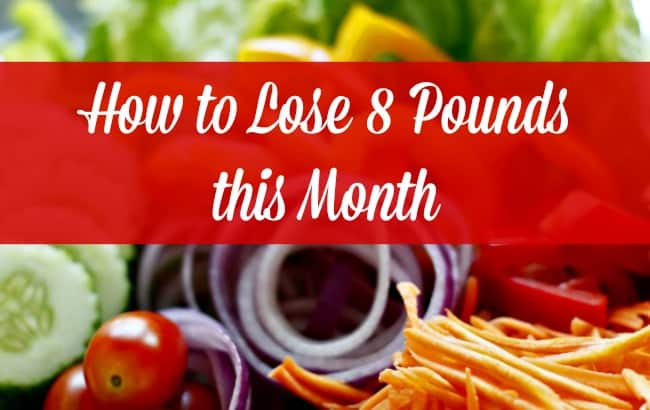 Do you want to lose 8 pounds this month? Have you gained some weight over the past few years? Do you feel frustrated with the way you look and feel? Do you need to lose 10 or 20 or 30 pounds?
If so, I know exactly how you feel. I've been at the point of needing to lose 10 or so pounds – and not being able to do it – for a long time. It's so frustrating! I had lost 8 pounds at the beginning of the year – but stay at home, work from home, and COVID stress have put me right back where I started! Can you relate?
Clearly, losing weight isn't easy. It takes a fair amount of time and effort, plus the right eating plan, to make it happen. And you don't have much time or energy to devote to it – as a busy wife and mom, your schedule is already full. (Includes affiliate links)
But if you're like me, you really, really want to lose 8 pounds this month!
If you're experiencing the frustration of wanting to lose weight, get healthier, and feel great – but haven't been able to do it – then I have a 4-week weight loss program for you.
It's designed to avoid the frustration of previous weight loss efforts by helping you make the very best use of the time and energy you do have and helping you lose 8-10 pounds in about 4 four weeks.
This plan helps your body get out of the cycle of craving high-carbohydrate foods (sugar, bread, pasta, baked goods, etc.) It's designed to reduce your intake of sugar and carbohydrates and to increase healthy foods that help minimize carbohydrate cravings – primarily vegetables, lean protein and healthy fats, plus some complex carbohydrates.
(Also be sure to check out How to Lose 8 Pounds this Month, Part 2 – Success Strategies.)
Here are the 7 steps you'll take to follow this weight loss plan:
• Eat a lot of these – Eat vegetables, protein and healthy fats at every meal.
• Eat very little or none of these in Week 1 – eat no or one serving (1/2 cup) per day of complex carbohydrates. Don't eat any other foods that are primarily carbohydrates (bread, pasta, cereal, sweets, etc.)
• Eat a little of these in Weeks 2-4 – eat one or two servings per day of complex carbohydrates per day; one can be a serving of fruit. Don't eat any other foods that are primarily carbohydrates.
• Drink – Drink lots of water throughout the day. This can include some tea and coffee, without sugar or artificial sweeteners.
• Avoid junk – Don't eat junk food, processed food and most restaurant food.
• Avoid sugar – Don't eat sugar or foods with added sugar.
• Don't drink – Don't drink sodas (including diet), alcohol, fruit juices, or any drinks with added sugar.
Examples of the kinds of foods you'll eat on this diet include:
• Vegetables – tomatoes, peppers, lettuce, onions, celery, carrots, zucchini, squash, mushrooms, green beans, sugar snap peas, leafy greens, broccoli. Eat lots of vegetables!
• Protein – chicken, lean beef, fish, eggs, plain 1% or 2% Greek yogurt, 1% or 2% milk
• Healthy fats – olive oil, avocado, coconut oil, nuts. Include a moderate amount in every meal but be aware of how much you're eating, because fats are important for weight loss but are also high in calories.
• Complex carbohydrates –brown rice, quinoa, legumes, sweet potato, whole wheat pasta
• Fruits – Optional, 1 serving per day in Weeks 2-4
You can also download a printable Example Foods List here.
I'll be honest – this kind of diet isn't easy to follow at first, especially if you're like me and love carbohydrates.
In fact, if you've been eating a lot of high-carbohydrate foods, you may feel bad for the first few days. When I started eating this way, I felt tired, headachy and generally "off" for about four days. After that, though, I felt great.
If you do feel bad during the first few days, you can add a bit more complex carbohydrates. If you feel okay but not great, try to stick with the plan and see if you feel better within a day or two. (See the Getting Started section below for another way to make the diet a bit easier.)  And of course, if you have any health problems, talk to your doctor before starting this or any weight loss plan.
Eating a diet that emphasizes vegetables, protein and healthy fat, and avoids most carbohydrates, is a big change for many women. And if you've relied on foods like pasta, rice and bread as staples in your diet, you can end up wondering what in the world to eat. To help you start making that change, here are a few meals ideas:
Meal ideas for Week 1
Scrambled eggs or omelet with sautéed vegetables
Salad with grilled chicken and a vinegar-olive oil dressing (I make a big batch of that dressing in this shaker every week.)
Grilled fish with vegetables sautéed in olive oil
Shredded beef or chicken with a large salad with olive olive oil-vinegar dressing (cook a big batch of beef or chicken in your Crockpot or Instant Pot, use half now and freeze half for a super-busy day)
Chicken or beef stir fried with vegetables in olive oil
Baked chicken breast with vegetables roasted with olive oil
Spaghetti sauce with ground beef, served over spiralized zucchini "noodles" (this is the spiralizer I use)
Additional Meal ideas for Weeks 2-4
Plain Greek yogurt with unsweetened blueberries (or this easy breakfast bowl)
Grilled chicken breast, ½ sweet potato, salad with olive oil-vinegar dressing
Grilled salmon, ½ cup brown rice, vegetables roasted with olive oil
Chicken and vegetables in a small whole wheat pita bread, topped with olive oil-vinegar dressing
Chopped salad vegetables and avocado rolled up in a small whole wheat wrap or tortilla
 Getting Started
Several days before you start the eating plan, begin easing foods that aren't on the plan out of your diet, particularly if your diet is high in sugar or other carbohydrates. (In other words, if you're a huge carb lover like me!) Week 1 is a low-carb diet which, let's be honest, can be difficult to follow if you're used to a high-carb diet. So start decreasing high-carb foods, especially sugar, foods with added sugar, and "white" carbs, a few days before you begin the diet.
Remember that the goal in Week 1 is to eat vegetables, protein and healthy fats almost exclusively, if at all possible, with no more than one ½-cup serving of complex carbs per day. This approach should jump-start your weight loss and help your body break out of the sugar-carb craving cycle.
(But again, if that approach is too difficult or feels too bad, add small servings of whole grain, complex carbohydrates. Every woman's body is different, so you may need to experiment and see what amount of carbohydrates you can eat and still lose weight.)
Tomorrow, in How to Lose 8 Pounds this Month, Part 2, we'll talk about simple things you can do to set yourself up for success, what to expect during Week 1, and how to use "off plan" meals, beginning in Week 2, to stay motivated and keep yourself from feeling deprived.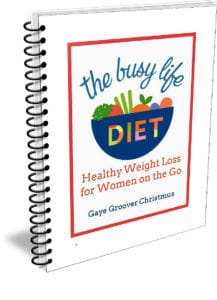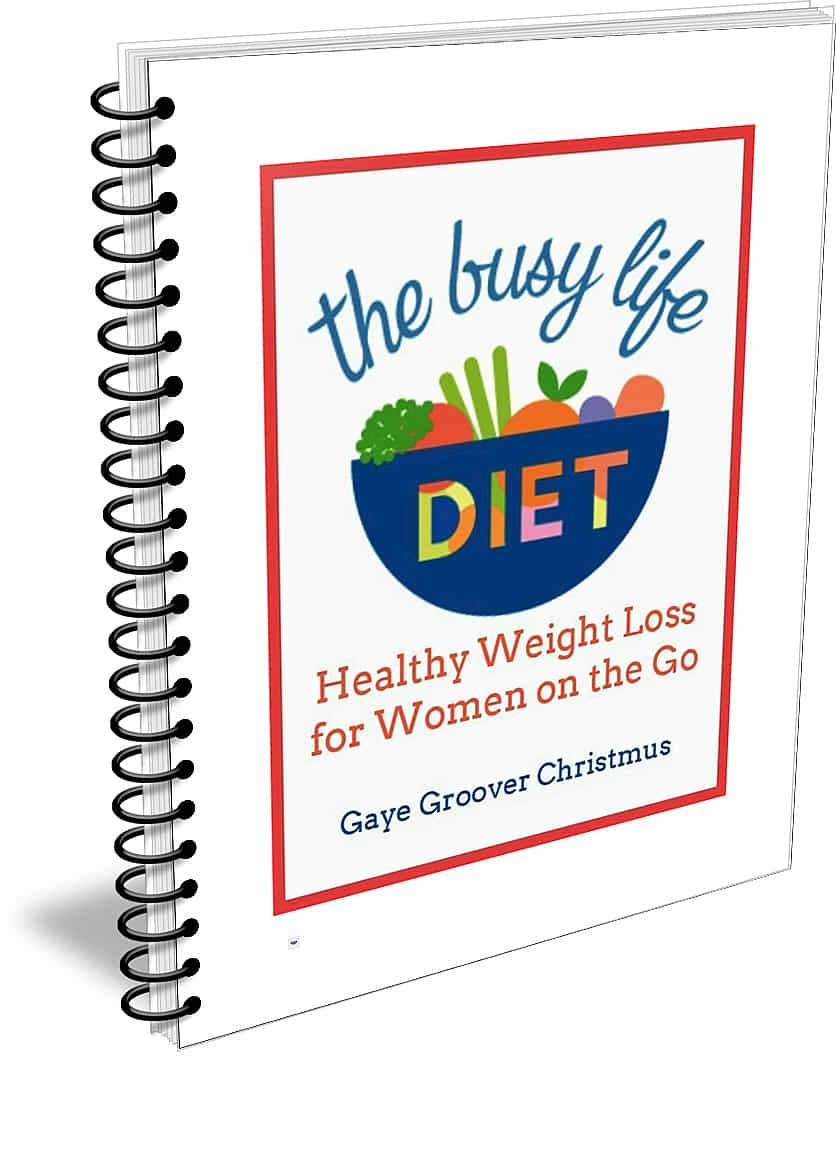 Want more help with losing weight? This 4-week eating plan is based on my ebook, The Busy Life Diet – Healthy Weight Loss for Women on the Go. The ebook includes a 6-step approach to losing weight, including how to establish a mindset for success, what to eat, how to exercise, and how to make the plan work in the midst of your busy schedule. It comes with a Quick Start Guide and access to a private Healthy Eating – Healthy Weight Facebook group.
I'd love for you to check it out or, if you have a question about it, comment below or send me an email (gc @ calmhealthysexy.com).
(Important note – If you have any kind of health or medical problem that could be affected by changing your diet or losing weight, talk to your doctor before beginning any weight loss program.)