2 Quick and Healthy Summer Meals – How to Save Time and Eat Well this Summer
If you're a busy wife and mom who's trying to serve healthy meals to her family, you've undoubtedly run into this problem – eating well takes more time! Which means that on many evenings, the drive-through window starts to look awfully attractive!
But that's not what you want, especially in the summer. When the weather's hot, and fresh fruits and vegetables are plentiful, quick and healthy summer meals look more attractive than fast food or packaged meals.
Which means that you need a plan, a way to organize and streamline your efforts, that lets you serve your family healthy meals without a hug investment of time and energy.
That's why I encourage you to try two strategies that have helped me get quick and healthy summer meals on the table in a reasonable amount of time – 1) use fresh, simple ingredients that require little or no preparation and 2) cook once, eat twice.
These simple strategies let you maximize your investment of time and energy in cooking. Rather than starting over every time your family needs to eat (which seems to happen with great regularity!), you do food prep and cooking tasks once, then reap the benefits of your efforts for two or three meals.
(Need more ideas? Check out our favorite weekend food prep tips and quick and healthy family dinners.)
If you want to give these strategies a try, here are two quick and healthy summer meals you can make this week with minimal effort time and effort.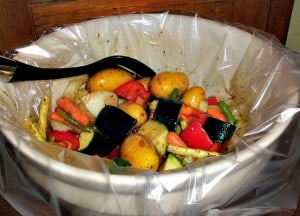 Grilled Chicken Breasts and Roasted Vegetables – Start with enough boneless, skinless chicken breasts to make two meals for your family. (If you like to have leftovers for lunch later in the week, add more chicken breasts.) Marinate them in the refrigerator in a simple, healthy marinade, like my Red Wine Vinegar Marinade or one of your favorites.
While they're marinating, cut enough fresh, seasonal vegetables to feed your family (plus more if you want leftovers) into chunks. Almost any combination of vegetables works – I like to use new potatoes, onions, green/red/yellow peppers, zucchini, yellow squash, asparagus, or baby carrots.
Then, while you have the cutting board, knife and vegetables out, cut up salad vegetables for tomorrow night's Salad with Grilled Chicken – yes, do it right now. This simple step – combining the prep for both meals – saves time and hassle.  Package the salad vegetables and refrigerate them.
In a large bowl, toss the vegetables with marinade or plain olive oil – just enough to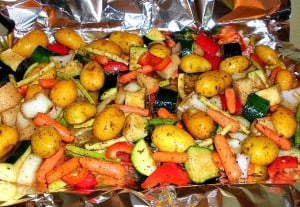 lightly coat them. (In the picture, you'll see that I sometimes line the bowl with a bag – because I like to make clean-up fast and easy!)   Line a large baking sheet with foil (again, to make clean-up easier) and lightly oil it.
Spread the vegetables on the pan and bake at 400 degrees for 30-40 minutes. Quick cooking vegetables, such as cherry tomatoes, mushrooms and thin asparagus, take less time and can be added after about 15 minutes. (If you prefer, you can grill the vegetables instead. Or get your husband to do it!)
Check for doneness using the slowest-cooking vegetable, usually the potatoes. While the vegetables cook, bake,  grill or sauté the chicken until fully cooked. Let the extra chicken you cooked (for another dinner and for lunches or leftovers) cool slightly, then package and refrigerate. Serve chicken with roasted vegetables for dinner.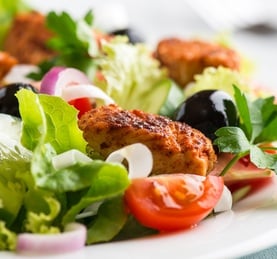 Salad with Chicken – Make a tossed salad that's large enough for every family member to have a dinner-size serving. Use the salad vegetables you cut up last night and any others you have on hand. Add other ingredients your family likes – such as olives, feta cheese, dried cranberries or nuts. Plate the salad. Slice the saved chicken breasts into strips or bite-size pieces and divide among the plates. Add your favorite homemade dressing. Serve with whole wheat rolls or crackers.
(For more quick and healthy meal ideas, download our free ebook – 24 Quick and Healthy Family Meals.)
What are your best tips for saving time and energy when cooking healthy meals? And what are your favorite quick and healthy summer meals? Please share them in the Comments – I would love to hear from you.