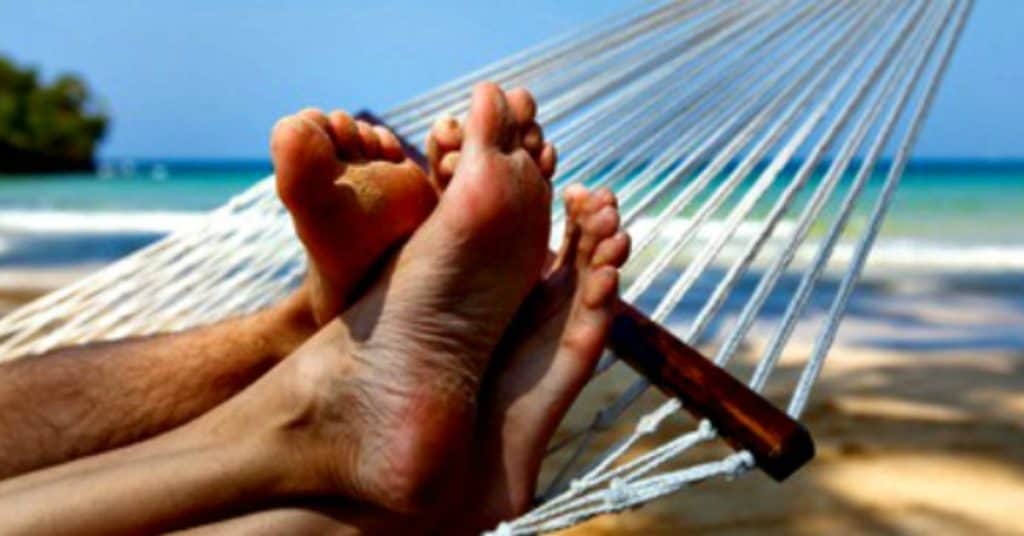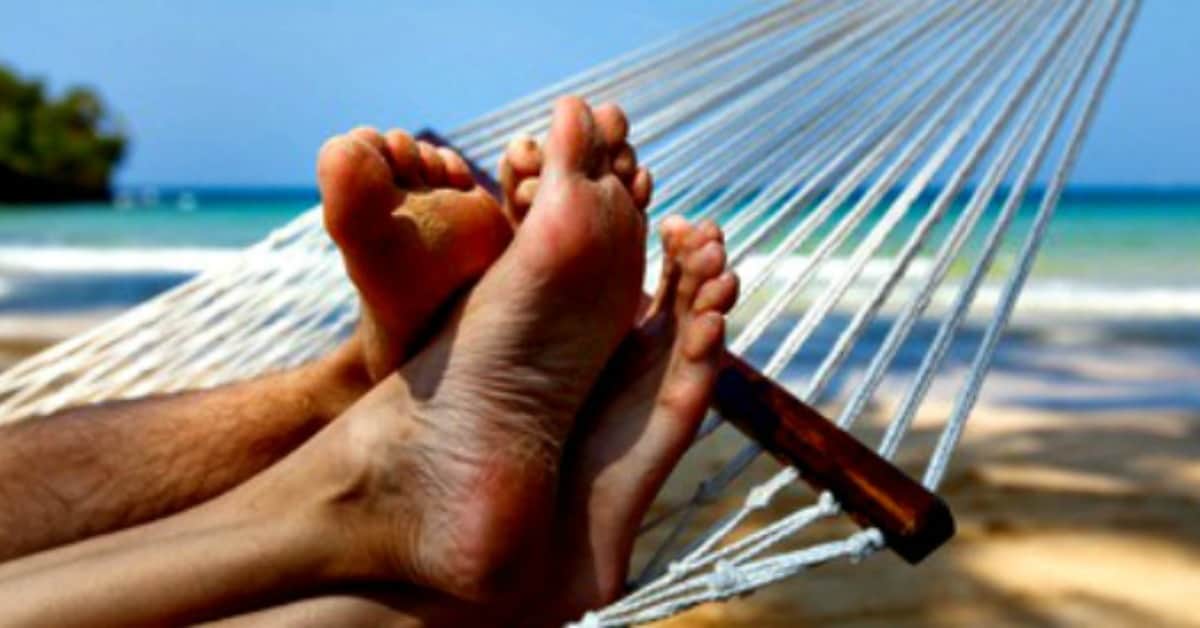 Summer is almost here, and it's time to start thinking about relaxing and having some fun. I'm looking forward to taking things easier and enjoying life a bit more this summer, and I hope you are too. I definitely need to slow down and take a break – and I'm certain that you do too!
I really believe that summer is the perfect time to let go of some of the responsibilities that keep us scrambling from September to May, and to embrace and focus on really enjoying our lives. And that includes figuring out some fun and sexy things to do with your spouse.
This summer, I'm challenging myself to enjoy spending time with my husband. I want to figure out some fun and sexy things to do with him, and then actually do them! And I want to take some time just to enjoy his company – to go out for a leisurely breakfast, drink a glass of wine together on the deck, take a nap and make love on a Sunday afternoon.
You know, the kind of things that are almost impossible to do when kids, jobs, volunteer work, committee meetings, and church activities are sucking up most of your time and energy!
If you'd love to relax and enjoy your husband's company a bit more this summer, here are some ideas to help you get started.
Fun and Sexy Things to Do with Your Spouse this Summer 
Set the Stage
• Make some space in your life. This one is the key to all the others! In order to add fun, healthy and sexy things to your summer, you'll need to let go of some things that aren't fun, healthy or sexy. Think about the activities that take up lots of your time and energy and decide to let go of one or more of them during the summer, in order to make some space in your life for having fun with your husband. (And be warned – you may need to let go of some of your children's activities in order to make this happen.) (This post contains affiliate links.)
And check out this article on managing your family's schedule. Although it focuses on the school year, you can apply the tips to summer too.
• Talk about it. Figure out what having fun together means to you, and tell your husband. Then ask what it means to him, and really listen to what he says. Then talk about ways to make a more enjoyable summer happen for both of you. Pick one or two things that would mean the most to each of you and commit to doing them.
• Arrange with friends or family members to trade child care. If you have young children, it's hard to find time to relax and unwind with your spouse. So make arrangements now to ask for help from family members or swap child care with other couples who also need some time to relax and have fun.
Have Fun
• Unwind together in the evenings. During the school year, most evenings require a "divide and conquer approach" in order to get everything done. But the lack of homework, school projects, and school activities in the summer reduces the demands on the family's time. So make a conscious effort to slow down and unwind together two or three evenings a week. Sit outside and talk, have a glass of wine, take a walk – whatever helps both of you feel relaxed and connected.
• Go to a movie without the kids. Pick a movie you'll both enjoy, and make an evening of it. Or, to save money, send the kids to a friend's house and watch a movie together at home. If you have young children you can do this after they go to bed. The key is to be intentional about making time to do it, putting away your devices, and enjoying the time together.
• Go swimming together without the kids. Swimming can be fun or sexy or romantic! See if you can identify a place where just the two of you could go swimming together – maybe a park, a lake or the ocean, a friend's house, the pool at your gym, or the adult night at a community pool.
• Go out for a leisurely meal. Dinner is always nice, but going out for breakfast is fun too and costs less. My husband and I went out for breakfast last Saturday, something we never do, then went to an estate sale to look around. It was simple and inexpensive, but a fun break from our normal work-hard-all-day Saturday routine. It doesn't have to be fancy or expensive. Again, the point is to be intentional about doing it and enjoying the time together.
• Go out for coffee or ice cream. You can hang out in the coffee shop or ice cream shop or at a nearby park. My husband and I like to get coffee or ice cream and then take a walk while enjoying it.
• Turn off the TV or computer. Decide to spend less time looking at screens and more time interacting with each other. Use that time to work on a project together or play a game. Or just lounge around together reading books.
• Take a picnic to a nearby park or lake. You can make it simple and basic (sandwiches and chips) or elaborate and romantic (strawberries and wine) or anything in between. Just get outside and relax and use the time to reconnect.
• Act like tourists in your own town or area. Visit a local tourist attraction that you've always wanted to visit, or take a tour and pretend to be out-of-town visitors.
• Get out of your comfort zone. Do something that's a little bit different or a bit more daring for you.
(Pin this post – 29 Fun and Sexy Things to Do with Your Spouse this Summer)
Be Healthy
• Take a hike. Walk the trails at a nearby park or nature preserve. Getting outside, away from the house and from your devices (leave your phone in the car!), is one of the keys to relaxing and enjoying your spouse this summer.
• Go dancing or take dance lessons. I'm trying to talk my husband into this. We are not dancers by any stretch of the imagination!
• Go for a bike ride. Ride around the neighborhood in the evening, or load up the bikes and head to a nearby trail.
• Go kayaking or canoeing.  If you don't have your own gear, look for a guided trip that includes everything you need. Money-saving tip: Sign up to receive notices about healthy living and outdoor activities from Living Social or Groupon. You can find great deals on fun activities such as canoe trips, bike rentals, or admission to parks.
• Do a zipline adventure. For me, this qualifies for "getting out of your comfort zone! Again, check Living Social or similar sites for deals and coupons.
• Play Ultimate Frisbee at a local park.  Or just toss around a regular Frisbee.
• Tackle the climbing wall at a gym or park.
• Go to the gym together. If you both work out, but rarely together, try to go to the gym together a few times this summer.
• Take a nap together. Make love. And get in the habit of going to bed in time to get at least 7 hours of sleep every night..
Feel Sexy
• Find some summer clothes that make you feel good. Pull out clothes, sandals, jewelry, and accessories that help you feel comfortable in your own skin and wear them often. If you don't have anything, buy a few things that make you feel good. They don't have to be expensive. And check out this article for more ideas on how to feel sexier this summer.
• Wear less clothing/lighter clothing to bed. Find some sleepwear that helps you feel comfortable and sexy, and ditch any that makes you feel frumpy.
• Use candles, scents and essential oils to create a sensual mood. Or listen to sexy music regularly. (To learn more, check out my ebook, Guide to Romantic Essential Oils.)
• Touch each other more often. Engage in some mild public displays of affection. Hold hands. Touch regularly. Sit close. Kiss often. Kiss passionately.
• Take care of your body. It's hard to feel sexy when you feel unhappy with your body. So if you feel that way (and, really, what woman doesn't?!), spend time this summer taking care of it and learning to feel good about it.
• Go to bed earlier and make love. Turn off the distractions in time to relax, unwind and connect with your husband.
• Put a bit of extra energy into your sex life. Focus on your sexy side. Take a proactive approach to sex and intimacy, and figure out what feels good to you. Try something new or a something a bit outside your comfort zone. Initiate sex. Have fun.
• Get away together. If at all possible, get away together sometime this summer, even if it's only for one night (but preferably two or three). Taking a break from "real life" and focusing on each other and your marriage can lift your marriage out of the doldrums and take it to new heights.
Obviously, these are just a few of the hundreds of fun, healthy and sexy things you can do with your husband this summer. I encourage you to make a plan this week to do several of these things throughout the summer. What are your plans and ideas? Please share them in the Comments – I would love to hear from you.