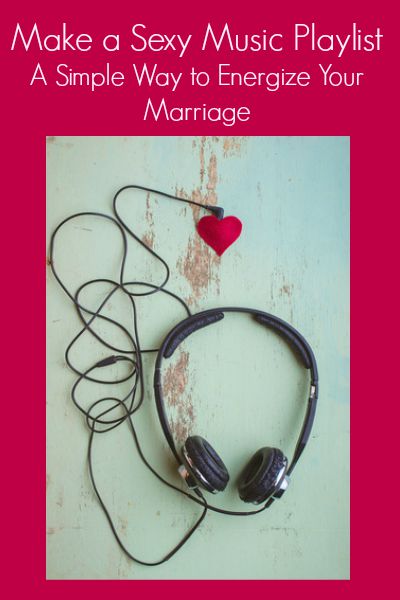 You know those days when you want/plan/hope to do something fun and sexy with your husband, but sex is at the bottom of your to-do list and falling fast?  Here's a little trick I learned recently that can help  keep your mind revved up for sex, even in the middle of crazy days – make a sexy music playlist and listen to it throughout the day.  Music that energizes you and makes you feel sexy can go a long way in counteracting the libido-suppressing effects of the daily grind! Here's how to do it:
Think about the kind of music that makes you feel energized and sexy.  Is it romantic music, dance music, disco from your youth, jazz or maybe a mix of different kinds of music? For me, romantic music (e.g., Kenny G) and sexy music are not the same, but they may be for you.
Start collecting music for your playlist.  If you're music savvy (I'm not) and already own a lot of music (I don't), this step may be quick and easy. If you're like me and aren't sure what music makes you feel sexy and don't have an extensive music library, this step will take some time and require a bit more work. Google "sexy playlists" and see what songs other people think are sexy. Go to iTunes and search for "sexy," "sexy music" or "sexy songs." You'll find entire albums of music that somebody thinks is sexy! Listen to the clips and make note of the ones you like. Go through your your music to jog your memory of sexy songs you may have forgotten. This process took a while for me (and it's still ongoing); I just worked on it a few minutes here and there, as I had time.
The lyrics to some sexy songs are objectionable. If you like the music but don't like the words, look for an instrumental-only version of the song.
Create a "Sexy Music" folder on your iPod, iPhone, or whatever device you use to listen to music.  (You can give it a code name, if you want to hide it from the kids!)  If you already own some sexy songs (electronic versions or on CD), start moving them into your folder. I only owned a few of the songs I wanted, so I ended up buying some on iTunes – just one or two at a time. Here are a few of the songs on my playlist – Crazy in Love, Let it Rock, If You Want to Be with Me, Southern State of Mind and The Love Scene. Kind of eclectic, but it works for me!
Listen to your playlist when the day is messing with your libido, or anytime you want to create a fun and intimate mood.  Depending on what kind of schedule you have and the ages of your children, you may need to sneak it in when nobody's around. My older son's comment when he came into the kitchen while I was listening to my playlist – "Really Mom – Beyonce?"
Do you ever use music to help yourself get in a sexy, intimate mood? What songs work for you? I would love to hear from you.