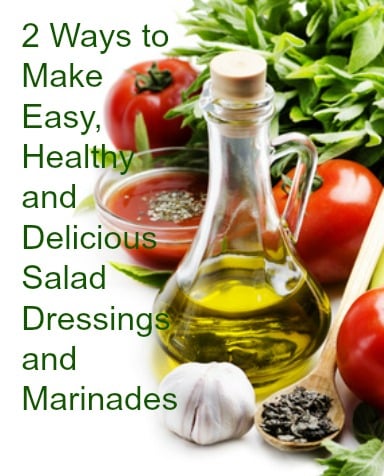 Are you looking for easy ways to add more real food to your family's diet?  One simple way is to make quick and easy vinegar and olive oil dressings and use them on salads and as marinades for chicken, meat and vegetables.
I make Red Wine Vinegar Dressing and Marinade and Balsamic Vinegar Dressing and Marinade at least once a week.  I use them on all of our salads and for quick and easy meals like Grilled Chicken with Roasted Vegetables and Salad with Grilled Chicken.
Not only do they taste delicious, they also provide a healthy dose of extra virgin olive oil and allow you to skip the artificial ingredients included in many commercial dressings and marinades.  The recipes below are really just a starting point – you can vary the ingredients and proportions in dozens of ways.
[gmc_recipe 2908]
[gmc_recipe 2917]