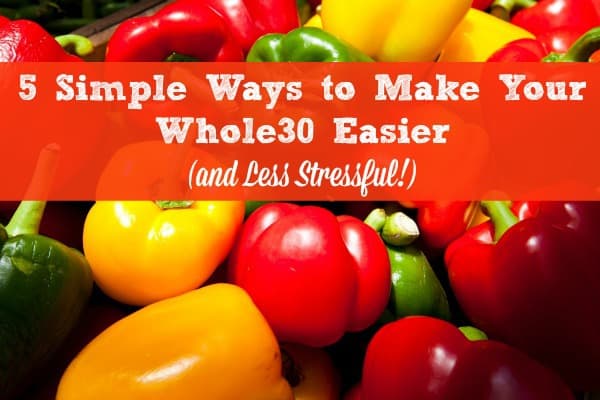 I'm about to finish my third Whole30, and I'm going to let you in on a little secret – it really doesn't get much easier. Yeah, sorry to share that bad news. I'm rather disappointed myself.
I mean, you do know what's coming after you've done it once, you know what to expect, and in some ways that makes it easier. (Although a friend told me that actually made it harder for her!) But the things that make the Whole30 hard don't change – they're as hard the second or third time as they were the first.
So basically, doing the Whole30 is hard – and that probably isn't going to change.
So, that's the bad news. But, I've got some good news too. First, the Whole30 is worth the effort for many people – it can help you reset your diet and identify foods that cause problems for you. And second, you can make your Whole30 life a little bit easier, by doing some things before and during the 30 days that will save time and reduce stress.
If you're thinking about trying a Whole30 – or starting any healthy eating plan – here are 5 things you can do that will make it a little bit easier:
5 Ways to Make Your Whole30 Easier
1. Learn as much as you can before you start. Knowledge is power when it comes to healthy eating in general and the Whole30 specifically. So read a lot and learn as much as you can before you get started.
The primary resource for a successful Whole30 is the official website – Whole30.com. This is really the only resource you need to succeed with this eating plan – it includes all of the information you'll need. In other words, you don't have to spend any money (except on food) to be successful with the Whole30 eating plan.
However, some optional information resources can make your life on Whole30 a little bit easier (includes affiliate links):
The Whole30 – Your 30-Day Guide to Total Health and Food Freedom – This book tells you everything you need to know to complete the Whole30 successfully (it's basically the website in a more convenient form) plus gives you 100 recipes for delicious, Whole30 meals and snacks. This book was a lifesaver for me – I used it to get a good overview of the program, to answer questions, and to find new recipes.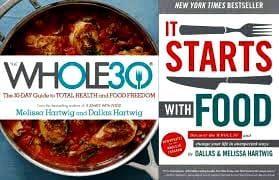 Food Freedom Forever – Letting Go of Bad Habits, Guilt and Anxiety Around Food  – If you struggle with your relationship with food, you may find this book by Whole30 co-founder Melissa Hartwig to be helpful. She shares her own struggles with food, how and why she created Whole30, and what this method of eating has meant for her life.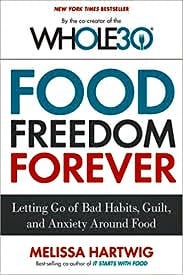 2. Get organized. In order to succeed on the Whole30 – or any healthy eating plan – you need to get your "ducks in a row" before you begin. You can't make this work if all of your food spaces are cluttered and disorganized!
This starts with cleaning out and organizing your refrigerator, freezer, and pantry or cabinets.
Get rid of food that you won't be eating (or put it in one place where family members who won't be on the Whole30 can access it). This is also a good time to get rid of old, out-of-date stuff and food that nobody in your family will eat. Then organize your food so that you can find the things you're most likely to use and so that similar foods are stored together.
Once you've done this, it only takes a few minutes once a week to maintain your nicely organized food storage spaces.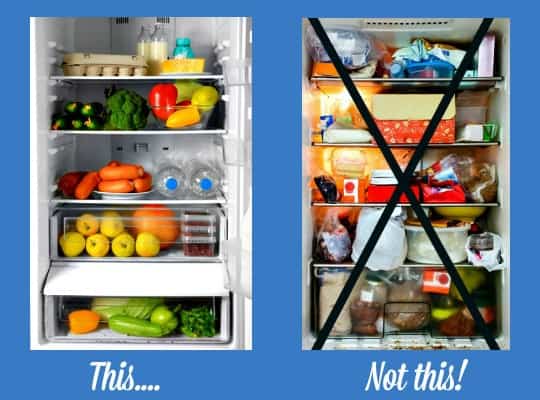 Then start collecting recipes that will work with the Whole30. Pull out Whole30-compliant recipes you already have and search online or on Pinterest for new recipes. Print them out and collect them or save them to a Pinterest board – whatever works best for you. Here's my Whole30 Pinterest board, which has lots of recipes to help you get started.
3. Make a plan. Planning is the key to succeeding on the Whole30 diet. Here's why – you can't wing it and expect to stick with the plan. It just doesn't work. All of the fast food, restaurant food, and prepared food you normally rely on when you have a busy day or forgot to make a menu is off the table (so to speak!) for the Whole30.
In other words, you can't just grab pizza on the way home after a crazy day at work or grab a frozen family dinner out of the freezer. You have to know what you're going to eat at every meal and when you're going to make it. Same for snacks – in most cases, you'll need to make your own snacks, because 99% of ready-made snacks don't fit the diet. (Some Lara Bars do, which has been a godsend for me!)
So make a menu for the first week. Figure out what you're going to eat for every meal and every snack and write it down. Then make a grocery list that matches your plan and go grocery shopping.
Do the same thing before every new week begins. Trust me on this – you have to have a plan!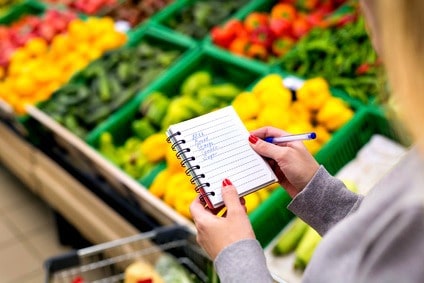 4. Prep. Here's what you don't want to happen – You come home from work after a busy day or from running the kids around to sports and activities, and you have to start washing, chopping, and cooking an entire meal from scratch.
Here's what you do want to happen – You come home from the same activities to a hot and delicious Whole30 Crockpot meal. Using the salad vegetables that you washed and cut up on the weekend and delicious homemade salad dressing, you put together a salad in 5 minutes and have dinner on the table 15 minutes after you walked in the door.
The first scenario is stressful and exhausting, while the second is relaxing and simple. And the difference between the two is prep – washing and cutting up fruits and vegetables on the weekend and putting together a couple of meals that you can dump into the Crockpot on a busy morning.
Or freezing some meals that you can cook quickly on days when your schedule spirals out of control. Prep also makes Whole30 breakfasts and lunches so much easier – boil some eggs on the weekend, make several salads for lunches, and pack some leftovers to eat for lunch. (Here are 10 more simple food prep tips.)
Try to prep food twice a week – once on a weekday evening and a longer session on the weekend. Over time you'll figure out which food prep tasks work best for you, i.e., make your Whole30 life as easy as possible.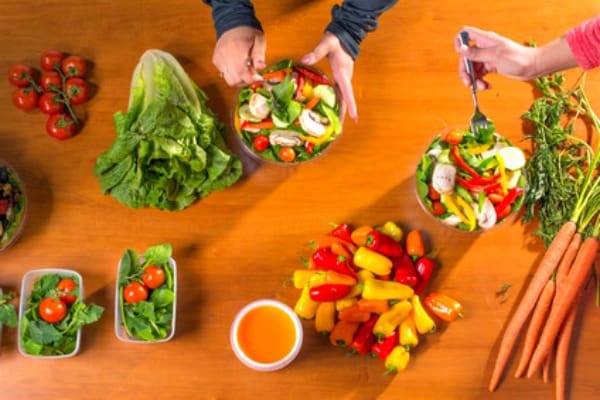 And make sure that you have enough storage containers on hand to store your prepped food and meals. I thought I had plenty before my first Whole30, but quickly discovered that I didn't have nearly enough. So do an inventory to see what you already have on hand, and consider buying more the next time you go to the grocery store, Wal-Mart, or Target. Or check out the huge selection of food prep containers on Amazon.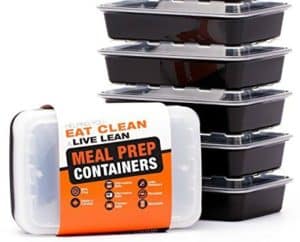 5. Use simple time-saving hacks. When you're prepping food and cooking during your Whole30, do everything you can to save time and hassle. For example, I always line sheet pans with wide aluminum foil (I get it at Wal-Mart), so that when the meal is over I can fold up the foil and throw it away – no cleaning the pan!
I also use inexpensive latex gloves (also from Wal-Mart) when handling meat and chicken. When I'm finished I just peel them off and throw them away. And I think about ways to reuse pots and mixing bowls, so that I'm not constantly washing them. (For example, I might mix eggs for a quiche in a mixing bowl, then use the same bowl to mix the ingredients for meatloaf. Or cook a batch of soup in a pot, then refrigerate it in the pot and reheat it for dinner in a day or two.)
And when you start a big prep or cooking session, be sure to fill the kitchen sink with soapy water so that you can quickly wash and rinse bowls and utensils as you go along.
Finally, put all of your small appliances to work to save you time and energy:
Programmable Crock-Pot – A Crock-pot will most definitely make your Whole30 life easier! If you don't have a Crock-Pot, or need a new one, this is the one I use. It's large enough to cook for a big family, or to make dinner + leftovers for a smaller family. I love that I can start it on Low when I go to work, and program it to switch to Keep Warm mode in 8 or 10 hours, if I'm not home to do it myself.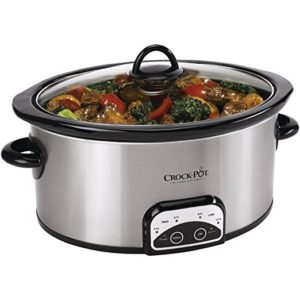 Instant Pot – I was late to jump on the Instant Pot bandwagon. For a long time, it just didn't appeal to me. However, I got one last Christmas and I have to say that I do like it – especially during a Whole30. You can make all kinds of things in it, from a whole chicken to a whole winter squash to soup to casseroles. I also boil eggs in it, which makes them super easy to peel (We have our own chickens, and fresh chicken eggs are notoriously hard to peel when boiled.)
This is the one I have – it's also programmable using an app on your phone.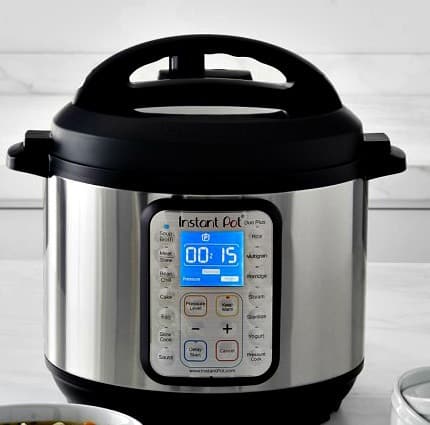 Completing a Whole30 is challenging, especially if you're a busy wife and mom who has a lot going on. But if you're looking for a way to get your diet under control, lose some weight, or explore some health issues, it can be worth the time and effort. If you decide to take on the challenge, use these 5 strategies to make it less stressful and a little bit easier.
Add a little bit of spice to your marriage!
Get 18 Ways to Spice Up Your Marriage. Plus simple tips for a healthy life and happy marriage - right to your inbox.