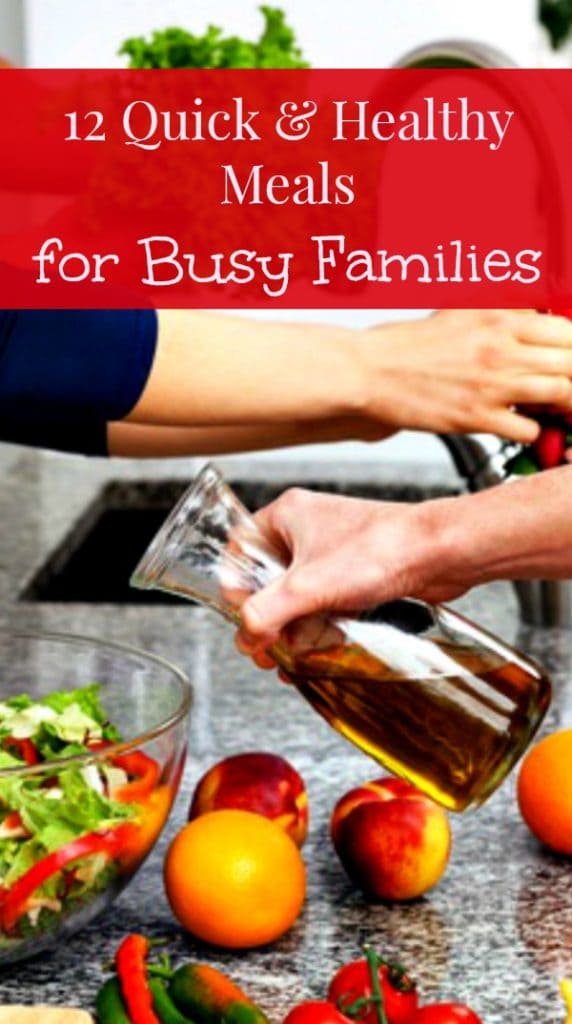 Have you set a goal of eating well this year, but find that your schedule sometimes makes it almost impossible? When that happens, it's time to stick to the basics and focus on simplicity. No new recipes, no fancy ingredients – just a few simple, tried-and-true meals. Here are 12 quick and healthy meals that can help you get through the busiest days without resorting to fast food or highly-processed meals:
(Need more ideas? Download my free ebook – 24 Quick and Healthy Family Meals.)
Breakfast
Whole wheat toast, natural peanut butter and milk – This simple meal contains a good mix of complex carbohydrates, protein and fat. And most kids and adults are happy to eat it.
Yogurt and fruit – You can make something like my Yogurt, Fruit and Nut Bowl, or just toss some plain Greek 1% or 2% yogurt, a bit of natural sweetener, and some cut-up fruit (frozen is fine) into a bowl. I eat this for breakfast almost every morning, and it always holds me until lunch.
Oatmeal in the Crockpot – Whip up a batch of oatmeal before you go to bed, and enjoy a hearty delicious breakfast in the morning. Christina at Juggling Real Food and Real Life has a great recipe for Apple Cinnamon Oats in the Crockpot. (She also has a recipe for Blueberry Baked Oatmeal that you can make ahead and reheat.)
Smoothies – Make smoothie packs on the weekend (ripe banana, other fruit, add-ins) and freeze them. On busy mornings, take them out of the freezer 20-30 minutes before you plan to make the smoothies. Add milk, juice or other liquid and/or yogurt and blend. This Super Orange Smoothie is one of my favorites.
Lunch
Leftovers – This is my all-time favorite lunch. I always try to make enough dinner to have leftovers. (Whether I'm successful or not depends on how many of my big-appetite sons show up for dinner!) Whenever possible, cook enough dinner to have leftovers for lunch in the next day or two.
Real food PB&J – Use whole wheat bread, natural peanut butter, and jam or fruit spread without corn syrup, and suddenly the good old PB&J becomes a healthy lunch. And most people love it! Add an apple or some carrot sticks to round it out.
Salad – Wash and cut up vegetables on the weekend and make yourself 2 or 3 salads in the process. Add some grilled chicken, garbanzo beans, boiled egg or other source of protein to make them a complete and healthy lunch. Package them without dressing until you're ready to eat them. Then add a simple homemade dressing with olive oil.
Grilled cheese – A grilled cheese sandwich made with whole wheat bread, real cheese and a little bit of butter or olive oil in the pan is an easy real food lunch. Add some orange or apple slices and everyone is happy!
Dinner
Chicken, beef or pork in the Crockpot – Put enough boneless skinless chicken breasts, London broil roast, or pork tenderloin to feed your family two meals into your Crockpot. (Amazon affiliate link – I love this programmable Crockpot.) Add a little bit of water, broth or sauce of your choice. Cook all day and serve it sliced that evening with simple sides, like brown rice with butter and steamed green beans. Save the extra meat for…
Easy tacos – A day or two later, shred the rest of the meat, mix it with salsa and make tacos. Serve with as many or as few toppings as you have time to fix – just shredded cheese and more salsa is fine if you're really short on time. Add some fruit on the side.
Pan-cooked chicken breasts, quick brown rice and a vegetable –
Mediterranean chicken wraps – For this simple meal, grill or pan sauté boneless, skinless chicken breasts. When done, let them cool a bit, then slice thinly. Warm pita breads or flatbreads in the oven, microwave or skillet. Set out hummus, feta or other cheese, salad dressing or vinaigrette, and as many vegetables as you have time to fix (lettuce, tomatoes, cucumbers, olives, etc.). Let each person make his or her own wrap. Serve with orange slices or other fruit. If you have a picky eater in your family, this meal works well because he or she can can make a wrap with just the flatbread and chicken.
What are your favorite quick meals or tips for saving time on meal prep? Please share them in the Comments – I would love to hear from you.