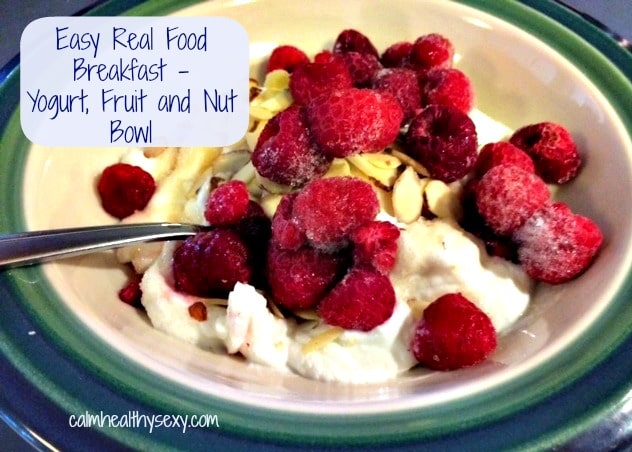 On busy days, we all need a breakfast that's quick, easy, delicious, and loaded with ingredients that energize and nourish our bodies. We want one that uses "normal" ingredients – things we're likely to have on hand – and that takes almost no time to prepare.  And we'd like one that offers options and flexibility.
If that's the kind of breakfast that appeals to you, here's one to add to your morning rotation – Yogurt, Fruit and Nut Bowl.  It's full of everything you need; the dairy, fruit and nuts provide protein, healthy carbohydrates, fiber, vitamins and minerals and a little bit of fat. It tastes delicious, and you can whip one up in about two minutes.  You can use any kind of fruit and any kind of nut – my current favorite is frozen raspberries and sliced almonds.  And if you're not much of a breakfast person (or even if you are), you can eat one of these yummy bowls for lunch instead.
What are your favorite ideas for easy and delicious real food breakfasts?  Please share them in the Comments.  And if you try this recipe, I'd love to know what you think about it.  (Are you following CalmHealthySexy by email?  If not, please enter your email address under Subscribe, on the right-hand side of the page.  You'll receive an email when I publish a new post, 2 or 3 times a week.)  Thanks.  Gaye
Sharing with The Weekend Social, The Pin Junkie, The Weekend Re-Treat, The Pin It Party – Creative Geekery, The HomeAcre Hop, Family Fun Friday, A Life in Balance, Real Food Wednesday, Totally Talented Tuesday, Tuesday Greens, Turn It Up Tuesday and Tuned In Tuesday.
[gmc_recipe 4578]