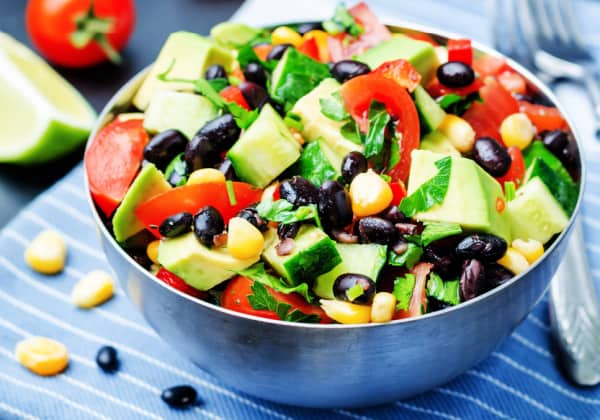 Okay friends, I'm taking a short detour from our Healthy Life Toolbox series to talk about the recipe that is saving my life (slight exaggeration!) right now. I want you to know about this Zesty Bean Salad because a) it's easy, healthy and delicious, b) it illustrates perfectly how healthy meal prep takes just a little bit of effort, but pays you back many times over, and c) I want to make your life a little bit easier!
Because, frankly, I think that we all deserve a little bit of payback for our efforts and someone trying to make our lives a little bit easier!
So here's what happens with Zesty Bean Salad. I make it on Sunday afternoon or evening. I divide it into 3 lunch-size storage containers. And then on the 3 days each week that I work from my office (I work from home the other 2 days) I grab one in the morning and throw it in my bag – and I'm set. It's the world's easiest meal prep lunch! (Includes affiliate links)
When I go back to 5 days a week in the office, I may adjust the recipe to make 5 servings, or I may eat leftovers the other 2 days (or I might fast on 1 or 2 of those days…) Anyway, the point is that the recipe is flexible and you can adjust it to fit your needs and your schedule.
So here's what you need to make Zesty Bean Salad:
2 cans of beans, rinsed and drained (I use 1 can each of organic black beans and garbanzo beans)
1 large red or yellow pepper, diced
1/2 cucumber, diced
1 cup cherry tomatoes, halved
Any other vegetable you like in salads
6 T. Italian vinaigrette salad dressing (you can use a store-bought version, but it's easy – and more delicious – when you make it at home)
Add-ins that you like – I add some feta cheese and Greek olives. You can add anything you like in a salad – herbs, onion, a little bit of cheese or cooked chicken, a few nuts or olives, etc. Don't overdo the cheese or nuts, though, especially if you're trying to lose weight.
And then here's what you do (it couldn't be simpler!) – Mix the ingredients thoroughly in a large bowl or storage container (I use this one, which I love for many things). Immediately divide the salad into 3 lunch-size storage containers – I use a half-cup measure (a large spoon or scoop would work too) and just divide it up.
That's it! You now have 3 yummy and healthy servings of an easy meal prep lunch, ready to go. And if you need more – and you're like me and can eat the same thing for lunch almost every day – just adjust the amounts. It couldn't be simpler.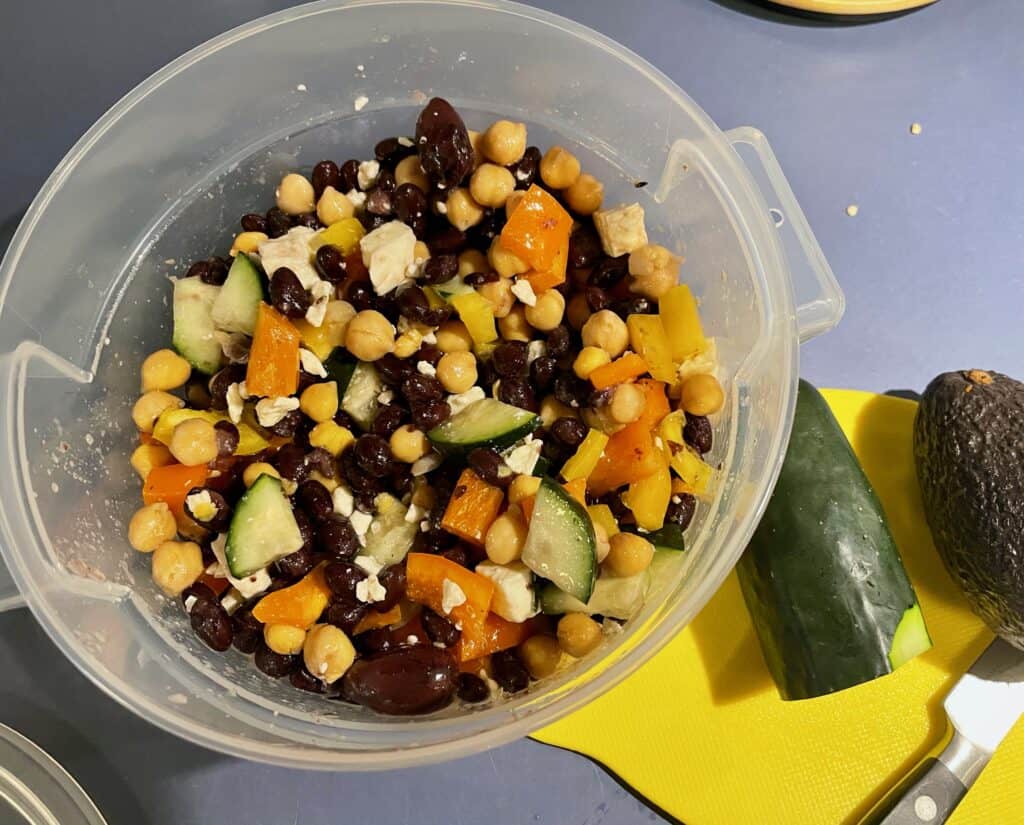 See, it's barely even a recipe. It's just a delicious thing that you throw together on the weekend in order to have something yummy and healthy to eat for lunch during the week!
And you can do this kind of easy meal prep with many things. Basically, you can make any simple and healthy meal on the weekend and package it up to eat for lunch during the week. And you can do the same with simple dinners or with dinner ingredients (like chicken breasts or shredded beef) that you cook ahead on the weekend.
If you're not taking a little bit of time on the weekend to do some healthy meal prep for the week, I really want to encourage you to give it a try. Just an hour spent making some healthy lunches or doing other healthy meal prep will save you so much time and stress in the week ahead. If you need some tips or ideas for getting started, here's an article and an ebook that can help –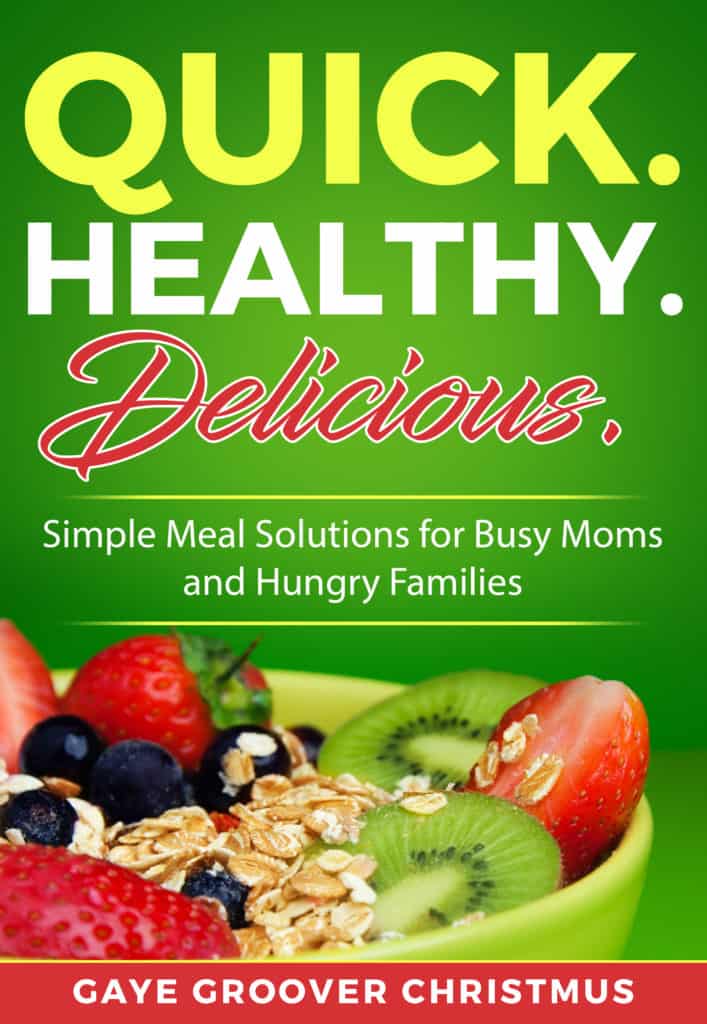 And here's my salad lunch at my desk – so easy and so good!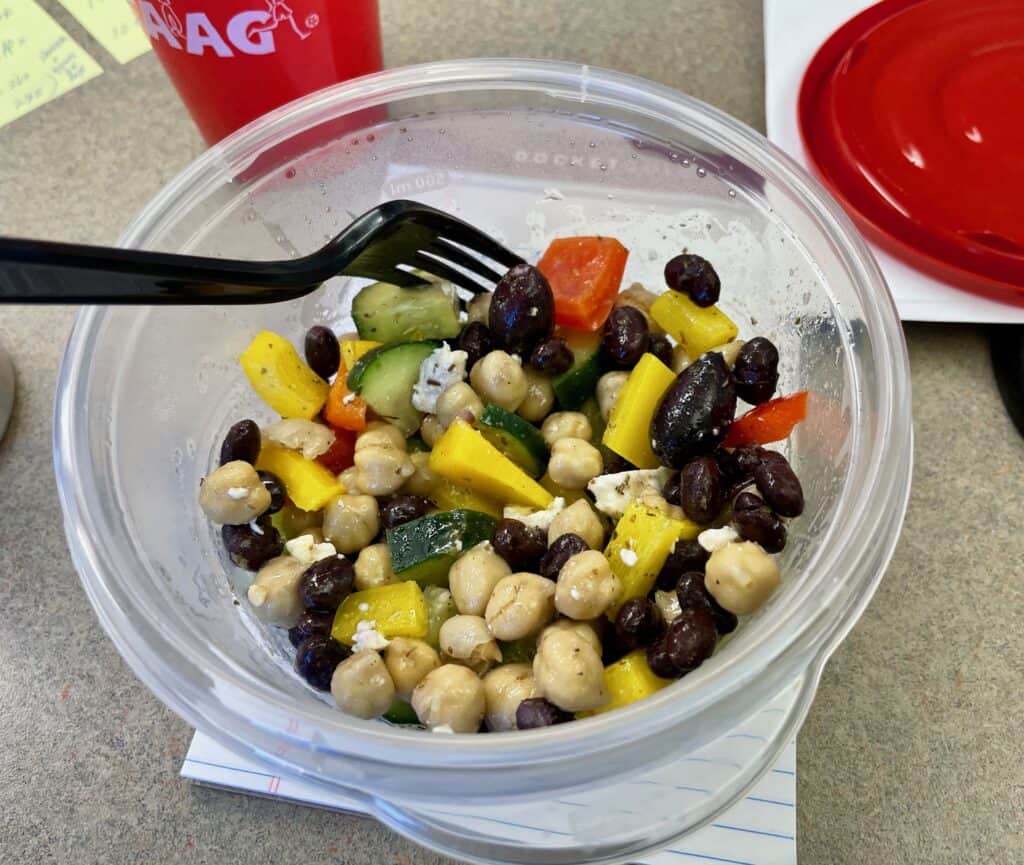 Try it and let me know what you think. Also, if you have a tried and true healthy lunch or dinner that saves you time and stress, I'd love to hear about it. I may feature it in a future post! Email me and let me know about it – gc @ calmhealthysexy.com