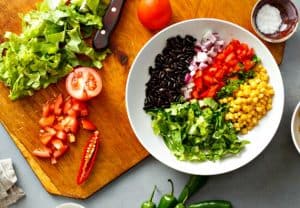 An Easy Meal Prep Idea – Overview
Set aside two – three hours on Saturday or Sunday.
Cook enough food so that you have some variety and can mix and match, but not so much that it becomes overwhelming.
Use your Crockpot or Instant Pot whenever possible.
Cook two types of protein – e.g., chicken, beef, pork tenderloin, eggs
Cook two starches/carbohydrates – e.g., pasta, brown rice, quinoa, sweet potatoes, potatoes
Cook two vegetables – one of the easiest ways to do this is to line a large baking sheet with foil, drizzle the vegetables with olive oil, and roast them in the oven
Wash and cut up salad vegetables and some fruits
How It Can Work for You
If you're like me, you're always looking for an easy meal prep idea – some way to make healthy eating faster and easier. Because the reality is that eating a healthy diet isn't particularly fast or easy – it takes some time and effort to make it work. (This post includes affiliate links.)
Menu planning and meal prep help a lot. When you spend a little bit of time planning your meals and prepping healthy ingredients on the weekend, it makes healthy cooking during the week much, much easier.
For that reason, I do some kind of meal prep almost every weekend (and when I don't, I regret it!). Usually I plan our meals for the week and wash and cut up fruits and vegetables, and maybe bake some sweet potatoes and grill some chicken breasts. But last weekend I tried an easy meal prep idea I had never tried before, and it really saved time and reduced my stress level this week. So I wanted to share it with you.
Instead of just prepping ingredients, I prepped and cooked the things that make up a meal – meats/proteins, starches/carbohydrates, and vegetables.
(I know that sounds daunting, but please stick with me –  because it was much easier than it sounds!)
Here's what that easy meal prep idea gave me after just a couple of hours of work on Sunday afternoon – 
8 chicken breasts, grilled then sliced (I got my husband to do this!)
2 top round/London broil roasts cooked with salsa in the Crockpot (started on Sunday morning), then shredded
A batch of pasta
A batch of quinoa
Cubed butternut squash, roasted in the oven
Cut-up red, yellow, and orange peppers and onions, roasted in the oven
Cut-up salad vegetables.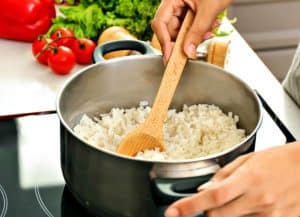 What it Lets You Do
This amount and selection of food gave me a lot of options during the week, and it will give you lots of options too. For example, you can use it to –
Pack lunches for the week.
Easily heat up or pull together a different dinner every night of the week – e.g., shredded beef with quinoa and roasted onions and peppers one night, chicken with pasta and roasted squash the next night, salad with grilled chicken another night.
On busy nights when family members have different schedules, let each person choose and fix his or her own meal.
Use the beef or chicken to make tacos and sandwiches or the pasta or quinoa plus chicken and vegetables to make a big salad. (Top it with an easy and healthy homemade salad dressing.)
For me, this freed up a lot of time and reduced my stress this week. I was able to pack lunches for my husband and me quickly and easily, I didn't have to start cooking dinner when I got home from work, and on nights when we had meetings or activities, each person just fixed his or her own dinner.
Plus, the whole "come up with something for dinner that everyone will love, every night of the week" thing has really been wearing me down recently, and this strategy freed me from having to do that!
The Easy Meal Prep Plan
If you think that this easy meal prep idea might work for you and your family, here's a plan you can use to get started:
Set aside two – three hours on Saturday or Sunday.
Cook enough food so that you have some variety and can mix and match, but not so much that it becomes overwhelming.
Use your Crockpot or Instant Pot whenever possible.
Cook two types of protein – e.g., chicken, beef, pork tenderloin, eggs
Cook two starches/carbohydrates – e.g., pasta, brown rice, quinoa, sweet potatoes, potatoes
Cook two vegetables – one of the easiest ways to do this is to line a large baking sheet with foil, drizzle the vegetables with olive oil, and roast them in the oven
Wash and cut up salad vegetables and some fruits
This may seem like a lot to do, but many of these tasks can be done simultaneously. For example, you can cook chicken or beef in the Crockpot, roast vegetables in the oven, and boil a big pot of pasta, all while washing and cutting up salad vegetables.
I'm going to start using this strategy regularly, because I really feel like it reduced my workload and stress level this week. Do you think it would work for you? If you decide to give it a try, I'd love to know how it goes. Leave a comment and let me know.
Have a great week.
P.S. If you need more meal prep tips and healthy food hacks, plus simple, healthy family meals, check out my ebook Quick. Healthy. Delicious. Simple Meal Solutions for Busy Moms and Hungry Families. Use the code FRIEND25 at checkout to save 25% off the ebook or your entire order.