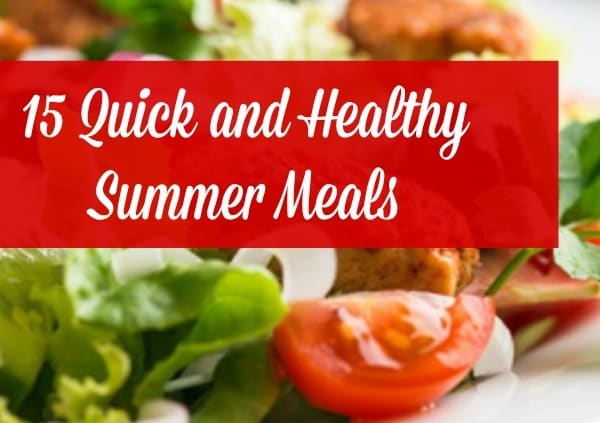 Are you trying to relax and enjoy life a bit this summer? (I am!) If so, you're undoubtedly looking for ways to simplify your life for during the summer months. And that probably means you're looking for ways to save time and energy on menu planning, food prep, and cooking. For me, those tasks take a lot of time, and I really want to streamline them this summer. What I really need are quick and healthy summer meals that save me time and reduce stress. Oh, and my family needs to love them!
So I've been looking for ideas and asking my food blogger friends for their best simple or time-saving summer recipes. And they did not disappoint! Here are 15 quick and healthy summer meals, made from family-tested recipes, that taste great and save you time and energy in the kitchen. Give them a try, and use the time you save to relax and have some fun!
(Pin Quick and Healthy Summer Meals to find all of the recipes quickly and easily.)
15 Quick and Healthy Summer Meals
Quick and Healthy Flatbread Pizza Recipes from Little Family Adventure – Homemade pizza becomes quick and easy when you start with flatbread, focaccia, or a ready-made crust. Nicky shares 15 ideas for delicious homemade pizza that you can make in about 15 minutes.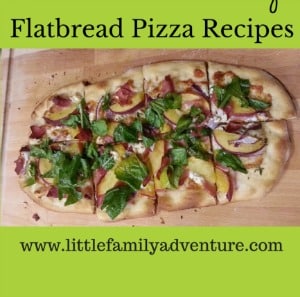 Salad with Grilled Chicken from CalmHealthySexy – This is one of my family's summer favorites. We often grill extra chicken breasts, and we always have salad ingredients on hand. So we can throw together a big, healthy, delicious dinner salad in no time at all.
Fresh and Easy Homemade Pico de Gallo from Simple Life of a Frugal Wife – Amanda's quick and healthy pico de gallo (basically, easy and delicious fresh salsa) is a perfect topping for lots of summer meals. Use it to add a fresh and healthy kick to fajitas, tacos, chicken, fish, or eggs!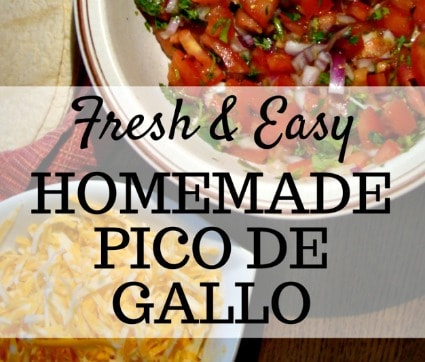 Super Healthy Berry Salad from Obtaining Bliss – Kirsten's super healthy, easy berry salad tastes like summer, and may become your new favorite salad. It's packed with delicious fruit and includes a strawberry vinaigrette recipe. It's the perfect side dish for a picnic or a simple meal of grilled chicken and corn on the cob.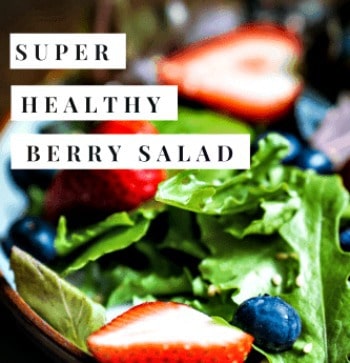 Grilled Chicken Parmesan Sandwiches from Juggling Real Food and Real Life – Christina is the ultimate authority on cooking real food for busy families! This recipe draws on her experience as a super busy working mom who wants to feed the best meals possible to her family, and do it with as little stress as possible. I love the combination of grilling + easy + family-friendly ingredients in this sandwich.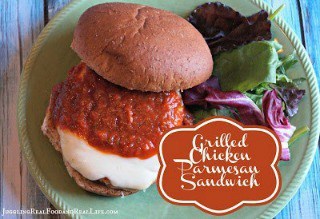 Easy Skillet Lasagna from From this Kitchen Table – Deanna's recipe is super easy (you make it in one pot), kid friendly, and extremely delicious – and can be doubled or tripled. It's a great meal for involving the kids in cooking – let them break up the noodles, dump in the tomatoes, or add "blobs" or ricotta. Because the recipe is so simple, Deanna recommends using the best ingredients you can, in order to make the flavors really shine.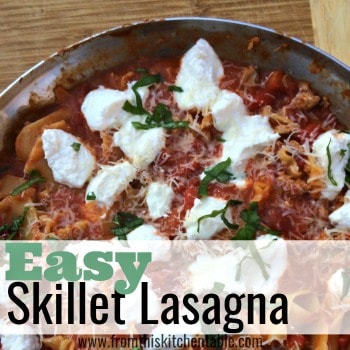 Easy and Healthy Peach Crumble from The Professional Mom Project – Nicole's easy summer dessert features my absolute favorite fruit – peaches! It's also vegan and gluten-free, so it's perfect for even your sensitive eaters.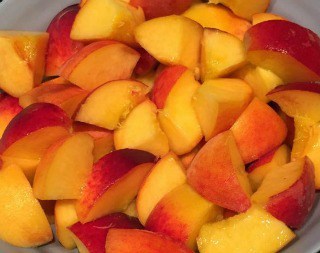 The Easiest Slow Cooker Taco Meat Ever from The Life Jolie – Your Crockpot is not just for winter soups and stews! It can save you time, energy and heat during the summer. So pull it out and make Jessy's delicious taco meat from chicken, beef or pork. Better yet, make a double batch and freeze half. (Also, Jessy's food photography is fantastic, so it's worth a visit to her site just to drool over the beautiful pictures!)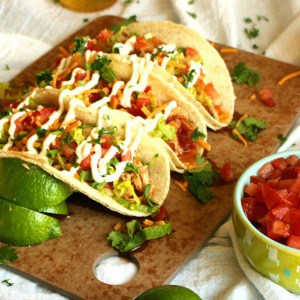 Chicken Caprese from Family Table Treasures – Nicole's easy and beautiful recipe includes some of my favorite summer flavors – tomato, basil, and mozzarella. Nicole also includes stunning photography with all of her recipes, so it's well worth a visit just to check out the beautiful pictures of food. (And I know we're talking about healthy recipes here, but her cakes are amazing!)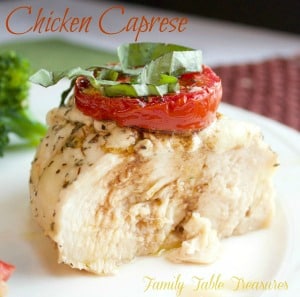 Lemony Shrimp from Culinary Flavors – Katerina's recipes are full of fabulous Mediterranean ingredients and flavor. With just a little bit of cutting and chopping, this recipe comes together quickly and easily.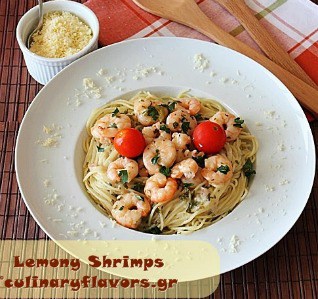 24 Quick and Healthy Family Meals – This free ebook includes 24 quick, healthy, no-recipe meals – breakfasts, lunches and dinners – that you can use to save time throughout the year, but especially in the summer.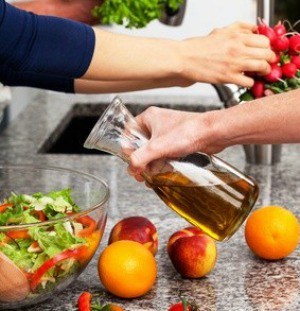 Crockpot Sloppy Joes from Juggling Real Food and Real Life – This is Christina's healthy version of a family favorite. Make a double batch and freeze half of it for a busy evening.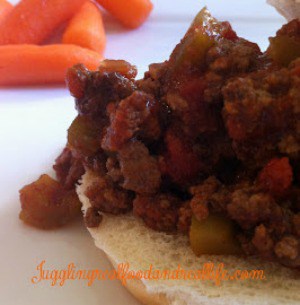 Cucumber Cilantro Salad from Simple Life Mom – Serve Kelly's delicious fresh salad as a side dish with grilled chicken or steak, or add some protein and turn it into a dinner salad.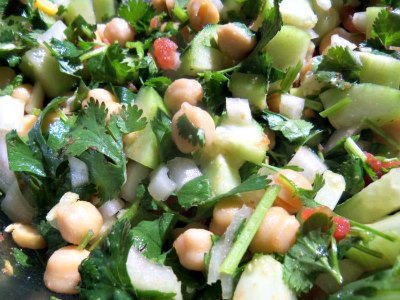 Crockpot Roast Chicken from Home Again Jiggety Jig – You probably don't want to turn on the oven and roast a chicken in the middle of summer (I don't!), but did you know that you can "roast" a chicken in your Crockpot? Follow Marjie's steps to perfect "roast" chicken without ever touching the oven, and enjoy having chicken on hand for chicken salad, dinner salads, tacos and sandwiches.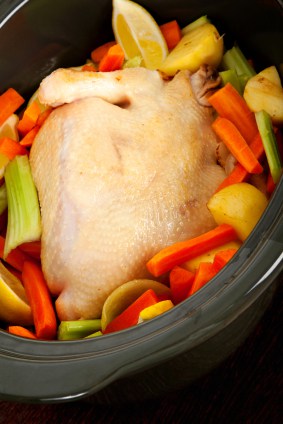 Restaurant Style Burritos – from Lydia's Flexitarian Kitchen – My family loves restaurant burritos, but I like to make them at home to control the ingredients and save money. So I was excited to find Lydia's recipe, which includes lots of fresh flavors and can be tailored for quick assembly, using canned beans, purchased pico de gallo, and brown rice you've cooked ahead of time (or quick-cooking brown rice). And be sure to make extra for lunches or to freeze for another busy evening.