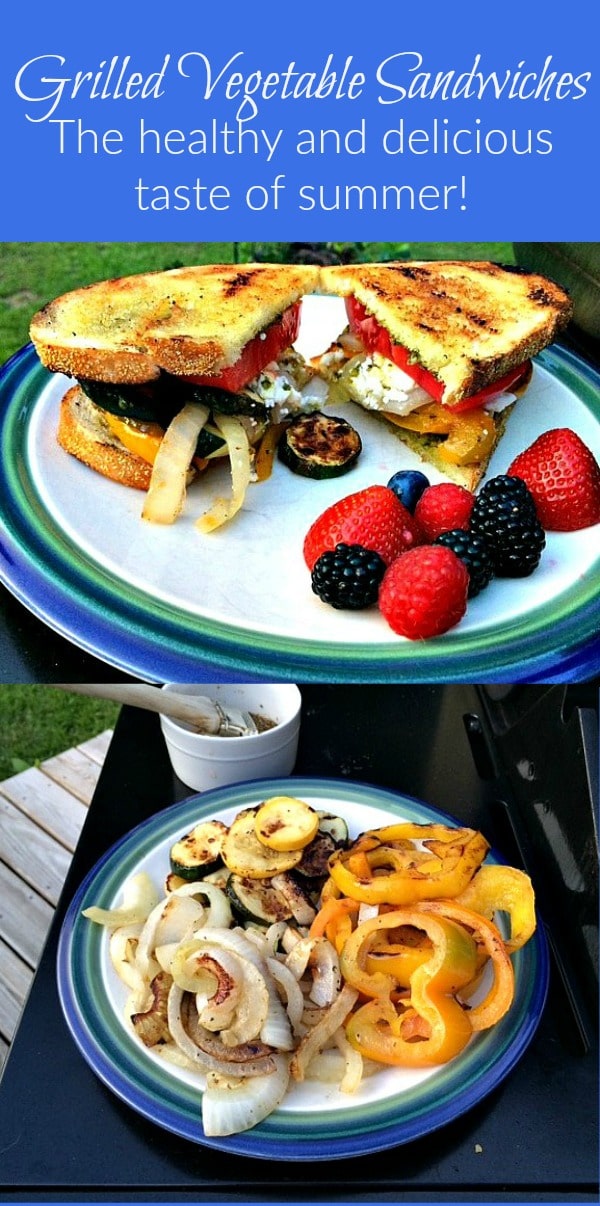 I absolutely love the foods of summer – fresh vegetables and herbs, berries, melons, pasta with light sauces, grilled chicken, iced tea and more. They are so delicious, so nutritious and, for the most part, so figure-friendly! If it were possible, I'd eat them year round. And while it's hard to pick a favorite, Grilled Vegetable Sandwiches come close to receiving that honor in my family.
These sandwiches are so, so good. They use fresh vegetables that are abundant and inexpensive this time of year and they're easy to make – you can turn the prep work into a fun family activity. You can also add fresh summer herbs – one of the tastiest ways is to add my secret ingredient that really makes these sandwiches – basil pesto.
In addition, you can adapt them to the tastes of every family member. As a matter of fact, the easiest way to serve them is to let each person build his or her own sandwich. So even if your family includes a picky eater who only wants grilled bread and cheese, you're covered – and it leaves more delicious vegetables for you! And if another family member believes that every meal must include meat, throw a chicken breast on the grill and he or she can enjoy a Grilled Chicken and Vegetable Sandwich.
Grilled Vegetable Sandwiches

Print recipe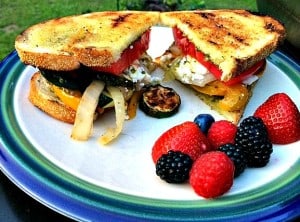 These easy, healthy and delicious grilled vegetable sandwiches make a perfect summer meal that everyone in the family can enjoy.
Ingredients
Sliced vegetables of your choice (onions, peppers, squash, zucchini, eggplant, tomatoes, etc.)
Sturdy bread (preferably whole grain, sliced)
Cheese of your choice (feta, cheddar, goat, Monterey Jack, etc.)
Condiments of your choice (pesto, red pepper puree, tapenade, mustard, etc)
Directions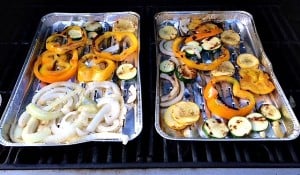 These sandwiches are so simple to make, they scarcely need a recipe! Place sliced vegetables (except tomatoes) on an oiled grill pan or heavy duty foil. Grill over medium heat until cooked and lightly browned, brushing occasionally with olive oil or vinaigrette. Brush olive oil on both sides of slices of bread and grill until lightly toasted.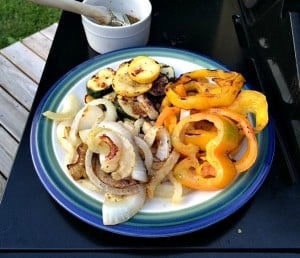 Place plates of vegetables, bread and cheese and dishes of condiments on the table and let each person make his or her own sandwich. All forms of these sandwiches are delicious, but the combination of pesto and feta cheese is especially good. As a matter of fact, my family considers basil pesto to be the "secret ingredient" that makes these sandwiches just about perfect!
Sharing with A Dish of Daily Life.