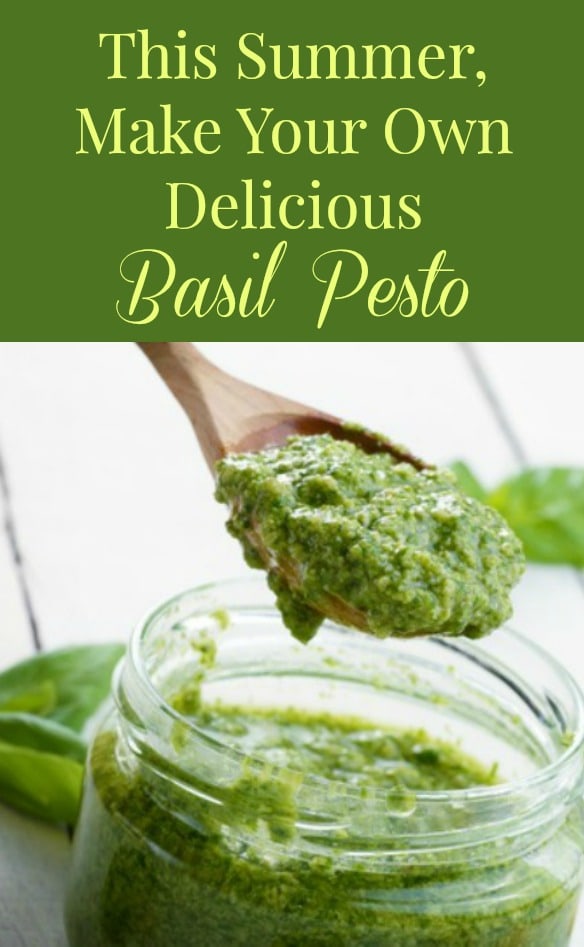 Do you grow basil in your garden, or maybe in pots on a sunny porch? If so, you know that it's one of the great pleasures of summer. It's easy to grow, smells divine, and tastes delicious. You can add it to pizza, spaghetti sauce, or salad dressing. Layered with ripe tomatoes, fresh mozzarella and a touch of olive oil, it makes a salad fit for royalty. But perhaps the greatest pleasure basil gives – and it's a gift that can keep on giving, long after summer is over – is pesto.
Pesto is a simple sauce made of fresh basil leaves, garlic, olive oil and parmesan  cheese (some people also add pine nuts). It looks and smells like summer – green and spicy. Pesto can be added to pasta, pizza, Italian sauces, vinaigrette or, my current favorite food, grilled vegetable sandwiches. But perhaps best of all, it freezes beautifully and tastes perfect when thawed. Like peaches or blueberries frozen at the peak of summer, pesto brings a welcome touch of summer into the winter.
The easiest (and most economical) way to make pesto is to grow your own basil. You can grow it in nearly any spot that receives full sun – a traditional garden, raised bed garden, planter, or large pot. Choose a variety that has large leaves, like Sweet Basil. (It's hard to make pesto with small-leaf varieties, like Spicy Globe.)  Plant a couple of plants (or, if you're like me and want enough pesto to last through the winter, 5 or 6 plants!), keep it watered and watch it grow. And it's not too late to get started. Grab some plants and get them going today!
When the top 1/3 of the plants will yield about 2 cups of leaves, harvest them and make a batch of pesto (see recipe below). The plant will keep growing, and you should be able to harvest leaves from each plant several times. If you see flower buds starting to form, it's time to harvest leaves (and cut the buds) – you want the plant to keep putting energy into making leaves, not flowers. Here's a simple recipe for pesto you can enjoy throughout the summer. It's so good you'll want to eat it all, but take my advice and freeze some of it. You'll thank yourself this winter.
Basil Pesto

Print recipe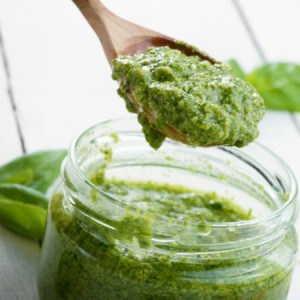 Ingredients
2 cups basil leaves (packed)
1 cup parmesan cheese (grated or shredded)
1/2 cup olive oil
2 cloves garlic (minced)
Directions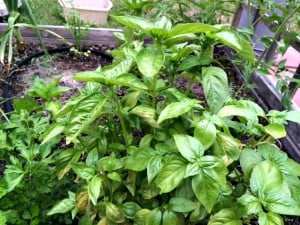 The amounts in this recipe are flexible. If you have more basil leaves, just adjust the other ingredients accordingly. Also, use a brand of "fresh-grated" parmesan, or grate your own, rather than the kind that comes in a can.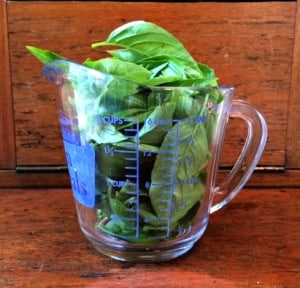 Place basil leaves, parmesan cheese, and garlic in the bowl of a food processor or heavy-duty blender. Add half of the olive oil. Begin processing and slowly add the rest of the olive oil. Stop and scrape down the bowl a couple of times. Continue processing until it is fairly smooth and has formed a thick paste. Transfer pesto to a container with a lid. Add a thin layer of olive oil to the top. (This reduces the oxidation that tends to turn the top of the pesto dark. It will turn somewhat darker (but still tastes fine), but will be bright green under the top layer.) Cover and refrigerate; use within a week or freeze. (Freeze pesto in ice cube trays or small round containers. Transfer the frozen cubes or disks to bags and store in the freezer.)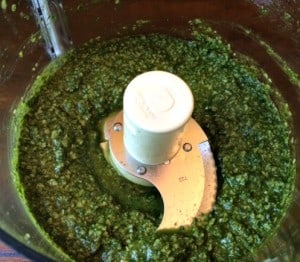 Pesto can be mixed with hot cooked pasta, added to spaghetti sauce, spread on pizza (by itself or on top of tomato sauce), used as a condiment on sandwiches (it's tremendous on grilled vegetable sandwiches!) or spread on chicken or fish before cooking.
Add a little bit of spice to your marriage!
Get 18 Ways to Spice Up Your Marriage. Plus simple tips for a healthy life and happy marriage - right to your inbox.