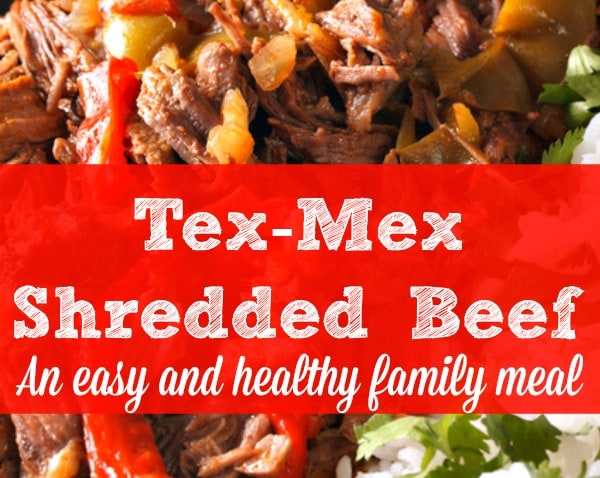 As always, our goal at CalmHealthySexy is to help married women live calmer, healthier and sexier lives.  A major step toward that goal is to eat healthy, real food and avoid processed food most of the time.  The trick, though, is to do it without spending all of your money at the grocery store or all of your time in the kitchen – neither of which promotes a calm and sexy life!  This recipe, Tex-Mex Shredded Beef, is an easy and healthy family dinner that helps me avoid both those pitfalls.  I take 5 minutes to put it together in the morning, let it cook all day in a large Crockpot, and shred it when I get home from work.  It couldn't be easier.  In addition, I can serve it several ways – in shredded beef tacos, on whole wheat rolls, or with sides such as brown rice, spicy beans or salad – and everyone in my family likes it.  Plus it makes a lot, so we have plenty for lunches or a second meal.  It's a winner all the way around.  (For more tips on cooking real food in a Crockpot, check out this article by Christina at Juggling Real Food and Real Life.)
What are your tips for cooking real food while managing your time and budget?  Please share your ideas in the Comments – I would love to hear from you.
Tex-Mex Shredded Beef

Print recipe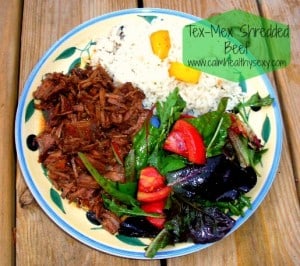 | | |
| --- | --- |
| Meal type | Main Dish |
| Misc | Child Friendly, Freezable, Pre-preparable, Serve Hot |
This slightly spicy shredded beef is perfect for tacos or sandwiches or can be served with rice, beans and a salad. Put it together quickly in the morning and let it cook all day for an easy, delicious family dinner.
Ingredients
2 London broil roasts (2-3 lbs. each)
1 jar salsa or picante sauce (16 oz.)
1 teaspoon cumin
1/2 teaspoon garlic powder
Directions
Place roasts into Crockpot. Stir cumin and garlic into salsa and pour over and between the pieces of meat. Cover and cook on low all day (approximately 8-10 hours). Carefully remove the cooked meat to a large plate. Shred it using a fork and/or tongs, discarding any fatty pieces. Place shredded meat back into the Crockpot and keep warm until serving.
Notes
Buy the best quality beef you can get.  I can't afford grass-fed or organic beef, but I do buy beef that's hormone-free and antibiotic-free whenever possible.  Watch for it to go on sale and stock up.  Also, you can use other cuts of beef to make this dish.  However, I've found that roasts labelled "London broil" (which is often the same as "top round" roast) make very good shredded beef without a lot of fat or waste.
You can vary this recipe based on your family's preferences.  Make it very spicy with hot salsa or very mild.  Increase the seasonings or use other seasonings.  If you're in a tremendous hurry, just dump in the salsa without adding any seasonings!
The recipe makes a lot of meat!  Unless you have a very large family, you'll have plenty to take for lunches or to use for a second dinner.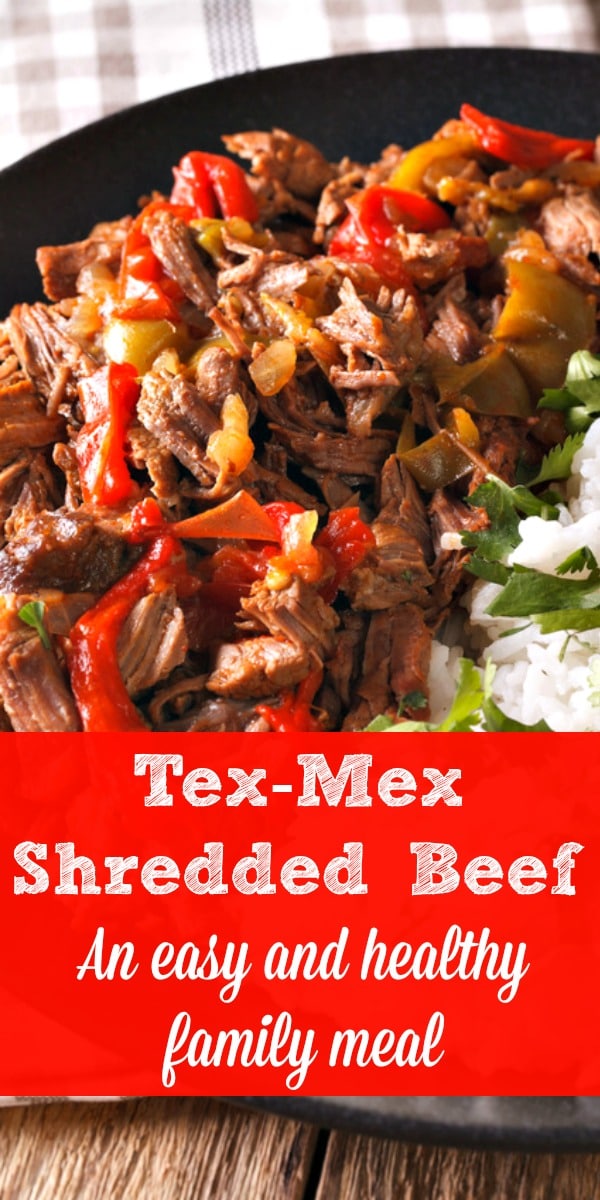 Create your best life!
Get health and marriage tips by email + a free marriage resource