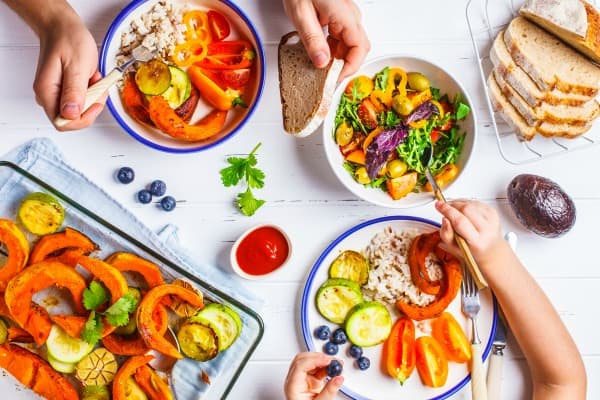 10 Quick and Healthy Family Meals
Okay friends, the holiday season is officially upon us! The time of year has arrived when our busy lives and hectic schedules get even busier and more hectic. Over the next few weeks we'll be shopping, wrapping, decorating, traveling, and attending holiday events – as well as handling our usual responsibilities. And (Includes affiliate links.)
But guess what? Our families still need 3 meals a day – they don't stop eating just because we've added a dozen new commitments to our calendars! And while they always need healthy meals, they need them even more during this time of year, when snacks, sweets, and less-healthy foods abound.
So I've asked some friends to share with us their best quick and healthy family meals for the busy holiday season. And they did not disappoint! These are meals you could serve your family any time of the year, but they're especially good for the busy weeks from Thanksgiving through Christmas and on to New Year's Day. These are dinners you can easily make ahead or pull together quickly at the end of a busy day.
10 Quick and Healthy Family Meals for the Holidays
Chicken Caprese Quesadillas from Pumpkin 'N Spice are an easy meal that comes together in minutes. With shredded chicken, fresh mozzarella, tomatoes and basil, this dish is kid-friendly and perfect for just about any time!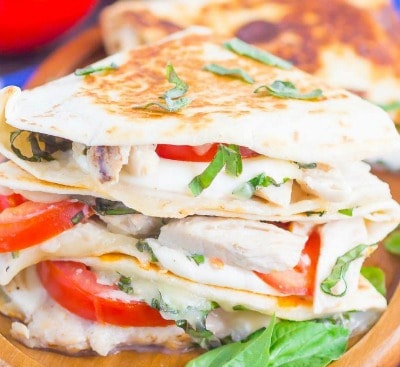 Easy Pizza Chicken from Snappy Gourmet is a quick and easy low carb baked chicken recipe that is delicious and combines pizza and chicken! This homemade pizza chicken breast recipe is quick enough for a weeknight family dinner and kid approved! For family members who aren't eating low-carb or gluten-free, serve it with a side of pasta.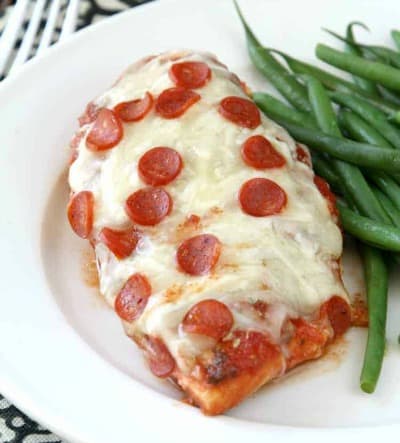 Tex-Mex Shredded Beef from CalmHealthySexy is a staple at my house. I make it at least twice a month, and sometimes more often. We use it for sandwiches, tacos, and burritos, and as a main dish with a side of rice. You can dress it down for your picky eaters or dress it up for your more sophisticated eaters. It freezes well, and I often make a double batch and freeze half. I make it in my programmable Crockpot, but you could also make it in your Instant Pot.
Chicken Hummus Naan Wraps from The Rising Spoon – Throw this easy wrap recipe together in just 15 minutes for a quick and healthy dinner or lunch. It features simple ingredients like shredded chicken, hummus, chopped fresh veggies (prep ahead or buy pre-chopped), a homemade red wine vinaigrette, and crumbled cheese, all piled onto a piece of soft & chewy naan bread (Indian flatbread).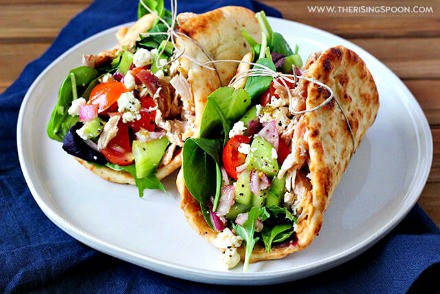 White Bean Chicken Chili from Savory Bites Recipes is a quick and comforting winter soup for the whole family. Use shredded rotisserie chicken or chicken you've cooked ahead of time, shredded, and frozen. (This is super easy to do in your Crockpot or Instant Pot, and saves so much time.) Adjust the peppers and spices to your family's tastes.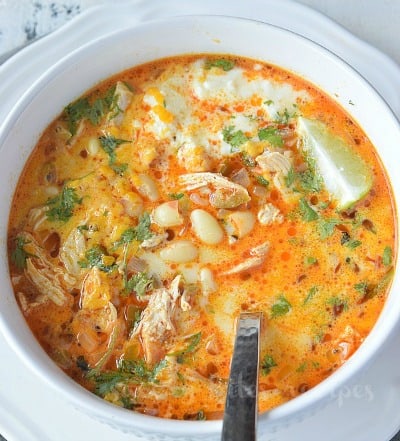 Easy Margherita Pizza by Erhardts Eat is a super simple dinner that everyone in your family will love. You can make it super-quick by using a jar of marinara or spaghetti sauce and pre-shredded cheese. Or, when you have a bit more time on the weekend, make your own sauce and grate some cheese and freeze both for busy evenings. You can also use other types of flatbread, but naan is particularly yummy.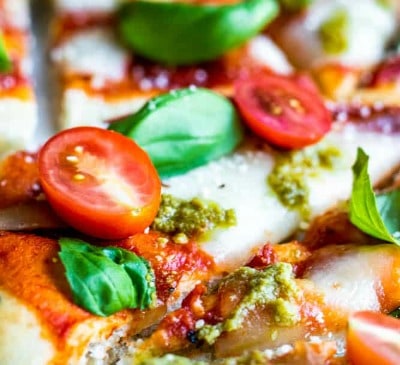 Instant Pot Vegetable Beef Soup from Healthy Christian Home cooks in about 20 minutes in your Instant Pot but tastes like you've been cooking it all day! Adapt this recipe to the type of meat and vegetables you have on hand. The addition of cherry tomatoes, while not required, add a unique and yummy flavor.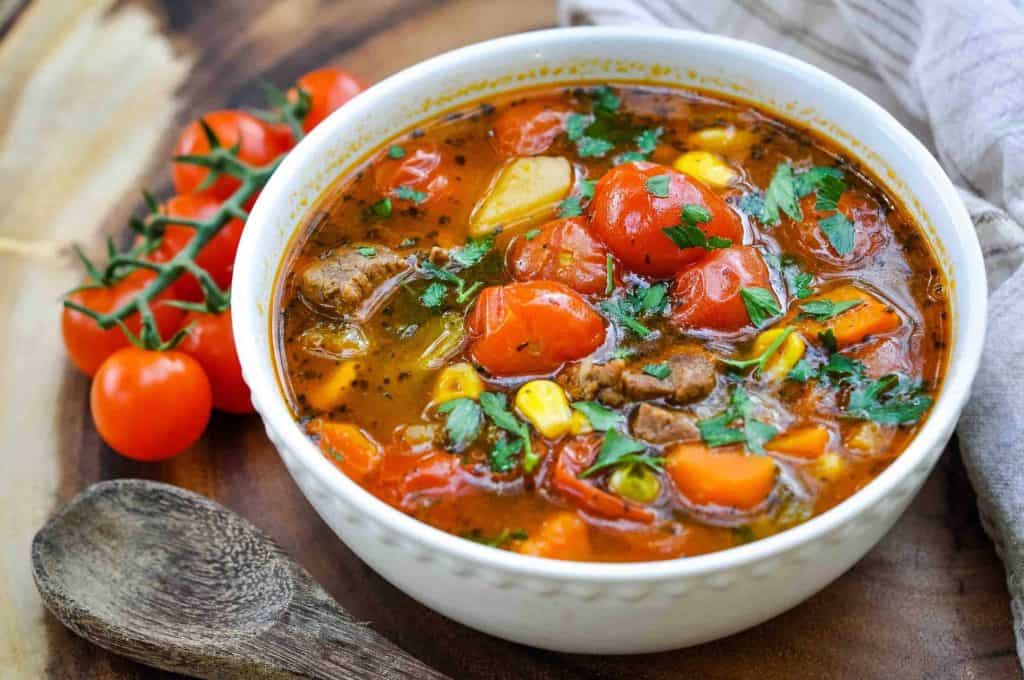 Beef Enchilada Casserole from All the Healthy Things gives you the delicious flavors of enchiladas without all the work. The recipe calls for gluten-free tortillas, so it's perfect if your family avoids gluten. If not, you can use regular tortillas. Adjust the heat and spices to make it just right for your family, and consider making a double batch of the meat mixture ahead of time and freezing half for a super-busy day.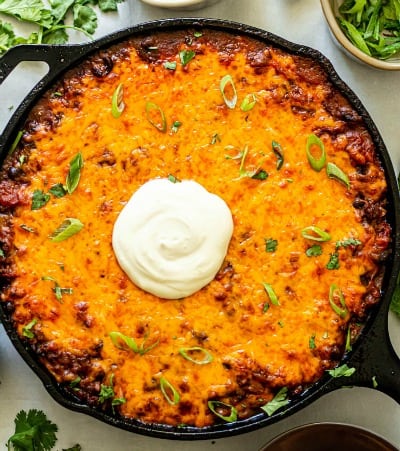 Chicken Tortilla Soup from Snappy Gourmet is an easy homemade Mexican-inspired soup, great for a chilly night after a busy day. It's full of great flavors and healthy ingredients and can be adapted easily or made vegetarian. Note that you can leave out the hot peppers and adjust the spices for your family's tastes.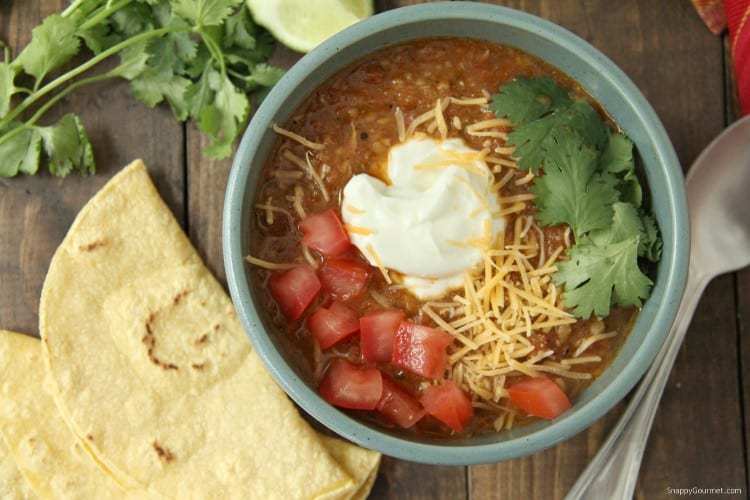 Oven Frittata with Vegetables from CalmHealthySexy – This is a quick and healthy meal you can make for brunch, lunch or dinner with just a few basic ingredients – eggs, milk, cheese, and any vegetables or add-ins you have on hand. Most frittatas cook on the stove, but this one cooks in the oven, which frees you up to do other things. You can adapt it easily to your family's tastes, or make two just as easily as one to vary the ingredients (simple ingredients for kids, a few additional ingredients for adults).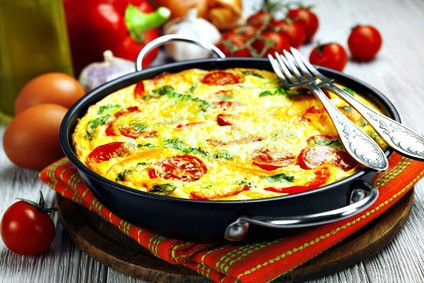 I hope that these quick and healthy family meals will make your busy holiday season a little bit calmer and saner. And if you need to save even more time in the kitchen, get a copy of Quick. Healthy. Delicious,, a guide to healthy family meals and quick and easy food prep tips. Use the code FRIEND25 at checkout to save 25% off.