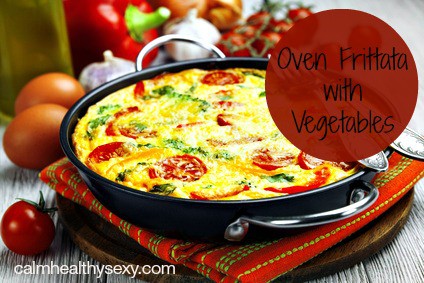 A frittata is an open omelet that's usually cooked on the stove, then broiled for several minutes to set and brown the top. It's easy to make, delicious, and adaptable, but it requires some hands-on time and attention to figure out when it's done.
For those who need to streamline meal prep and limit hands-on cooking, though, there's an easier option. An oven frittata offers all the benefits of the traditional version, with the added benefit that you simply pop it in the oven and set the timer!
Frittatas feature whole foods – fresh eggs, milk, cheese and your family's favorite vegetables. You can eat them hot, warm or cold, at just about any meal. They make a nice brunch with crisp bacon and fruit, or a great dinner with a salad and whole wheat rolls.
And you can make two or three at a time, so it's easy to adjust the ingredients for different tastes, feed a group, or have some to enjoy the next day. A frittata can be a "there's nothing for dinner" dinner, especially if you can pull grated cheese and chopped vegetables out of the refrigerator or freezer.  Or you can jazz if up for a special occasion – I'm planning to serve frittatas, bacon, fruit and homemade cinnamon rolls when my in-laws come for brunch after church on Easter.
Do you make frittatas? If so, which version do you make and what ingredients do you like to add?
Oven Frittata with Vegetables

Print recipe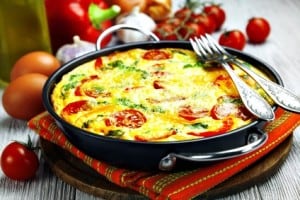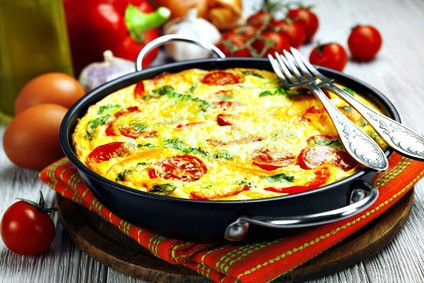 Ingredients
1 1/2 cup vegetables (chopped or diced)
6 eggs
1 1/4 cup milk
3 tablespoons flour
1 1/2 cup grated cheese
Directions
Preheat oven to 375. Oil or butter 9-inch glass pie plate or a similar oven-safe dish.

Use any combination of vegetables your family enjoys. Onions, peppers, celery, mushrooms, broccoli, tomatoes, and many others work well. The amount is very flexible; you can use more or less. I usually end up with about a cup of vegetables, after they've been cooked. Chop or dice the vegetables, and saute them in olive oil until soft. (Tomatoes do not need to be sauteed). Cook until all excess liquid is absorbed.
Spread vegetables in the bottom of the pie plate. Top with 1/2 of the cheese. We like extra sharp cheddar in this frittata, but any cheese your family likes will work. (The amount of cheese is also flexible; you can use a bit more or a bit less.)
Mix eggs, milk, flour and salt and pepper to taste using an electric mixer, blender or stick blender. Add to pie plate and top with remaining cheese. Bake at 375 for 30-40 minutes, until the egg mixture is set in the center. Remove from oven and cool slightly before serving. Cut into wedges to serve.