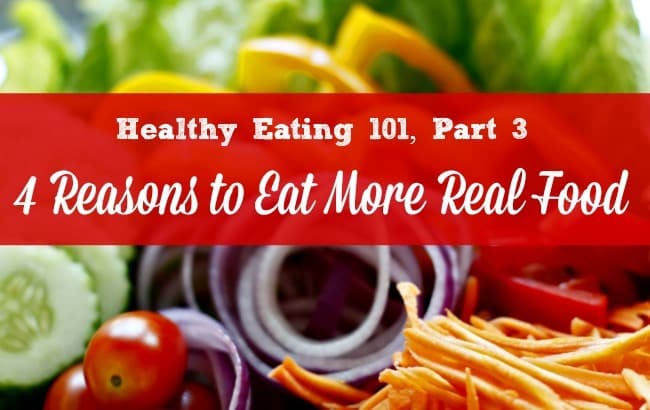 You know that you're supposed to eat real food, but what exactly is it? I'm sure there's a formal definition somewhere, but here's my definition – real food is the food our great grandparents ate. It's the food everyone ate, back when food came from farms, not factories. 
Basically, it's food that we eat in its natural or near-natural form. It contains a small number of ingredients, all of which we can pronounce!
(Check out the other 3 parts of the Healthy Eating 101 series:  Part 1 – get organized and make a plan for eating well, Part 2 – bad news about processed food, and Part 4 – let's get started.)
If you've been thinking about moving to a healthier diet but need a bit of encouragement, here are 4 reasons to eat real food and incorporate it into your family's diet:
4 Reasons to Eat Real Food
• Real foods are delicious – Fresh fruits and vegetables in season, real cheese, natural peanut butter on a banana, baked sweet potatoes with a little butter, whole wheat bread, grilled chicken – all of these taste absolutely wonderful!
In many ways these foods qualify as  true delicacies, and the processed foods that fill our grocery stores rank as sorry pretenders. 
But, as someone who has enjoyed her fair share of Oreos and Kraft Mac and Cheese, I will freely admit this – if your family has been eating a lot of processed foods, the transition to the natural deliciousness (is that a word?) of real food may be rocky. So you need to be prepared.
Remember that food manufacturers are using salt, sugar, and fat to "encourage" us to eat more processed foods. So make the change gradually, introducing one or two delicious real foods at a time and easing some processed foods out of your family's diet.  (We'll talk more about strategies in Part 4.)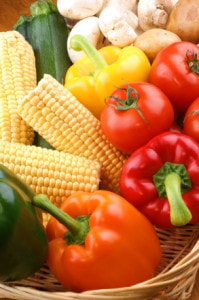 • Real foods are nutritious.  When we eat foods in their natural or near-natural form, we benefit from all of their God-given nutrients.
When we eat foods that are manufactured,  we benefit only from the nutrients food companies have decided to put back in, after many of the original nutrients have been removed. That makes so little sense, it's amazing that we've gone along with it for so long!
All of the nutrients we need – vitamins, minerals, fiber, protein and more – are found in real food, like unprocessed fruits, vegetables, grains, lean meat, eggs, olive oil and dairy.
• Real foods can be economical.  Yes, I'm equivocating a bit on this one, because eating healthier can seem like an expensive proposition. Certainly, for example, organic foods are more expensive than conventional foods. And high-quality foods often cost more than low-quality foods (real whole wheat bread vs. white bread, for example).
But it's also true that a meal cooked at home with real ingredients is less expensive than a meal prepared with processed foods, and far less expensive than a restaurant meal. And, in terms of nutrient value, real foods always win.
For the cost of a large bag of potato chips, for example, I can buy several nutrient-dense bananas or apples. And I'll get a lot more food value out of a bag of brown rice than a couple of boxes of cheesy rice mix, for about the same amount of money. Fruits and vegetables in season are always a good value, and even real food goes on sale sometimes. And discount grocery stores are beginning to carry many more real food choices.
So yes, real foods can be economical, but eating well on a budget does require some thought and planning. (Again, we'll talk more about strategies in Part 4.)
• Real foods can help you maintain a healthy weight.  I don't want to overstate this point, because some real foods are high in calories (nuts, olive oil and cheese, for example). So people who want to lose weight or maintain their weight need to keep calories in mind, even when they're eating real foods.
But, having said that, I believe it's easier to lose weight or maintain a healthy weight when we eat primarily real foods. A diet that's high in fruits, vegetables, whole grains, legumes, lean meat and seafood, and dairy is a filling, satisfying diet. Compared to a diet that's high in sugar and processed carbohydrates, it maintains better control of blood sugar, which reduces cravings.
So, those are four of my reasons for tilting my family's diet in the direction of real foods. I'm not always successful, but I'm moving in that direction. What's your experience with with adding real foods to your family's diet? What challenges have you faced, and what successes have you achieved? Please share your thoughts in the Comments – I would love to hear from you.
Looking for healthy food, at great prices, delivered to your door? Check out all of the organic food, real food, and products for a healthy life at Thrive Market. Click here for a special offer – an additional 20% off  Thrive's already-low prices on your first three orders+ free shipping on all orders over $49.