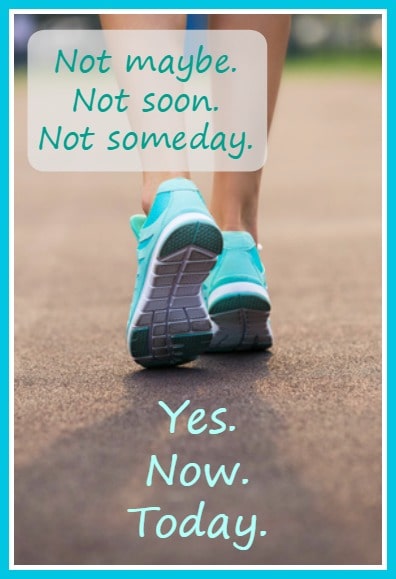 Regular exercise/physical activity isn't something you "have" to do. It isn't something you "should" do. It's something you deserve to do.  Exercise benefits your body and health, but it also benefits your mind and spirit. Similar to your need for healthy food and adequate sleep, you need and deserve to move your body every day.
Not maybe.
Not soon.
Not someday.
Yes. Now. Today. 
At least 30 minutes a day, at least 5 days a week (1).

Here are some ideas for getting started. Or, if you've already started, use these ideas to find new ways to add exercise to your life. In the meantime, I'd love for you to share in the Comments about your experiences with exercise/physical activity and how you fit it into your busy life. Or about the struggles you face trying to fit it in.
And be sure to download this free printable of the "Not maybe. Not soon. Not someday." graphic. Save it on your phone or print it out and post it as a reminder that you deserve to make time to move your body
And for more ideas for adding exercise to your busy life, check out my article on The Huffington Post, 10 Ways to Make Time for Exercise.
(1) Physical Activity Guidelines for Americans
Add a little bit of spice to your marriage!
Get 18 Ways to Spice Up Your Marriage. Plus simple tips for a healthy life and happy marriage - right to your inbox.