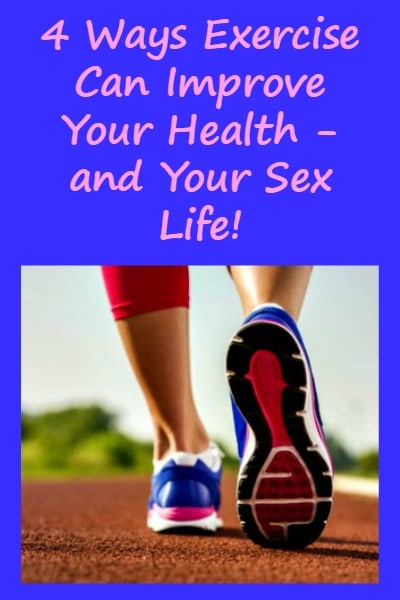 If you're a regular here, you probably know that I'm passionate about exercise and physical activity – moving our bodies every day and incorporating exercise into our daily lives.  It's my #1 tip for living a calmer, healthier, sexier life.  In today's post I'm sharing the top benefits of exercise – the ways it boosts your body, mind and sex life!  Later this week I'll share tips for getting started with exercise – or taking your exercise routine to the next level. 
Here are four ways exercise can improve your health – and boost sex and intimacy in your marriage!
Exercise reduces the risk of major diseases and causes of disability.  What it means for your health – Regular exercise reduces the risk of heart disease, stroke, high blood pressure, type 2 diabetes, colon cancer, breast cancer and many other serious health problems.(1,2)  In other words, people who exercise regularly are significantly less likely to develop the leading causes of sickness, disability and death.  The scientific evidence for these benefits is very strong – strong enough to make  the time and energy you put into exercise well worth the effort. What it means for your sex life – Serious health problems affect your energy, mood and ability to perform sexually.   A healthy heart and blood vessels promote blood flow (good for sex), while an unhealthy heart and blood vessels impair blood flow (bad for sex).  Diabetes and high blood pressure, in particular, can seriously impair sexual performance, particularly in men.  (An excellent reason to encourage your husband to exercise with you!)  So to ensure that your body is primed for sex and intimacy, exercise regularly to help prevent (or minimize) major health problems.(3)
Exercise promotes positive mental health.  What it means for your health – Regular exercise reduces depression symptoms; studies have shown that it can be an effective treatment for mild to moderate depression.(1, 4)  It may also reduce stress and anxiety and promote better sleep.  Exercise also releases endorphins, brain chemicals that reduce pain and enhance feelings of well being.  What it means for your sex life – Depression suppresses libido and zaps the energy needed to enjoy sex and intimacy.  Stress, anxiety and lack of sleep can also inhibit libido, especially in women.  Regular exercise, by reducing depressive symptoms and anxiety, may create a positive attitude toward, and greater energy for, sex and intimacy.  (People who are suffering from depression should seek medical care and discuss a range of treatment options, including exercise, with their physician.)
Exercise promotes healthy body weight and positive body image.  What it means for your health – Excess weight contributes to many serious health problems, including heart disease, stroke, high blood pressure, diabetes and cancer.(5)  Losing weight reduces the risk of developing those problems.  Regular exercise, particularly when combined with eating less, promotes weight loss and maintenance of a healthy weight.  People can lose weight without exercising, but it's difficult.  More than 90% of members of the National Weight Control Registry, for example, composed of people who have lost an average of 66 pounds and kept it off for 5.5 years, used both exercise and calorie restriction to lose weight and maintain the loss.(6)  What it means for your sex life – For many women, being overweight adversely affects their body image and sexual feelings.  Although beautiful, sexy bodies come in all shapes and sizes, the reality is that most women feel sexier and more confident if they maintain a body weight that's healthy for their height, build and age.  Regular exercise can help women move toward that healthy weight goal.  It also tones muscles and builds strength, both of which contribute to a positive body image.
Exercise increases energy and promotes sexual satisfaction.  What it means for your health – When people feel weary and worn out , their natural inclination is to rest or take a nap.  Researchers have discovered, however, that people who take a walk feel better and report higher energy levels than those who rest or nap.  Over time, sedentary people who begin an exercise program report higher levels of energy than those who remain sedentary.(7)  What it means for your sex life – People who feel energetic are more likely to be in the mood for sex and to enjoy sexual activity.  This is especially true for women, whose libido is often closely linked to fatigue and energy levels.  So anything that boosts energy is a plus.  And in addition to boosting energy, exercise may increase desire and sexual satisfaction (4) – a win-win situation all the way around!
If the thought of starting to exercise seems overwhelming, here are some ideas for fitting exercise into your busy schedule.
References and Additional Reading:  (1) Physical Activity Guidelines for Americans  (2) Exercise is Medicine
(3) WebMD – Exercise and Sex  (4) WebMD – Exercise and Depression 1 Exercise and Depression 2  (5) WebMD – Obesity  (6) National Weight Control Registry  (7) WebMD – Exercise and Energy
Healthy Life, Happy Marriage
Get 15 Ways to Connect with Your Spouse - When Life Gets Crazy! Plus simple tips for a healthy life and happy marriage - right to your inbox.