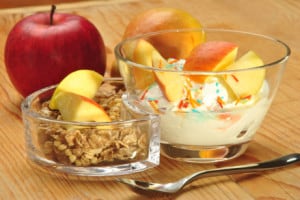 A SmallStep is one simple thing you can do to live calmer, healthier or sexier. This week, in the spirit of our Healthy Eating 101 series, consider taking the small step of replacing two processed foods your family eats with real foods. Once you've established those new foods as "regulars" in your family's diet, make two more changes. Over several months, you'll increase the number of nutritious, delicious real foods everyone eats, with (hopefully!) minimal angst or complaining. Here are some examples of the kinds of changes you could make:
Eliminate sodas (regular and diet) and add more water, milk, tea or 100% fruit juice.
Replace high-sugar cereals with low-sugar, whole-grain cereals.
Replace white bread with whole wheat bread, or white rice with brown rice.
Swap out sugary, fruity yogurt and serve plain yogurt with fruit instead.
Replace bottled salad dressings with easy, delicious homemade dressings.
Replace chips and other salty snacks with air-popped or stove-popped popcorn, lightly salted.
Instead of breakfast pastries, serve whole wheat English muffins with peanut butter.
Eliminate margarine and vegetable shortening; use butter or olive oil instead.
Replace fast food lunches with a sandwich and fruit or leftovers.
Replace fast food dinners with simple dinners, cooked at home.
Replace packaged vegetable side dishes with a salad or steamed vegetables.
Instead of cookies or other sweets, serve fresh fruit.
Replace packaged cookies and cakes with homemade versions that use real ingredients.
Replace foods made with high-fructose corn syrup with foods that aren't made with it.
Swap foods that are high in sodium for lower-sodium foods.
Have you made changes to include more real foods in your diet? What has worked for you? What has been a struggle? Please share your ideas in the Comments – I would love to hear from you. I also would love for you to  subscribe to Calm.Healthy.Sexy. by email. Enter your email address in the sidebar (under Subscribe to Blog Via Email). And please follow Calm.Healthy.Sexy. on Twitter (@CalmHealthySexy), Facebook, or Pinterest. Thanks. Gaye
Linked to the fabulous blogs and blog hops at Housewife How To, All She Cooks, Salt Tree, HealthyTuesday, Not Just a Housewife, Inspired Tuesday, Romance on a Dime, TALU, Hearth and Soul Hop, Life of Meg, Nifty Thrifty Things, The Chicken Chick,  I Gotta Try That and Matrimonial Monday.