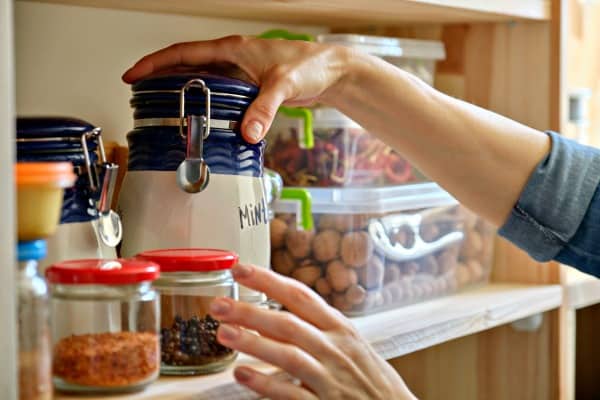 I love to cook at home, but when I have to cook every single meal at home I get just a little bit irritable. And if you're like some of my friends and you really don't like to cook at home, then you may be feeling more than a little bit irritable.
And who could blame you? After all, we're all in the middle of some sort of quarantine or social distancing or stay-at-home scenario (depending on where you live), and we're not prepared for it. We're used to shopping at a well-stocked grocery store whenever we want and eating out or ordering take-out whenever we're too busy too cook (or just don't feel like it!). And we don't like change – especially when it's inconvenient!
As a result, most of us aren't used to cooking out of our pantry or freezer and coming up with healthy meals to make at home with ingredients we have on hand. And it feels hard and frustrating, on top of a lot of other hard and frustrating things we're facing.
So here are some things that I hope will help – 2 tips for making healthy home cooking easier plus 11 easy and healthy meals to make at home, with ingredients you probably have on hand or can still find at your grocery store. (Includes affiliate links.)
2 Tips to Make Home Cooking Easier
Make a double (or triple) batch whenever possible. Then freeze one batch and use it on a super-busy day. Do this often, so that you'll end up with lots of meals or meal ingredients in your freezer.
Prep or cook extra meal ingredients so that you have them on hand. For example, grate cheese once, then use it throughout the week. Make big batches of brown rice (since it takes a while to cook) and use it throughout the week or freeze. If you're going to use onions and peppers or salad vegetables twice, chop them all at one time. Cook chicken breasts on the weekend and use them for two or three meals.
(Check out more of my easy at-home food prep and meal prep tips)
11 Easy and Healthy Meals to Make at Home
1. Chicken, beef or pork in the Crockpot. Put enough boneless skinless chicken breasts, London broil top round roast, or pork tenderloin to feed your family for two meals into your Crockpot. Add a little bit of water, broth, salsa, or sauce of your choice. Cook all day and serve it sliced that evening with simple sides, like brown rice with butter and steamed green beans. (Or try Tex-Mex Shredded Beef or Spicy Italian Beef in your Crockpot.) When it comes to healthy meals to make at home, shredded meat cooked in the Crockpot gives you more options for less work than almost anything else.
(Also check out 10 clean-out-the-pantry Crockpot meals from A Year of Slow Cooking.)
2. Next-day Tacos. The next day, shred the rest of the chicken, beef or pork, mix with salsa and make tacos. Serve with as many or as few toppings as you like – just shredded cheese and more salsa is fine if you're really short on time or if your kids like to keep it simple. Add some fruit on the side.
(Have an Instant Pot? Put it to work for you to make your life easier over the next few weeks.)
3. Mediterranean Chicken Wraps. Grill or pan sauté boneless, skinless chicken breasts (or use some that you cooked over the weekend). When done, let them cool a bit, then slice thinly. Warm pita breads or flatbreads in the oven, microwave or skillet. Set out hummus, cheese (feta or other), salad dressing or vinaigrette, and as many or as few vegetables as you have on hand (lettuce, tomatoes, cucumbers, olives, etc.). Let each person make his or her own wrap. Picky eaters can have a simple wrap with just chicken and cheese. Serve with orange slices or other fruit.
4. Sautéed Chicken Breasts, Baked Sweet Potatoes and Quick Brown Rice. Heat olive oil or salad dressing/marinade in a large skillet. Add enough boneless, skinless chicken breasts to serve your family. Brown on both sides, then cover and cook until done. While the chicken is cooking, put a pot of water on to boil, following the instructions for the amount of quick/instant brown rice you'll need (or heat brown rice that you've previously cooked and frozen).
Pierce sweet potatoes several times and place in microwave. Cook on high for 10 minutes or until soft all the way through. When water is boiling, add rice and cook as directed (usually about 10 minutes). When sweet potatoes are done, cut them open or in half and add butter. (Cinnamon is a nice addition too.)  Add butter, salt and pepper to taste to the rice.
5. Mini Pizzas. Preheat the oven to 400. Line a large baking sheet with foil (for easier clean-up) and place whole wheat flatbreads on the foil. (Keep some of these in the freezer for busy days.)  Top with spaghetti sauce (or tomato sauce and dried Italian seasoning), grated cheese, and veggies or other toppings your family likes. Bake for about 12 minutes. Serve with cut up vegetables or sliced fruit.
6. Whole Wheat Pasta with Cheese and Pick-up Vegetables. Put a pot of water on to boil. While it's heating, grate your family's favorite cheese. You can also keep bags of pre-grated cheese on hand, or grate your own when you have a few extra minutes and freeze it.
Then start pulling together a plate of pick-up vegetables – baby carrots or carrot sticks, cherry tomatoes, slices of cucumber, strips of red or orange pepper, whatever you have on hand.
When the water boils, add enough whole wheat pasta to serve your family and cook according to the package directions. Drain the pasta and add butter or olive oil to coat lightly and salt to taste. Divide among plates and top with grated cheese. Place the vegetable plate on the table and allow family members to choose from it
7. Rotisserie Chicken with Tiny New Potatoes and Green Beans. Line a large baking sheet with aluminum foil (to make cleanup easier). Place enough tiny new potatoes (or larger potatoes cut into chunks) for your family on the sheet and drizzle with olive oil. Bake at 375 for about 15 minutes (longer if the potatoes are larger than the tiny size). Carefully move the potatoes to one side of the sheet and add green beans to the other side (a package of washed and snapped beans saves time.) Drizzle with olive oil and bake for 8-10 minutes. Serve with rotisserie chicken.
8. Black Beans and Quick Brown Rice with Sliced Fruit – Heat olive oil in a large saucepan or Dutch oven. Coarsely chop an onion and sauté it in the olive oil. While the onion cooks, open cans of black (or other) beans (enough for your family) plus one or two cans of diced tomatoes. Rinse and drain the beans. In the meantime, start water for quick brown rice heating in another pot, according to the package directions. (If you have cooked brown rice in the freezer, even better!)
Add beans and tomatoes to cooked onions, and season according to your family's tastes (salt, pepper, Italian seasoning, cumin, chili powder, Tabasco, etc.). Cook for 10 minutes. Add rice to boiling water and cook as directed (usually about 10 minutes). While the beans and rice cook, slice oranges, apples or whatever fruit you have on hand. Serve beans on top of rice, with fruit on the side.
9. Spaghetti. Keep several jars of high-quality spaghetti sauce on hand – look for brands that contain primarily tomatoes and just a few other ingredients – and little or no sugar. (Some spaghetti sauces list sugar as the second or third ingredient!)  Or make a big batch of your own one weekend and freeze dinner-size portions that you can grab on hectic days.
While whole grain spaghetti is cooking, make a simple salad or cut up vegetables for a simple veggie plate with some salad dressing on the side as a dip.
10. Wraps. Use whole wheat tortillas or sandwich wraps to make quick and easy meals with almost anything you have on hand. Use sliced turkey, sliced or grated cheese, hummus with feta and vegetables, egg salad or chicken salad, peanut butter and fruit spread, chopped salad, leftover shredded chicken or beef, or just about anything you or your family would be happy to roll up and eat!
11. Grilled cheese. A grilled cheese sandwich made with whole wheat bread, real cheese, and a little bit of butter or olive oil in the pan is an easy real food meal. If you have some soup, heat it up. Either way, add some orange or apple slices and everyone is happy!
Cooking at home during the coronavirus crisis is hard, but I hope that these tips and healthy meals to make at home will make it a little bit easier for you. Do you have any tips or meals to add? Please share them in the Comments – I'd love to hear from you.