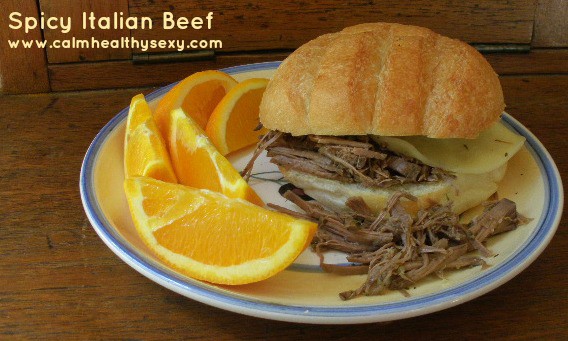 Here's a cooking confession – I make a shredded beef dish in my Crockpot almost every week, either this delicious Italian beef or Tex-Mex Shredded Beef. They're easy and healthy, I can throw them together in 5 minutes, and everyone in my family loves them.
The beef can be eaten as a main dish, with simple sides such as brown rice and a salad, or as a filling for sandwiches, tacos or quesadillas. This makes it an ideal meal when family members have different ideas about what constitutes a yummy dinner – my husband and I can eat it with brown rice, one son can use it to make tacos, and the other can make a sandwich. Everyone is happy!
This recipe makes a lot of meat, so I always have enough for a second meal or lunches to take to work. You can take it to a potluck along with some rolls and cheese and let people make their own sandwiches. It's my go-to option on very busy days. I hope you and your family will enjoy it.
Spicy Italian Beef

Print recipe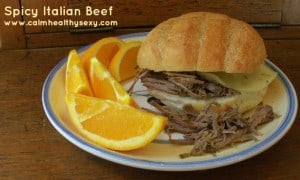 This delicious Italian shredded beef recipe makes delicious sandwiches or a wonderful main dish, served with rice and a salad or your favorite sides.
Ingredients
2 London broil roasts (2-3 pounds each)
1 can beef broth
1 12 oz. jar pepperoncini peppers
1-2 tablespoon Italian seasoning
Directions
Place roasts into Crockpot. Sprinkle Italian seasoning over meat. Add beef broth and peppers (including the liquid). Cover and cook all day on low (approximately 8-10 hours). Carefully remove the cooked meat to a large plate. Remove and discard the peppers. Shred the meat using a fork and/or tongs, discarding any fatty pieces. Place shredded meat back into Crockpot and keep warm until serving.
Notes
This beef makes delicious sandwiches - my boys like it on chewy rolls with a slice of provolone.  It's also great with a side of brown rice and a salad.
Buy the best quality beef you can get.  I can't afford grass-fed or organic beef, but I do buy beef that's hormone-free and antibiotic-free whenever possible.  Look for it on sale and stock up.  You can use other cuts of beef to make this dish.  However, I've found that roasts labelled "London broil" (or "top round") make very good shredded beef without a lot of waste or fat.
Also buy the best beef broth you can get.  It's difficult to find organic beef broth in regular grocery stores.  You can find it at Trader Joe's, Whole Foods and similar stores.  At the very least, try to buy the reduced-sodium variety.
Beef broth and pepperoncini peppers are high in sodium (unless you can find unsalted beef broth), so take that into account if you are limiting sodium in your diet.
This recipe makes a lot of meat.  You can halve it, but I like to make the full recipe and have plenty for a second meal or lunches to take to work.