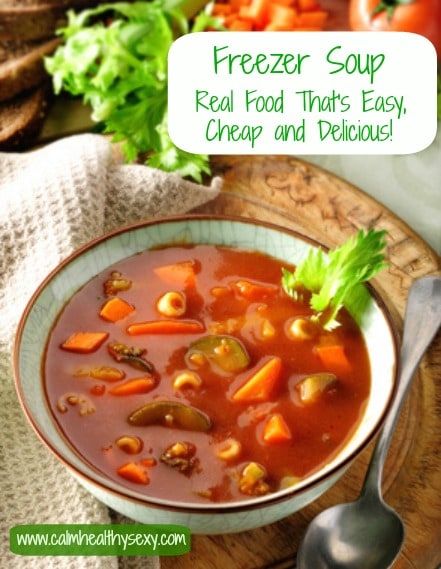 Tonight we're having "Freezer Soup" for dinner.  But don't tell anyone in my family – they think we're having "Mom's Homemade Vegetable Soup."  The two are similar except for one key difference – "Freezer Soup" allows me to grab real food ingredients I've been saving in my freezer for several weeks, add a few things from my refrigerator and pantry, and throw everything into the Crockpot – which does all the work while I go about my busy day.
Here's the trick that sets me up to make this soup quickly, easily and cheaply – I collect small bits of leftover beef, beef broth and vegetables in the freezer over several weeks.   (I also collect leftover chicken and broth for chicken soup.)  Sometimes when I'm chopping vegetables, I'll chop extra and throw it in the freezer for soup.  Once I've accumulated a small stash, it's time to make Freezer Soup.  I pull everything out of the freezer before going to bed and put it in the refrigerator; it's thawed and ready for the Crockpot in the morning.
Here's what went into today's soup:
From the freezer – half a grilled steak (cut up), leftover Spicy Italian beef and broth, beef stock, frozen mixed vegetables, part of a bag of shredded cabbage
From the refrigerator – baby carrots, chopped onion I prepped earlier in the week
From the pantry – canned diced tomatoes, beef broth
This soup will be yummy tonight (with some homemade cornbread!) and even better for lunch tomorrow.  It's one of my favorite strategies for serving my family real food without blowing up my grocery budget.
Do you have a favorite trick for eating real food while managing your time and money?  Please share it in the Comments; I would love to hear from you.  Gaye
Sharing with Fabulously Frugal Thursday, Pinterest Foodie Linky Party, Show Stopper Saturday, Empty Your Archive, The HomeAcre Hop, The Creative Home and Garden Hop, Real Food Friday, Saturday Night Fever, The Pin It Party, Fluster Buster, The Pincentive Blog Hop,  Pin It Monday, Marvelous Mondays, Let's Get Real Blog Hop, The Chicken Chick, Yummy.Healthy.Easy., Inspire Me Monday, Six Sisters Stuff, Hearts for Home Blog Hop, Fancy This Fridays, Feature Friday Link Party, From the Farm Blog Hop, Pin Me Linky Party, The Best Blog Recipes, Create It Thursday, Saturday Show and Tell, Catherine's Corner, Pin It Thursday and Welcome Party Wednesday.
Photo credit – © stevem – Fotolia