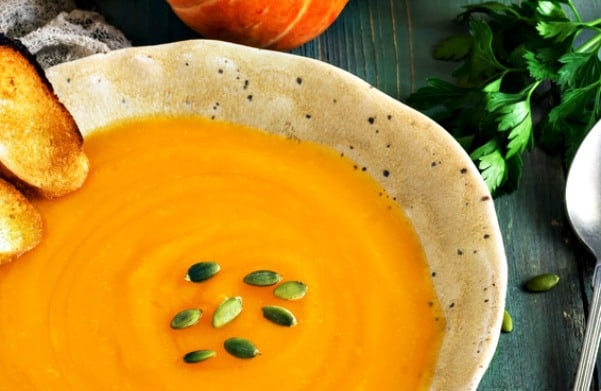 This delicious and easy butternut squash soup is so good, it's earned the "family-friendly" stamp of approval at my house!
I started making easy butternut squash soup when our picky eater was 13 or 14, right in the middle of his macaroni and cheese/pizza/hamburger phase. And he ate it happily.
As a matter of fact, the first time I served it, he thought it was "Aunt Tina's Cheese Potato Soup." (I did set him straight – eventually!)
But with very little effort, you can also dress up easy butternut squash soup and turn it into a delicious first course for Thanksgiving, Christmas or another holiday dinner.
Serve it in pretty bowls, add a sprinkle of fresh herbs and maybe some homemade croutons, and suddenly your holiday meal looks very elegant – with very little work!
However you plan to serve it, here's my best tip for making this soup – always make a double batch!  It takes a bit of time to pull this recipe together, so double the ingredients.
You'll end up with enough soup for two meals (or one meal and lots of yummy leftovers) with very little extra effort. If you want to freeze half of it for a later meal (it freezes beautifully), simply follow the recipe instructions for freezing and thawing.
I hope you enjoy this delicious, easy butternut squash soup a healthy, hearty family meal and as part of an elegant holiday meal.
Family-Friendly Butternut Squash Soup

Print recipe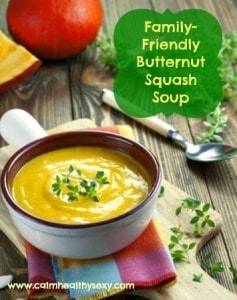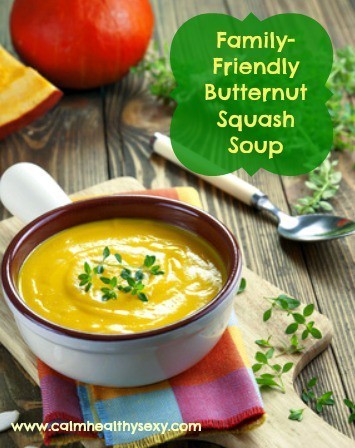 Ingredients
1 butternut squash
1 bunch leeks
2 baking potatoes
2 tablespoons extra virgin olive oil
4 cups chicken broth (organic and or reduced sodium, if available)
1 cup half and half
1 teaspoon salt (or to taste)
1 teaspoon pepper
Directions
Carefully slice squash in half lengthwise. Scrape out the seeds and most of the fibrous strings (you can remove the remainder of the strings easily after the squash is baked). Place the halves cut side down on a baking sheet lined with foil or parchment (for easy clean-up). Bake at 375 until soft all the way through (45-60 minutes). Cool. (You can bake the squash a day ahead.)
(Note: Although leeks can be a bit pricey, they really make this soup.) Cut and discard the dark green part of the leeks; you'll need the white and pale green parts. Separate the leeks and rinse in cool water - they tend to be sandy. Pat dry and slice into rounds. Peel the potatoes and slice into rounds. Heat olive oil over medium heat in a Dutch oven or soup pot. Add leeks and saute several minutes until soft. Add chicken broth and potato slices and bring to a boil. Boil gently until potato slices are cooked all the way through. (Note: If you want to save the time it takes to peel and slice the potatoes, you can bake them whole with the squash, cool them enough to handle, then cut them in half and scoop the pulp into the soup pot.)
When the squash is cool enough to handle, scoop the pulp out of the skin and into the pot. Add salt and pepper. Cook everything together for 2-3 minutes, then remove from heat. Let the soup cool a bit, then carefully puree it with a stick blender until smooth. (Beware that hot puree doesn't go flying!) If you don't have a stick blender, get one - they're inexpensive and save a ton of time and hassle! But, if you don't have one, you'll need to CAREFULLY transfer the soup in batches to a blender or food processor to puree it, then back to the pot.
Add half and half to soup and mix in thoroughly. Depending on the size of your squash and potatoes, the soup may be a bit too thick. Add a little more half and half or milk to get the consistency you like. Heat through and serve.
Notes
This is not a quick recipe, but it's worth the effort.  I strongly recommend making two batches and freezing one - you get a double payoff for virtually no additional work.  If you decide to double it, remove half of the vegetable-broth mixture from the pot just before adding the half and half.  Cool, then freeze it.  When you're ready to use it, thaw in the refrigerator, heat and add the half and half.