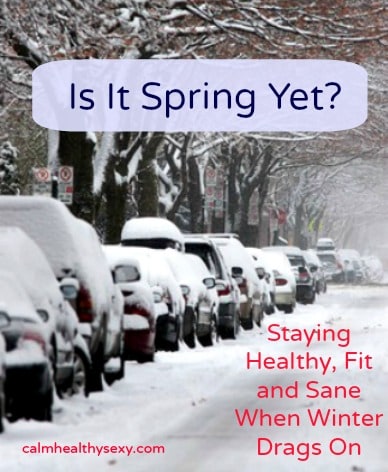 Record cold temperatures. Ice storms. Epic amounts of snow. Widespread power outages. Did I miss anything? Oh yeah, just this – I am DONE with winter and so ready for it to be over! And if you live anywhere in the U.S. or Canada, I'm guessing you feel exactly the same way. Spring cannot get here soon enough.
One of the (many) downsides of a long, harsh winter is that it wreaks havoc with our efforts to live calmer, healthier and sexier lives. It's hard to exercise, enjoy fresh air and bask in the sunshine when temperatures don't rise above freezing for weeks! And it's even harder to eat lots of fruits, vegetables and whole grains when all you really want to do is devour an entire pot of macaroni and cheese! And let's not forget the effects of a frigid house and bedroom on sex and intimacy!
But, if you can stay on track with your goals until spring, your mind and body will thank you. Few things are more discouraging than setting a goal, starting to work on it, getting off track and having to start over. (Of course, we all do that a lot. I'm just encouraging us to stay on track as much as possible.)  So in the spirit of "holding on until spring" and taking small steps toward living the life we really want, here are some tips for staying healthy, fit and sane:
Health
Get as much sun and fresh air as possible.  When the sun appears, bundle up and get outside. And if it refuses to come out, bundle up and get some fresh air. Although staying cozy in the house is tempting, sunlight and fresh air help you shake off the winter doldrums and clear your mind. As my sister said last week, "I want to get in bed, pull the covers over my head, and not come out until spring." Yeah, me too. But don't.
Consider taking Vitamin D.  Vitamin D does much more than build strong bones. It helps maintain heart health and may play a role in preventing diseases, including diabetes. It may also play a role in preventing depression. Our bodies make Vitamin D when they're exposed to sunlight, but people in northern climates don't get sufficient sun exposure in winter. So taking a supplement might boost your health and your state of mind.
Avoid heavy, starchy foods.  In other words, comfort foods. Sure, they make you feel good for a little while, but they leave you feeling stuffed and heavy. And most of them derail your healthy eating goals. So eat them infrequently and in moderation. Or replace them with lighter comfort foods, like homemade chicken or vegetable soup or squash soup. And enjoy "warming" treats that aren't heavy, like specialty coffees and teas.
Eat lots of fruits and vegetables.  You may be dreaming of garden-fresh tomatoes, peppers and herbs (I certainly am), but in winter we're working with a more limited selection. Still, it's possible to eat plenty of fruits and vegetables. Citrus and other winter fruits, such as pomegranates, are in season. Apples and bananas are usually available, and frozen fruit is always an option. When it comes to vegetables, let's be honest – winter vegetables aren't as much fun as summer vegetables. However, winter squash and sweet potatoes can be made to taste very good. And a medley of roasted vegetables is always delicious. So try to  include two fruits or vegetables in each meal, and serve them as snacks too.
Stay hydrated.  We tend to think about hydration in summer, but water is important in the winter too. Water helps you look better, feel better and maintain good health. Make it a point to drink water throughout the day.
Fitness
Get out and move.  When you go outside to get some sun and fresh air, move your body. If nothing else, it will help you stay warm! Walk briskly. Take the kids sledding or skating. Take a short hike. Just move.
Stay in and move.  I like to exercise inside in the winter. (Have I mentioned that I hate cold weather?!)  If you're like me, figure out creative ways to move your body while staying warm. Use any exercise equipment you have at home – hand weights, exercise ball, treadmill or bike. Check out exercise DVDs from the library or find workout routines online. Do "old fashioned" exercises – jumping jacks, push ups, rope jumping. Dance by yourself, with your husband or with the kids. Dust off that forgotten gym membership. Walk at the mall. Just find a way to move your body every or almost every day.
Consider a class.  Even if you aren't a big fan of exercise classes, consider joining one in the winter as a motivation to stay active. You can stick with an old favorite (aerobics, yoga) or try something new (all-terrain spinning, kickboxing circuit).
Sanity
Go outside.  Are you sensing a theme here? The benefits of sunlight, for your health and mental health, cannot be overstated. Try to spend a few minutes in the sun, or at least in natural light, every day.
Work on a goal.  Use the final weeks of winter to work on a goal. Organize things that have been getting on your nerves. De-clutter a room or area of the house. Start a project, or work on a project you've already started. For me that could be anything from cleaning out the kitchen pantry to organizing our bills and paperwork to working on my blog goals for the year. Pick something you can accomplish in a reasonable amount of time that will give you a sense of satisfaction.
Plan for spring and summer.  If you're a gardener, you're probably starting to think about your garden and make plans for it. You may be buying seeds, starting seedlings, drawing up plans or cleaning out the garden beds. If you aren't a gardener, do the same kinds of things, but focusing on something that interests you. Begin making plans as a family for a spring camping trip. Get your bikes in shape for spring riding. Begin researching summer vacation possibilities. Start planning a spring weekend getaway for you and your husband. Make plans for your yard and outdoor projects. Planning and dreaming make time pass more quickly, and looking forward to something provides an antidote to the winter doldrums.
Laugh.  Watch a funny movie, television show or comedy skit. Go back to old movies that made you laugh in the past and enjoy them again. Our family thought the Pink Panther movies were hilarious when our boys were younger. My husband and I may need to revisit them to see if they still give us a good laugh.
Enjoy sex and intimacy.  Yeah, it's a little harder to get in the mood for sex when your bedroom feels like it's 50 degrees and your body feels the effects of too much comfort food, but do it anyway! Come on – it's fun, it releases endorphins that make you feel great, it increases your bond with your husband, and it generally smooths out some of the winter crankiness in your life!
Winter will end soon (although not soon enough!). In the meantime, let's do everything we can to stay healthy, fit and sane. What are you doing to stay on track with your healthy living goals this winter. Please share your ideas in the Comments – I would love to hear from you. Gaye
Sharing with Empty Your Archives, Let's Get Real, Share It Sunday, Saturday Share Fest, Weekend Wind Down, From the Farm, That's Fresh Friday, The Weekend Re-Treat, Friday Flash Link Party, Friday Pin Fest, Family Fun Friday, Fantastic Friday, Ladies Only Blog Share, The Home Acre Hop, Messy Marriage, To Love, Honor and Vacuum, Pin It Monday, Tuesday Greens,  The Chicken Chick and Create With Joy.