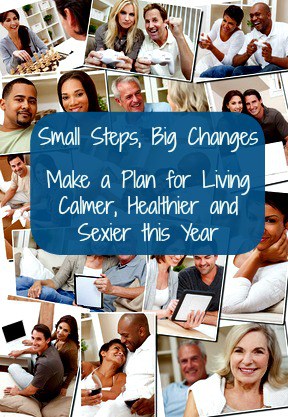 This month we've been talking about taking small steps that add up to big changes over time, changes that will allow us to live well and to really enjoy our lives this year. I've shared some ideas for living calmer, healthier and sexier, and many of you have shared a small step you plan to take or some of the challenges you face when it comes to making changes.
If you've made a plan and are beginning to take small steps – wonderful! If not, now's the perfect time to get started. I like to think of January as the month for evaluating and making plans and February as the month for launching them. So, it's launch time! If you haven't quite decided where to begin or identified the first step you want to take, here are a couple of ideas that may help:
Not sure where to begin?  Most of us want to live calmer, healthier AND sexier lives, and sometimes we can't decide where to begin. The whole idea of change can become overwhelming, and we end up doing nothing. If that's how you're feeling, take some time to identify the one thing that's bothering you the most. Is it your hectic schedule, disorganized house, weight, limited (or no!) exercise, lack of connection with your husband, or lack of meaningful family time? It can be anything that robs you of the joy of a calm, healthy and sexy life. The #1 thing is different for every woman, so only you can decide what it is for you.
Pick your first small step.  Now that you know your #1 thing, pick a first step that will allow you to begin changing it. Don't try to do it all at once – pick one realistic change you can begin to make. For example, if your family's hectic schedule is the thing you really want to change, be aware you won't be able to revamp it overnight. (Or, if you do, you may have a mutiny on your hands!)  Or if you want to lose a significant amount of weight, that can't happen overnight either. But you can begin making changes now that will allow those things to happen over time. So pick one thing you know you can change (although it may not be easy) and make it your first step.
Work your first step until it becomes a permanent change. It may take a while. That's fine – you're making a positive change. It might take a few weeks, or a few months. It really doesn't matter. Eventually, after the first step becomes a part of your life, pick another, then another, until you've addressed the issue in a way that allows you to live with more joy.
Here's what this process is looking like for me. The thing I want to change first this year is to get in better shape and lose 6-8 pounds (not a lot, but I've been trying to lose those pounds for several years). Making this change is going to require starting a regular strength training program, but I've been avoiding it because I dislike strength training so much! I love aerobic exercise, but would be happy never to see another hand weight again! But, the reality is that we all lose muscle as we age, which makes it harder to lose weight and look toned. Getting in shape and losing the weight will probably require several changes, but I'm only making one change right now – start a strength training program 3 days a week and stick with it until I see results! I've picked a program, collected the hand weights (they were collecting dust in various areas of the house!), and have been "test driving" it for a few weeks. This week I got serious about it, and am going to keep going until it becomes part of my routine.
What about you?  Do you have a plan for making some changes that will allow you to live a calmer, healthier or sexier life this year? Have you identified the first step you're going to take? Please share your plan, first step or strategies for staying on track in the Comments – I would love to hear from you. Also, if you don't yet follow CalmHealthySexy by email, I would love for you to  subscribe (enter your email address in the sidebar under Subscribe to Blog Via Email). You'll receive an email whenever I publish a new post. Thanks. Gaye
I Think You'll Like This Too…
How to Get the Perfect Body by Lisa at Snack Girl – this fits nicely with one of my favorite topics – real beauty vs. "created" beauty
The Word by Lori at The Generous Wife – a short, simple reminder of the value of reading God's Word regularly
Sharing with Countdown in Style, Turn It Up Tuesday, The Chicken Chick, Pin It Monday, Medical Monday, Motivation Monday, Share It Sunday, From the Farm Blog Hop, Weekend Wind-Down Party, Friday Pin Fest, Family Fun Friday, The Pin Junkie, Let's Get Real Hop, The Pin It Party – Creative Geekery, Prowess and Pearls, Pin It Thursday, The Homeacre Hop, To Love, Honor and Vacuum and Wake Up Wednesday.
Photo credit – Darren Baker – Fotolia