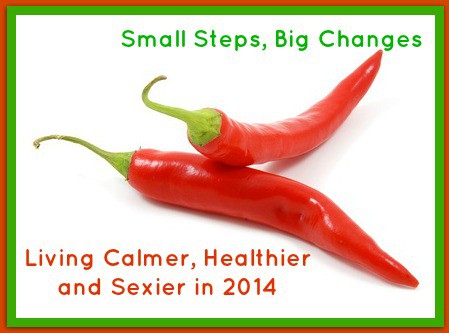 I'm all about making small changes and taking small steps toward achieving goals. I know some people can go "all in," making big changes and taking big steps all at once, but I'm not one of them. If you're one of those people, someone who can overhaul your diet or organize your house or revamp your schedule in a matter of days or weeks, I salute you. But if you're like me and need to make changes gradually in order to have any hope of them "sticking," then the four-post series that begins with this post may be for you.
Because it's January and most of us are making plans for the new year, I want to encourage you to consider a "small steps, big changes" approach to living calmer, healthier and sexier this year.  This approach allows you to make positive changes that work with your situation and schedule. It adapts to you, rather than asking you to adapt to it, and offers almost unlimited flexibility. For example, the "small steps" of a mother who's at home caring for infants and toddlers will look very different from those of a homeschooling mother of high school students. And the "small steps" of a woman who works full-time outside her home will look very different from those of a woman who is running the family farm or a home business. But all of those women, regardless of their circumstances and time limitations, can take small steps throughout the year that will add up to big changes in their peace of mind, health or marriage by the end of the year.
Are you interested in trying a "small steps, big changes" approach to living calmer, healthier or sexier this year? Here are three ideas to help you get started:
Identify the area of your life that's you causing the most stress – the one area you'd most like to change.  Is it disorganization in your home or office, a health problem, concerns about your weight, a packed schedule, too little time to exercise and get in shape, or too many activities? Or maybe it's too little sleep, worries about the food your family eats, or a lack of time and energy to really enjoy and connect with your husband. Or any of the thousand other things that can interfere with women living calm, healthy and sexy lives. So this week, take some time to figure out the one thing that's most interfering with that goal for you.
Focus on that one area.  If you're like me, you probably want to change a number of things in your life. For now, though, limit your focus to that one highest-stress area you identified. For example, I'd like to be more organized, live in a neater house, save more money, eat better and exercise more. But if I focus on making changes in all those areas, I'll end up making lasting changes in none of them. So for now, I've decided to focus on adding strength/weight training to my exercise routine. I really hate strength training and have been avoiding it for years. But it's important for women's health (especially as we get older!), so for right now it's my primary calm/healthy/sexy focus area.
Choose one small step that will help you make positive changes in that area.  The premise of a "small steps, big changes" approach is that you take one "small step" at a time and incorporate it into your life. (Sometimes you can work on more than one step at a time, but if in doubt, err on the side of doing less, not more.)  For my first step, I've identified a realistic strength training program that I do at home as part of my exercise routine three days a week. Once that first step is established as part of your daily life, take another one, and focus on it until it becomes part of your normal routine too. Over time, your small steps will become big changes that allow you to live a calmer, healthier and sexier life.
(Check out the other posts in this series – Living Calmer, Living Healthier and Living Sexier.)
You may already know exactly what step you want to take first. Or maybe you need some ideas, or help figuring out which step on your long list should be the first one. Over the next few days I'll be sharing ideas and potential steps for each of our focus areas – living calmer, living healthier, and living sexier. I'll also share resources that may help you choose a step and get started. My goal is that these posts will help you start on the path of "small steps, big changes" in 2014.
What calm, healthy or sexy changes would you like to make in 2014? Have you decided on a plan for making those changes, or are you still figuring it out? Please share your thoughts in the Comments – I would love to hear from you. Gaye
I Think You'll Like This Too…
Sharing with Fluster Buster, Get Schooled Saturday, From the Farm, Let's Get Real Party, The Pin It Party, To Love, Honor and Vacuum and Messy Marriage.