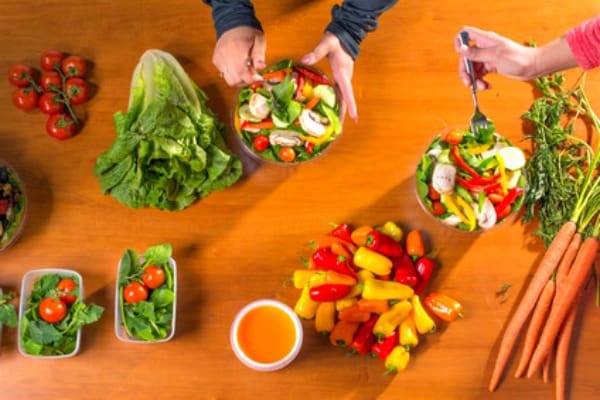 Let's talk about ways to prep healthy meals and snacks more quickly and easily.
Because the reality is that prepping and cooking real food takes time – much more time than heating up processed food or picking up dinner at a drive-thru window. Which leaves us wondering, where in the world will we find the time?
To Prep Healthy Meals and Snacks – Break it down
The answer is to break healthy food prep down into small, manageable tasks that you can do in small chunks of time. You probably can't take an hour every day to prep healthy meals and snacks, but you can devote 15 minutes to it. (includes affiliate links)
Maybe even 15 minutes in the morning and 15 minutes in the evening. And over time, those 15-minute efforts can make a big difference in the quality of your family's meals and snacks.
Ready to give it a try? Here are 17 ways to break it down so you can prep healthy food in 15 minutes or less:
• Make a meal/snack plan for the week.  This is my #1 tip for eating well and feeding your family well. When you don't have a plan, fast food, takeout meals and unhealthy snacks are more likely to creep into your family's diet. Use your calendar and create a plan that works with your schedule. My free ebook – The Busy Woman's Guide to Healthy Family Meals – includes 24 simple meals to help you get started.
• Clean out and organize your refrigerator or pantry.  Just 15 minutes of organizing, getting rid of old stuff and putting "like things" together saves you time and money and lets you know what you already have on hand.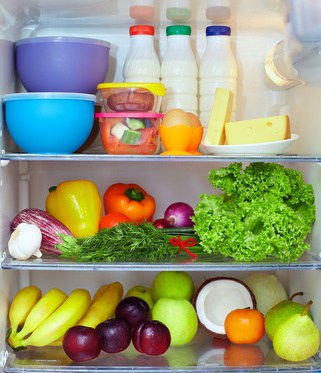 • Bake several large chicken breasts. Pop them in the oven and do other things while they cook.
• Shred baked chicken breasts.  Shredded chicken is great to have on hand for making chicken tacos, chicken salad or barbecue chicken sandwiches. Or use it to turn a large salad into a meal. Once the breasts are cooled you can get the kids involved in shredding while you do something else.
• Wash fruits and vegetables your family will eat over the next several days. This is much more efficient than washing fruits and vegetables every time you need them. I use a bowl of white vinegar in water for this job.
• Prep fruits and vegetables you'll use in the next 2 or 3 days.  For example, cut carrot sticks and orange slices for snacks, cut up bunches of grapes into little "trees," or chop onions to use in recipes.
• Prep vegetables once that can be used in twice during the week.  For example, chop onions and peppers once, then divide them to use in spaghetti sauce and chili, or omelets and tacos.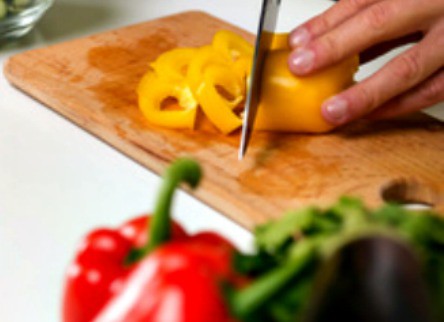 • Package the snacks your family will need for the next few days.  Make individual bags or small containers of granola, nuts, trail mix, cheese cubes, crackers, baby carrots, grapes or other healthy snacks. Keep them together in the refrigerator or in a drawer or bin, so family members can grab them easily.
• Mix two jars of natural peanut butter.  If you love natural peanut butter, but hate the fact that it's hard (and messy!) to mix, try this. Buy two large jars, dump them into a bowl and mix with an electric hand mixer or the paddle of a stand mixer. Then scoop the peanut butter back into the jars and refrigerate. Yes, it's messy, but it pays you back with perfectly mixed peanut butter. And you don't have to do it again for a long time.
• Make your own peanut butter crackers. Use whole grain crackers and natural peanut butter. Package them so they're ready to grab and go.
• Double a recipe and freeze half .  Doubling takes just a few minutes, and it pays you back many times over. For example, I always make double batches of shredded pork barbecue, Spicy Italian Beef and Family-Friendly Butternut Squash Soup, because I love having a "back-up plan" (or 2 or 3!) in the freezer.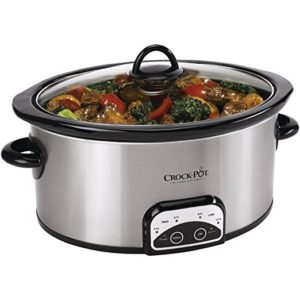 • Bake several sweet potatoes and/or winter squash. Serve them as side dishes during the week, either plain with just a bit of butter or whisked with butter, brown sugar, and a little bit of cinnamon.
• Peel very ripe bananas and freeze them in a Ziplock bag. Use them as a base for smoothies. (I buy extra bananas for this purpose.)
• Brown a double batch of ground beef, one to use for a meal this week and one to freeze for another meal.
• If you have an InstantPot, put it to work for you. An InstantPot does everything in half or a third of the time. So use it to quickly cook chicken breasts, a whole chicken, dried beans, soup, or just about anything else. I use it to boil eggs, because of some reason eggs cooked in an InstantPot peel very easily – no sticking shell (even with fresh eggs).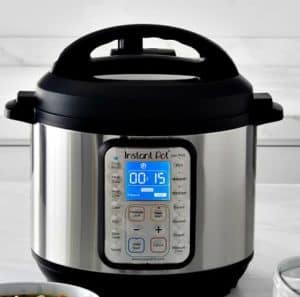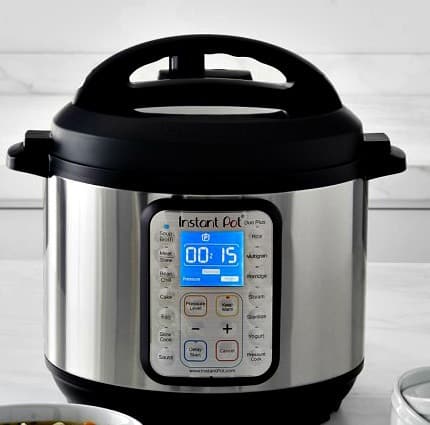 • Cook oatmeal in the Crockpot overnight. This is an easy way to have a healthy  breakfast ready in the morning. My friend Christina at Juggling Real Food and Real Life has a great recipe for Crockpot oatmeal (as well as other quick ways to make oatmeal).
• Make a double batch of pizza dough and freeze half.  I've started making a double batch, and sometimes two double batches, of the pizza dough my family loves. It takes almost no extra time, and let's me make pizza for dinner on days when I don't have time to make dough.
When you invest just a little bit of time to plan and prep healthy meals and snacks, your efforts pay big healthy eating dividends – and wave time and stress. Try it this week, and let me know how it works for you.