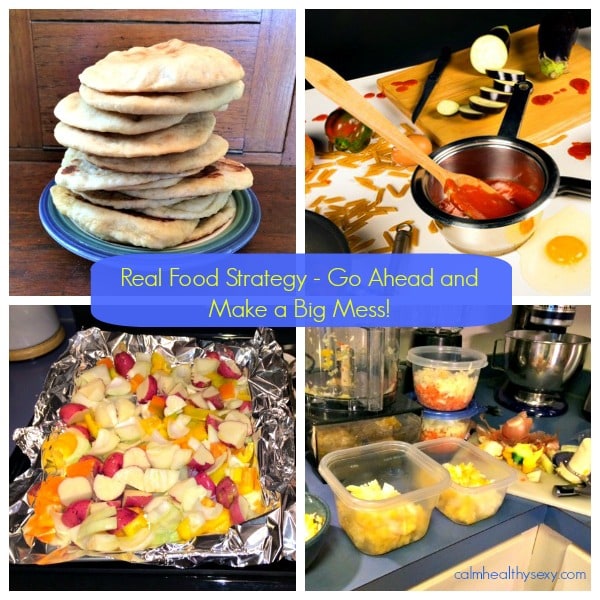 Have you been "testing the waters" with real food, trying to incorporate more of it into your family's diet? If so, you've probably discovered that it's not an easy task. Cooking real food takes time, effort and energy. I wish it was as quick and easy as serving processed food or fast food, but it isn't. So the reality is that if we want to eat real food and feed it to our families, we're going to need some strategies that will allow us to cook and serve it without losing our sanity.
Before we talk about strategies that can make life easier, let's talk about one that won't. To my way of thinking, the least efficient way to prepare real food is to start each meal from scratch – washing and chopping vegetables, making sauces, preparing dishes from start to finish. It just takes too much time. A more efficient approach is to combine tasks and prepare ingredients for several meals at once. That way, many of the ingredients you'll need during the week are already prepped and ready to go.
One way to combine tasks is to take brief periods of time throughout the week and use them for real food prep. I shared this approach in 17 Ways to Prep Healthy Food in 15 Minutes or Less and 10 Real Food Mini-Projects for Busy People. My friend Christina at Juggling Real Food and Real Life refers to it as using "pockets of time" to prepare real food for your family. It's a great approach; for those of us who juggle lots of responsibilities and activities every week, it saves time, energy and hassle.
An even more efficient approach, though, is to take a few hours and just make a big mess, in order to prepare lots of ingredients to use in future meals. With this approach you pick a block of time – Saturday afternoon, Sunday evening, or any 3-4 hour period that works for you – and use it to get as much food as possible ready for the week (plus more for the freezer). You save time and energy because you consolidate steps and effort – wash fruit, then wash vegetables; cut up fruit, then simply wipe off the cutting board to cut vegetables; chop celery and carrots in the food processor, then chop onions; grate mozzarella, then grate cheddar; cook a big pot of pasta, then cook rice in the same pot. In each case, you save a significant amount of time that would normally be devoted to washing, cleaning up and putting things away. You also gain efficiency by preparing several things at once – you can start one or two things baking and cooking, then work on other things.
Here are some examples of real food you can prepare using a "big mess" approach:
Bake whole chickens or a number of chicken breasts. Shred the meat and package some to use during the week and some to freeze.
Cook pork roasts, shred them and add barbecue sauce. Serve some for dinner during the week and freeze the rest.
Wash the fruits and vegetables you plan to use during the week.
Wash and dry salad greens and cut up salad vegetables.
Bake several loaves of bread. Make extra dough to use for pizza or flatbread.
Chop vegetables and store or freeze them the way you plan to use them. For example, package chopped carrots/celery/onions together to use in homemade soups or chopped peppers/onions/garlic to use in jambalaya, spaghetti sauce, quiche and omelets.
Make a big pot of tomato sauce and package it to use for spaghetti, lasagna or pizza.
Bake double or triple batches of muffins, bars or cookies.
Shred all the cheese you'll need for the week, plus extra for the freezer.
Cook a big pot of rice and freeze the extra.
Organize and package snacks for yourself and the children.
Prepare a casserole for the week and an extra for the freezer.
The options are almost limitless – you choose the tasks that will make your life easier and focus on the real foods your family will enjoy. This approach does require some planning and effort – and it does make a mess – but it pays you back many times over. Consider giving it a try and see how it works for you. Gaye
Sharing with The Pin Junkie, Family Fun Friday, Weekend Wind Down, The HomeAcre Hop and From the Farm.