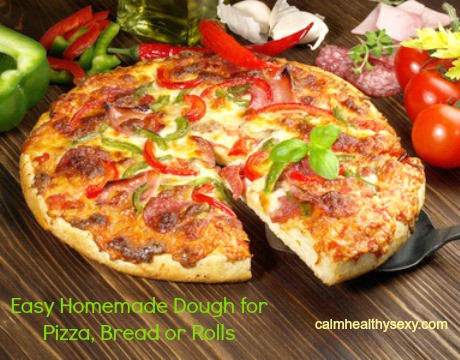 A couple of weekends ago I visited my mother, who lives in another city. On Saturday she asked me to go to the "fancy" grocery store near her house and buy a bag of refrigerated pizza dough in the deli, so we could make a pizza for dinner. I'd never had refrigerated pizza dough from a grocery store or bakery, but I expected it to be good, based on the quality of the store.
But it wasn't. For starters, it  was expensive. And it tasted very bland. And it was hard – really hard – to roll out. And, to top it all off, the ingredient list was long and complicated, when pizza dough should include just a few simple ingredients.
It reminded me why I've been making pizza dough at home for years (and using the same dough recipe to make round loaves of bread, focaccia and dinner rolls).
If you have a stand mixer, hand mixer with dough hooks, or food processor, you can make homemade pizza dough quickly and easily, anytime your family craves pizza. (My family craves pizza frequently!)  It's delicious and cheaper than dough from the grocery store (and much cheaper than ordering pizza), and you control the ingredients. And it freezes well, so doubling the recipe (or even making two double recipes) gives you a big payoff for just a little extra work.
Do you make pizza at home? If not, I'd love for you to give this recipe a try and let us know what you thin,. If you're a regular pizza maker, what are your tips for making great pizza at home?
Sharing with Foodie Fridays.
Easy Dough for Pizza, Bread or Rolls

Print recipe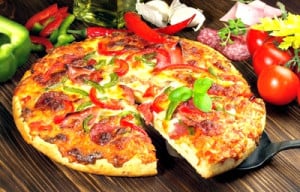 Ingredients
1.5 cups white whole wheat flour
1.5 cups unbleached white flour
1+ cup water
1 packet active dry yeast ((1 packet = 2.25 teaspoons))
2 tablespoons extra virgin olive oil
1 teaspoon sea salt or other salt
Directions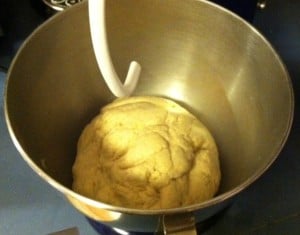 Place all ingredients except water into the bowl of a stand mixer. Begin mixing, using the dough hook attachment. Slowly add water until dough comes together to form a ball. You want the ball to come away clean from the sides of the bowl, but just barely. If it's too sticky add small amounts of flour until it comes clean. If it's too dry add tiny amounts of water. The more whole wheat flour you use, the more water you will need to form the ball. After it comes together, continue to mix/knead for 3-4 minutes.
Lightly grease a large bowl (you can use the mixer bowl) and roll the dough ball around so all sides are lightly greased. Cover with plastic wrap and let rise for 1 1/2 - 2 hours. You can let it rise longer if needed - the flavor will continue to develop.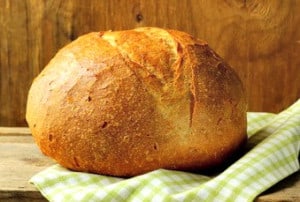 When the dough has doubled in size punch it down and roll it out for pizza, form it into a round loaf of bread, or shape it into rolls.
Notes
You can use different combinations of flour for this recipe.  My guys don't like all whole wheat for their pizza, so I use 1/2 white whole wheat and 1/2 unbleached.  You can also use all whole wheat or all unbleached.  The more whole wheat flour you use, the more water (slightly more) you'll need.
If you don't have a stand mixer or a heavy-duty hand mixer with dough hooks, you can make the dough in a food processor.
You can easily double the recipe and freeze one batch.  Freeze the dough after it rises.  Punch it down, form it into a ball, oil lightly, wrap and freeze.  To thaw, take it out of the freezer on the morning of the day you plan to use it and let it thaw at room temperature.  If you're using it for pizza, it doesn't need to rise again (but it's fine if it does).  If you're making bread, shaped the thawed dough and let it rise again before baking.
Let the dough rest for a few minutes before you roll it out.  If it's too stretchy and springy, let it rest another 5-10 minutes.  Top with your favorite sauce, cheese and toppings (veggies!) and bake at 400.
For additional information, check out How To Make Pizza or How to Make Round Loaves of Bread,