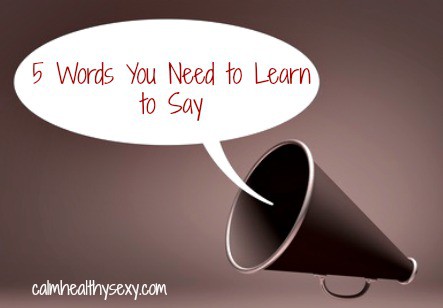 No.
Not Now.
Not Anymore.
Do those 5 words roll easily off your tongue?  Can you say them without stammering, apologizing, or piling guilt on your head?  If not, you're jeopardizing your plans to reduce stress, improve your health or enjoy your marriage more this year – in other words, to live a calmer, healthier and sexier life.  Because when you avoid saying "no"to low-priority activities, you're reducing the time and energy you can devote to the activities you've identified as high priority.
Because when you say "yes," to one thing, you almost always say "no" to something else.
So "yes" to "Can you serve as the fundraising chairperson this spring?" may mean "no" to your plans to organize your home, get rid of "stuff" and lead a calmer life.  And "yes" to "Can you coordinate the children's Sunday and Wednesday night programs?" most likely means "no" to the exercise and healthy eating program  you planned to begin.  And "yes" to "Can you keep our kids this weekend?" almost certainly means "no" to relaxing and enjoying intimacy with your husband.
So why don't we say those 5 words more often?  Lots of reasons – we want people to like us, we feel more important when we're busy, we've gotten into the habit of saying "yes," or we just haven't practiced saying them – to name a few.  And sometimes, we don't say them because busyness keeps us from having to deal with issues or problems we'd rather not address.
I don't like saying any of those words, primarily because I want people to like me.  Recently I said "not anymore" to a volunteer job I did for many years.  I didn't like saying it, and I'm pretty sure some people didn't like hearing it!  But I did it, I survived, and I freed up time for things that are higher priority right now.  And to be honest, it really wasn't as hard as I expected!
So, if you're working to create a calmer and healthier life for you and your family and a more fun and sexy marriage for you and your husband, you have to learn to say them too.
Okay, let's practice:
"Can you serve as room mother this year?"  No.
"Mom, can I play soccer this season?"  Not while you're taking ballet. (Not now.)
"I hope you're planning to run the baseball concessions again this spring."  Sorry, not this year. (Not anymore.)
"Can you take my shifts at work this weekend?  No.
"Can we go to the store tonight?  I need new notebooks and paper for tomorrow."  Sorry, you should have asked me earlier.  (Not now.)
"You're coordinating Vacation Bible School again this year, aren't you?"  No, it's someone else's turn.  (Not anymore)
I think every woman can learn to say "no" when she needs to, in order to say "yes" to the things she really values.  However, if you find it difficult at first, try this – say, "I need to talk it over with my husband."  That buys you some time to think it through and discuss it with your husband, so the two of you are making decisions that involve big time commitments together.
Is it easy or hard for you to say these 5 words?  Have you discovered any strategies that make it easier?  Please share your ideas in the Comments – I would love to hear from you.  And please subscribe to CalmHealthySexy by email (using the pink bar at the top of the page or the box in the sidebar).  When you subscribe you'll receive my free ebook – 17 Ways to Live Calmer, Healthier and Sexier – Starting Today.  And I'll send you an email whenever I publish a new post, usually 2 or 3 times a week.