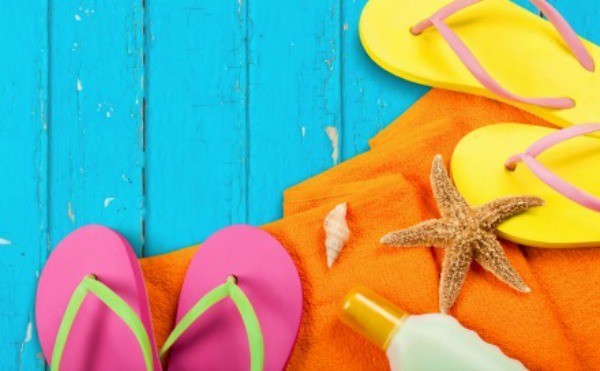 Summer is here, and I couldn't be happier. Although I love the sunshine, warm weather, and fresh fruits and vegetables, I love something else even more. For me, summer is the season of possibilities. It's the season that offers up options the other three seasons just can't match – flexibility, relaxation, time away from the daily grind, and the chance to do something just a little bit different. When rolls around, I just want to relax and enjoy the summer.
This feeling about summer goes all the way back to my childhood, when summers consisted of simply enjoying life – running around the neighborhood, playing with my cousins, swimming, and riding my bike. (Yeah, I know that dates me!)
I  feel a real longing, come May of every year, for things to be different. I just want to slow down, kick back, relax, and get out of my routine. I want to work a little bit less, eat simpler meals, have more fun, read some books, make love more often, maybe take a trip or two. And so I try to figure out ways to make that happen. Sometimes my plans work out, and sometimes they don't. But I still try, every year, to really relax and enjoy the summer.
What about you? Are you hoping for something different this summer, something a bit less stressful and a lot more relaxing? Are you trying to get away from your normal routine, at least for a little while? If so, I want to encourage you to go after it. Don't wait around and just let life happen for the next 3 months. Instead, make this the summer of creating possibilities and enjoying life. Here are 3 things you can do to enjoy the summer this year:
First, decide what you want. Really think about it, and come up with specifics. Talk with your husband, and find out what he wants. Don't just say "I want to relax" or "I want to have more fun." Figure out what that means specifically to each of you.
It could be anything from "I want to serve simpler meals and stay out of the kitchen" to "I want to read books for pleasure" to "I want to play golf twice a week" to "I want to camp with the family every other weekend." Or anything else that would make the summer great for you and for him.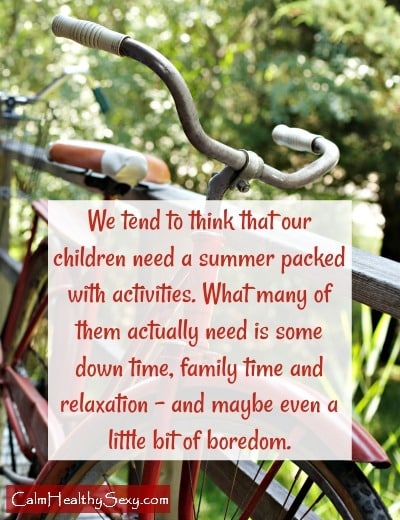 Second, let go or say no. In order to relax and enjoy the summer, you may have to let go of some responsibilities you handle during the other 9 months of the year. Or say no to someone who wants you to do something. Because your life in the summer will seem just like your life in the other 9 months – unless you do something different.
"OK, that sounds nice," you might be saying. "But what does it really mean?" Well, it means something different for every woman. For some, it might mean skipping some committee meetings or declining invitations to family or social events. For others it might mean working a bit less or taking the summer off from a church responsibility or cutting back on children's sports and activities.
That last one may be the hardest one of all, because many of us seem to think that our children need to be playing sports or running from one activity to another all day, every day. Even though what many of them really need is some down time, family time, and relaxation. So figure out where you need to let go or say no in order to have the summer you really want. (Download the free printable – What Children Really Need this Summer.)
Third, make a plan. Once you know what you want to do, and have created some breathing room in your life, make a specific plan that will help you move forward. Think about what it will take to create more relaxing evenings, time for gardening or golf, fun family days at the pool, or whatever an enjoyable and relaxing summer means to you. Write those things down, get the family involved – and do them!
One of the things I'm longing for this summer is some relaxing evenings. Normally, my husband and I come home from work, exercise, then work non-stop (cooking, cleaning up, writing, managing the house and yard, etc.) until it's time to go to bed.
But I'm really hoping not to do that this summer, at least not every night. Instead, I'd like to sit out on the deck with a glass of wine, visit with my husband and our sons, read a book, putter in the garden, take a walk, or watch a movie. You know, enjoying life – relaxing instead of working – at least 3 nights a week.
So I've decided to leave work earlier and make simpler dinners several nights a week ("let go"). And I'm going to take some time during the next week to organize my kitchen, refrigerator, freezer and pantry – all of which have turned into mini disaster areas. Then I'm going to start making a weekly meal plan that includes at least 3 very simple dinners,  prepping food for the week on Sundays, and taking a little time each week to keep my kitchen under control ("make a plan").
What kind of summer do you want to have this year? And what steps are you going to take to make it happen? Please share them in the Comments – I would love to hear from you.