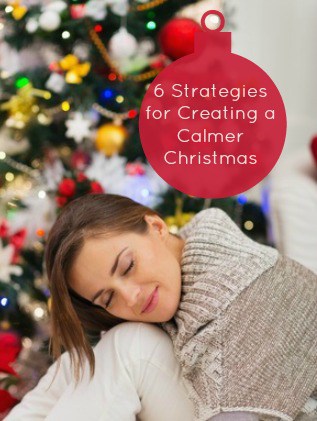 Today I am guest posting at my friend Christina's blog, Juggling Real Food and Real Life.  (I'm so thankful that Christina and I arranged before my mother became ill to exchange guest posts this week.)  I'm sharing with her readers some strategies for living a little calmer, healthier and sexier during the busy Christmas season.  Here's a little taste of what I had to say:
Ready or not, the Christmas season is upon us.  Your schedule is probably packed, and chances are you're having a hard time keeping things calm and healthy. (I certainly am!)  And keeping things sexy may be entirely off your radar!  For women, and especially those with young children, this can be one of the most stressful times of the year.  While you can't eliminate all the stress of the season, you can control and manage much of it.  Here are 6 strategies for creating a calmer Christmas season for you and your family this year:
Please click over to Juggling Real Food and Real Life to read the rest of the post, 6 Strategies for Creating a Calmer Christmas.  And while you're there, please leave a comment or share your best tip for staying calm at Christmas.  Gaye
Sharing with From the Farm, Get Inspired Pinning Party, Four Seasons Blog Hop, Pin It Thursday, The Pin It Party – Creative Geekery,  Messy Marriage, Wonderful Wednesday Blog Hop and To Love, Honor and Vacuum.