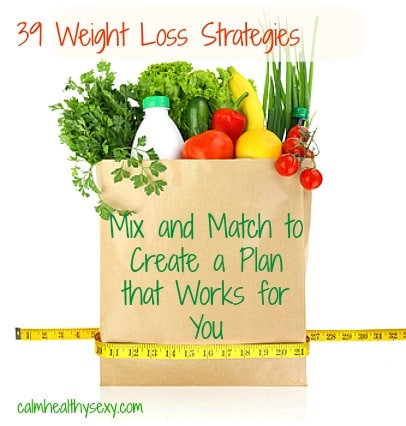 I don't know about you, but for me, trying to lose weight frequently ends up as an exercise in frustration.  In theory, it should be easy – burn more calories than you consume and you'll lose weight.  In reality, though, it's just not that simple.  Every woman is different – different metabolism, different schedule, different environment, different stresses.  Some women are just getting started, trying to lose the first 10 pounds on a long journey to better health.  Others are in the home stretch, struggling to lose the last 10.  Most are somewhere in between, and many are feeling frustrated.
Sometimes I wonder if the frustration comes from trying to follow another woman's weight loss plan.  My sister lost weight by jogging, so I'll jog.  My friend lost weight by becoming a vegetarian, so I'll become a vegetarian.  My co-worker lost weight by cutting fat, so I'll cut fat.  But her plan may not work for me – in fact, many of the weight loss plans we hear about won't work for you and me, because they don't fit our situation or circumstances.  Each woman needs to find the combination of strategies that works for her.
If you're trying to lose weight, have you found a weight loss plan that works for you?  If not, here are 39 strategies to consider.  Figure out which ones can help you meet your goals and which ones make sense, given your schedule and commitments.  Then mix and match them to create your own weight loss plan.  For example, my current plan for losing 10 pounds includes limiting calories to 1400 per day, tracking calories with an app on my phone, walking 10,000 steps per day, drinking water throughout the day, and eating lots of fruits and vegetables and very few sweets.
Food
• Keep track of what you eat. Write it down, or use technology (see below) to keep a record of it.
• Set a daily calorie goal and stick to it. Use an online calculator to determine how the calorie limit that will allow you to lose 1-2 pounds per week. Or just set a limit of 1400 calories.
• Get rid of foods that will tempt you away from your weight loss efforts. Keep them out of your house, your car, your office.
• Stock up on healthy, low-calorie foods, and make them easy to choose when you need a snack.
• Cook and eat more meals at home.
• Stop eating fast food.
• Eat fewer meals in restaurants.
• Stop buying junk food. Your kids don't need it either.
• Shop weekly at your local farmer's market.
• Stop drinking soda and other sweetened beverages.
• Drink more water, and drink it throughout the day.
• Eat two vegetables or fruits at every meal, and eat them as snacks.
• Eat fewer carbs and more protein (e.g., less pasta, more chicken)
• Eat healthy fats (olive oil, nuts, organic dairy), but watch the calories.
• Replace most of the processed foods in your kitchen with real foods.
• Grow vegetables and herbs in pots or in a garden.
• Weigh yourself weekly, on the same day, in the morning before breakfast.
Exercise
• Get a pedometer (or fitness tracker, see below) and wear it every day.
• Walk and move more. Increase your physical activity level, working toward a goal of 10,000 steps per day.
• Take a 30-minute walk every day.
• Stand more, sit less.
• Reduce the amount of television you watch.
• Plan regular activities for your family that involve getting up and moving, rather than sitting and watching.
• Start working out at a gym or attending an exercise class regularly.
• Walk during your lunch hour.
• Walk while your kids attend lessons or sports practices.
• Make a standing desk and put your computer on it.
• Do strength training exercises 3 days a week.
Technology
• Use an app or online program like MyFitnessPal (which is free) to monitor your food intake and exercise. You can use it on your phone, tablet or computer.
• Get a fitness tracker (I use a FitBit Zip) and wear it every day.
• Use the online tools that come with most fitness trackers. You can link up many of those tools with MyFitnessPal.
• Research other free apps that are available on your phone – recipe finders, calorie counters, workout music makers, distance trackers – that can help you stick to your weight loss plan.
Support
• Enlist the support of your husband, children and/or other family members.
• Join forces with friends or co-workers who are making healthy changes and support each other.
• Plan activities that involve less food and more movement.
• Organize co-workers to walk at lunch or other moms to walk during soccer practice.
• Join an organized weight loss group, like Weight Watchers.
• Join online forums and communities that support people who are making healthy lifestyle changes.
• Refuse to be thwarted by people who don't support your goal and the steps you're taking to meet it. If necessary, reduce the amount of time you spend with them.
Speaking of support, I would love to add you as a friend on MyFitnessPal so we can encourage each other in our weight loss efforts. I've been using MyFitnessPal on my phone for a long time, but haven't really explored the community and support benefits of the program. So I'm interested to see how it can work. Feel free to add me to your friends (username GayeGC) or send your username or email address to gc@calmhealthysexy.com and I'll add you.
What strategies are you using to reach your weight loss, healthy eating or exercise goals? Have you created a plan that works for you? Please share your ideas in the Comments – I would love to hear from you. I also would love for you to subscribe to Calm.Healthy.Sexy. by email or to follow on Pinterest or Twitter. Thanks. Gaye