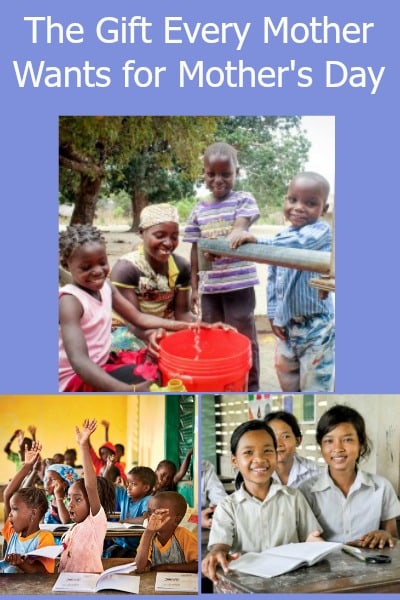 When you get right down to it, what's the one gift every mother wants for Mother's Day? Despite all the ads we see around this time of year, I don't think it's a special meal or a beautifully-wrapped present or an outing with her family, although most mothers would love any of those gifts. No, it's something much simpler, and yet much more complex. What every mother wants for Mother's Day is safety, health, education, and opportunity for her children. She wants to know that her children will be able to stay healthy, live safely, go to school, and grow up to care for themselves and their families.
Those of us who live in the U.S. and Canada, or in other developed countries, take those things for granted. Most of us live in relatively safe communities with access to clean water, plenty of food, and decent medical care.  Our children go to school every day, and can continue to college or vocational training if they choose. Those things are a "given" in our lives – we rarely even have to think about them.
But for millions of mothers in Africa, Southeast Asia, and Latin America, those things are not a "given." In those regions, millions of mothers worry every day about providing clean water, enough food, and a basic education for their children. Many of their communities have no source of clean water, and mothers have no choice but to use dirty, bacteria-laden water for drinking, cooking and washing. Many mothers cannot ensure that their children have enough to eat every day, and thousands know that their children are starving. And many cannot send their children to school, because there is no school or because the children are needed to work at home in order to help the family survive.
Bring Joy to a Mother by in a Developing Country by Sponsoring Her Child
This short video provides a glimpse of what life is like for millions of women this Mother's Day, and a picture of the hope that is available when families in developed nations come alongside these women and offer the gift of a helping hand.
For Mother's Day this year, would you consider giving the gift of child sponsorship to a mother who wants the same things for her children that you and I want for our children? Or would you consider asking your children or grandchildren to sponsor a child in your honor? My family and I have sponsored three girls for several years, and we are greatly blessed to know that they drink safe water, eat nutritious food, received basic healthcare, and go to school every day. We believe that our financial and prayer support, along with the support of others who sponsor children in their communities, are making a difference that will last throughout their lives and into eternity. As Christians, we believe that our support shows God's love in a small way to our sponsored children, their mothers, and their entire communities.
Child sponsorship costs $35 per month. Click here to find children who need a sponsor. Your support will help the child's community become stronger, safer, and more self-sufficient, and will ensure that your sponsored child and others in his or her community can drink safe water, eat nourishing food, receive basic medical care, and go to school. You can search for a child who needs your help by country, gender, and age.
If you have any questions about child sponsorship with World Vision, please feel free to leave a Comment or email me at gc @ calmhealthysexy.com. Thank you, and Happy Mother's Day!