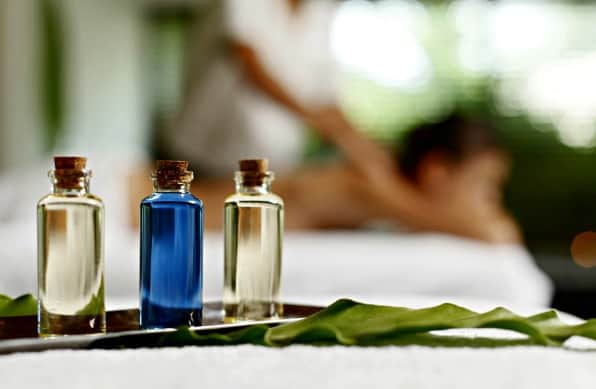 Are you looking for a way to feel more sensual and increase your sensual energy? If so, consider experimenting with some sensual essential oils and incorporating sensual massage with essential oils into your love life.
I mean, think about it. When you give your spouse a sensual massage with essential oils – or he gives you one – lots of good things are happening. You're touching him all over his body (or vice versa), you're using a lovely, slippery massage oil or lotion, and you're smelling some delicious, erotic scents. (Includes affiliate links)
It's likely to be fun (although if you've never given each other a massage it may take some time to get comfortable with it) and more than likely it's going to feel extremely sensual – for both of you.
How to make a DIY massage lotion with essential oils
If you want to try a sensual massage with essential oils (and why not!), here's what you need to make a simple DIY sensual massage oil:
1 oz of a mild, unscented oil, like liquid coconut oil, sweet almond oil, other light natural oil – or unscented body lotion
A glass bottle, bowl, or jar for mixing and storing the oil or lotion
Several drops of sensual essential oils
Caution – essential oils are strong and can cause negative reactions, so use very small amounts at first and test for sensitivity, especially if you or your spouse has sensitive skin, allergies, or other sensitivities.
Here are some oils you may want to try:
Sensual essential oils for women
Sensual essential oils for men
Jasmine
Lavender
Vetiver
Frankincense
How to use give a sensual massage with essential oils
Remember that your goal in giving a sensual massage is to increase your sensual energy and build intimacy in your marriage. You're playing a long game here, so try to avoid the "just go for the orgasm" mindsetInstead, slow down and be intentional. Focus on touch and pleasure. If you're giving the massage, enjoy the feel of your spouse's skin and body. Start with non-sexual parts of his body and work your way toward more sexual parts. Figure out what he likes and what feels good to him.
If you're receiving the massage, slow down and let yourself enjoy the feelings it brings out. If you tend to be focused on finishing, or worry about taking too long, let those things go. Instead, focus on the sensations of his hands, the smoothness of the oil or lotion, and the scent of the essential oils.
Here are some steps to take as you get ready to try a sensual massage with essential oils:
Eliminate stress and worries. If you're concerned about getting oil on your sheets (or the floor or wherever), put down a large towel, a washable blanket, or an extra sheet. If anyone else is in the house, lock the bedroom door.
Create a relaxed environment. Put on some sexy or romantic music. Turn the lights down low. Light a couple of candles (but be super careful with candles in the bedroom).
Get naked or semi-naked and have your spouse do the same. Do what's comfortable for each of you, but remember that lots of skin-to-skin contact is one of the goals of a sensual massage.
Put a small amount of the massage oil onto your hands. Rub your hands together to warm it up if necessary. Think about where you want to start – perhaps shoulders, arms or feet – but don't start with the erogenous zones. Instead, work your way toward those areas.
Add more oil or lotion as needed. Add small amounts as you move from area to area and slowly cover most or all of your spouse's body.
Use gentle touches to start and then soothing strokes. You're not a massage therapist, and your goal isn't to give a therapeutic massage. Instead, your goal is to help both of you relax and enjoy sensual touch and intimacy.
Listen and adapt. Ask for feedback and make changes based on what your spouse likes and doesn't like.
Allow yourself to relax and enjoy. Giving a sensual massage should be fun for you too. Don't worry about whether or not you're doing it "right" or if everything is perfect. If both of you are happy and it feels good, you're doing it right!
Go with the flow and see where the massage takes you. By the time you're finished, both of you will probably be in the mood for more sensual and sexual contact and connection.
If you're looking for a way to add a spark – or just a little bit of fun – to your marriage, try a sensual massage with essential oils. It can feel great for both of you, help you feel connected, and lead to even more fun activities!
The information contained in this article is meant for educational purposes only and not meant to diagnose, treat, cure, or prevent any disease or condition. Statements in this article have not been evaluated by the Food and Drug Administration and are not intended to diagnose, treat, cure or prevent any disease or condition. This information should not be relied upon to determine dietary changes, a medical diagnosis, or courses of treatment or to address relationship issues. If you are pregnant, nursing, taking medication, or have a medical condition, consult your physician before using these products.