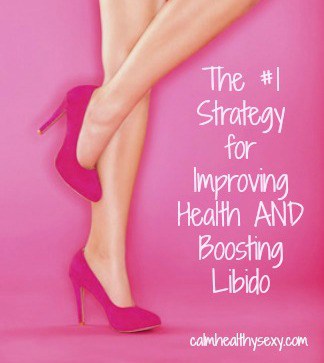 Yes, winter is dragging on – and on and on!  If you're like me, you might be feeling a little frumpy, maybe a bit pudgy, and probably not very sexy.  So this is a perfect time to get started on a plan that will improve your health AND boost your libido.  You want to feel good in your spring and summer clothes and sexy and confident with your husband in the bedroom, and this is the strategy that can help you do both.
So, what is this miracle strategy that helps you feel and look great and gives your libido a nice boost?  It's regular exercise – moving your body in ways that get your heart pumping and your muscles working.  I know you were hoping it was something easier (I was too!), but give me 2 minutes to try to convince you.  First, I'll share 4 ways exercise can increase your enthusiasm for sex and intimacy.  Then, I'll suggest 3 things you can do to get started this week on a regular exercise routine.
4 Ways Exercise Can Boost Libido
•.  Exercise can prevent serious illnesses, such as heart disease, diabetes, high blood pressure, stroke and some forms of cancer.  These diseases take a toll on your energy level, increase stress and can reduce your libido significantly, making it difficult to enjoy sex and intimacy.  Some of them can impede blood flow, which is essential to sexual interest and performance.  Exercise also boosts overall immunity, and may help prevent colds and other minor illnesses.  So when you exercise and maintain good health, you eliminate a major cause of sexual disinterest, fatigue and frustration.
•.  Exercise increases stamina and energy.  It seems like exercise would tire you out, but the opposite is actually true.  Unless you're exercising very intensively, exercise actually increases your energy and stamina.  Being sedentary – spending most of your day sitting rather than moving – is what makes people feel drained.  Because fatigue saps women's interest in sex more than just about anything else, it makes sense that women who feel energetic are more likely to be interested in and enjoy sex.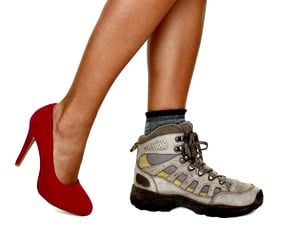 •.  Exercise promotes healthy body weight and a positive body image – We don't have to look like models to feel confident and sexy.  Sexy women come in all shapes and sizes.  But the reality is that many of us feel overweight and out of shape, and that feeling inhibits our ability to feel sexy and enjoy sex.  Regular exercise makes it easier to lose weight, and for many women even a small weight loss helps them feel better about their bodies.  For me, this is probably the most important libido-boosting benefit of regular exercise – when I maintain a healthy weight and stay reasonably fit, I feel much more freedom to enjoy sex with my husband than when I gain weight or get out of shape.  Exercise also tones muscles (which can lead to a trimmer body, even without weight loss) and increases flexibility.  Bottom line – regular exercise can help us feel sexier.
•.  Exercise makes you feel good.  Regular exercise helps your brain release endorphins, chemicals that reduce pain and make you feel good.  Research shows that exercise also reduces depression and may reduce anxiety.  In addition, studies show that women who exercise regularly become aroused more quickly and reach orgasm more easily – and that in and of itself is a great reason to exercise!
The potential benefits of exercise for women who want to boost their libido are significant, and I really encourage you to give it a try.  Here's my suggestion – Try it for one month.  Exercise at least 30 minutes a day, 5 days a week for the next month.*  When the month is over, assess how you feel and decide whether it's worth the effort to continue.  Are you interested in giving it a try?  If so, here are some tips for getting started.
3 Tips for Starting (or Continuing!) to Exercise
1.  Make it a priority.  Decide that you are worth it.  You deserve a strong, healthy, sexy body, and developing a strong, healthy, sexy body requires regular exercise.  Enlist your husband and children in your plan. Recognize that your "to do" list may need to change this month, in order to make room for exercise. Many women do everything for everyone else and nothing for themselves.  That will have to change.
2.  Pick several activities you enjoy and can fit into your schedule.  "Exercise regularly" doesn't have to mean "go to the gym."  You can go to the gym, but you can also walk, bike, swim, hike, dance, run around with your kids, lift weights, do yoga or work out with a DVD in your living room.  Try to do two or three different things each week, to benefit different parts of your body.
3.  Figure out ways to fit 30 minutes of one of those activities into your day, 5 days a week.  (Or 40 minutes on 4 days – the goal, according to the Physical Activity Guidelines for Americans, is about 150 minutes of moderate physical activity each week.)  Think you don't have time?  You may have to make time.  Break it up across your day.  Walk for 15 minutes at lunch and 15 minutes in the evening.  Take your children to the park – but don't sit on the bench.  Walk around the soccer field while they're at practice.  Walk while they're at dance class or music lessons.  Use any exercise equipment you have in your house.  Change the way you do things so that moving, rather than sitting or standing, becomes your "default setting."  (For more ideas, check out 10 tips for adding exercise to a busy life.)
(Additional resources for women struggling with low libido – A version of this post first appeared at my friend Bonny's blog, Pearl's Oyster Bed.  If you're struggling with low libido, or just need some ideas or encouragement for boosting your interest in sex and intimacy, check out Bonny's site.  She focuses on encouraging wives who have low sex drives and those in difficult marriages.)
I'd love for you to give exercise a try and let me know what you think.  Or, if you're already exercising regularly, I'd love for you to share what you do and how you fit it into your schedule.  Gaye
*According to the Physical Activity Guidelines for Americans, moderate exercise is safe for almost everyone, and the health benefits far outweigh the risks.  However, if you have a significant health problem or any health concerns about exercise, consult your physician before beginning an exercise program.
Sharing with Weekend Wind-Down Party, SITS Girls Saturday Sharefest, The Weekend Re-Treat, The Pin It Party – Creative Geekery, Messy Marriage and To Love, Honor and Vacuum.