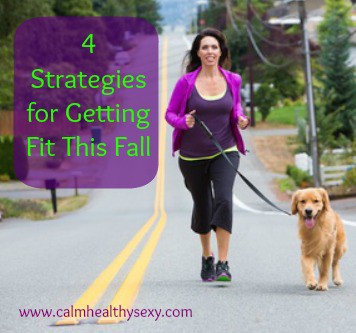 September is here and fall is around the corner.  If you're thinking this might be a good time to start exercising, or to boost your current fitness routine, I'm right there with you.  Although fall is busier than summer for most of us, it also benefits from schedule and routine – both of which we can use to our advantage in establishing a fitness habit.
(Not convinced that you need to exercise regularly?  Check out 4 Ways Exercise Can Improve Your Health – and Sex Life! and Move Your Body Every Day.)
But we have to be smart about it and make sure we get the most fitness "bang" for our time and energy "bucks."  Here are 4 strategies to help you get started and stay on track.  (And be sure to check out the fitness giveaway below.)
Acknowledge your need to be healthy and fit, and recognize that it deserves some of your time and energy.  Your health and sense of well being are important, to you and your family.  They're as important as play group, soccer practice, piano lessons and volunteer activities.  Many women have trouble taking time to exercise.  If that's been an issue for you in the past, work to move beyond it this fall.
Choose an activity you enjoy.  "Exercise" does not have to mean "go to the gym."  If you enjoy going to the gym, great.  If not, figure out what you do enjoy.  Walking, jogging, hiking, biking, swimming, and dancing are great.  So is working out with a yoga DVD in your bedroom or taking a Zumba class at your church.  Or mix it up – walking today, dancing tomorrow, biking on the weekend.
Look for "pockets of time" you can devote to exercise/physical activity.  The Physical Activity Guidelines for Americans recommend 150 minutes of moderate exercise per week – the equivalent of 30 minutes a day, 5 days a week.  Review your schedule at the beginning of every week and see where you can fit it in.  The idea of "pockets of time" comes from my friend Christina at Juggling Real Food and Real Life.  She finds "pockets of time" to do real-food prep so she can feed her family well.  I'm suggesting we need to find the same kind of "pockets" – little bits of time here and there – when we can move our bodies.  So, can you walk around the field while your son practices soccer or around the gym while your daughter practices basketball?  Can you walk for 15 minutes during your lunch hour and another 15 after dinner?  Can you and your husband walk for 30 minutes on Saturday morning or Sunday afternoon?  Can your family ride bikes together?  Can you get up 30 minutes early to walk or do a DVD workout?  Can you keep moving while your younger children play at the park?  (No sitting on the benches!)  Find your "pockets" and schedule them.
Use technology to encourage you and help you stay on track.  If you like gadgets or technology, even just a little bit, then put them to work to help you get fit and stay fit.  The range of options available boggles the mind.  You can use a basic pedomter, like the ones by Omron or Yamax, to track your steps (shoot for 10,000 per day).  Or use a fitness tracker like the FitBit Zip or Flex, the Nike+ FuelBand or Jawbone UP.  These fun little gadgets link to an online account through your computer or smartphone and let you track steps, miles, calories burned and other health information (depending on the model).  You can also download a fitness app for your iPhone or Android phone (many of them are free or low cost).  Or use MyFitnessPal on your phone or computer to track nutrition and exercise.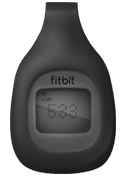 And speaking of fitness gadgets, to celebrate fall and fitness I'm giving away a FitBit Zip, my new favorite fitness gadget.  I'm using one this fall to boost my fitness routine and try to lose those pesky last 5 pounds!  I'd love for you to enter the giveaway using the Rafflecopter below.  It will run through 11:59 pm on Friday, September 6.  (The giveaway has ended.  The winner of the giveaway was Bonnie F.)
Photo credit (top photo) – Mat Hayward – Fotolia.
Sharing with Get Schooled Saturday, A Peek into My Paradise, Happy Wives Club, Pinterest Repin It Party, Lovely Ladies Linky, Tips and Tricks Tuesday, Get Inspired – Lydia's Flexitarian Kitchen, Pin It Forward Friday, Prowess and Pearls, Pin It Thursday, Fluster Buster, Pinterest Power Party, Wonderful Wednesday, Mercy Ink, Salt Tree, MHO Monday Mingle, Brag About It Party, Pin It Tuesday, The PINcentive Blog Hop, Let's Get Real – Juggling Real Food, Medical Mondays, Pin It Monday and Monday Mommy Blog Hop.