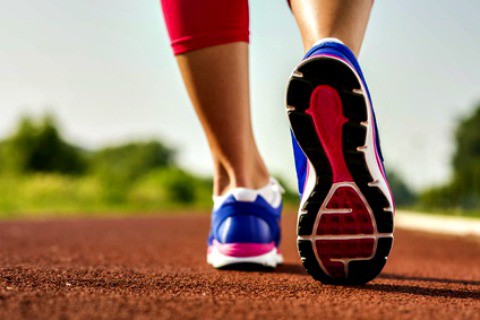 (This article is part of our series, Create Energy and Passion in Your Life, Health, and Marriage. You can link to all of the articles in the Create Energy and Passion series here.)
Women often tell me how tired they feel and how low their energy level seems to be. They want to create energy in their life, but don't know where to begin. They also say that they want to start exercising more, but they just don't see how they can find the time or energy to do it.
A friend once told me how tired she was after long days of teaching middle school. (No wonder!) She tended to feel sluggish from the time she got home until the time she went to bed, and couldn't image how she'd find the time or energy to exercise.
I encouraged her to just give exercise a try. She had an exercise bike in her house and walking trails in her neighborhood, so it would be fairly easy make it work (no trips to the gym required!).
So she did, starting with short sessions on the exercise bike, and was amazed that she began to feel less sluggish and more energetic.
I've seen the same thing in my own life. Exercise is pretty much set into my schedule at this point (except for strength and flexibility exercise, which I told you I'm forcing myself to do this year!), but if I ever get off track and miss a few days, my mind and body know it.
When that happens, I start to feel more worn out and a lot less energetic. Which means that I need to get outside or on the treadmill for a brisk walk – ASAP!
But why does it happen? It seems paradoxical that exercise can create energy in your life. After all, exercise causes your body to burn energy, and if you work out really hard you may end up feeling tired.
Or maybe not.
Because the exercise – energy equation isn't nearly as straightforward as it seems. (And, let's be honest, most of us aren't going to exercise to exhaustion. I mean, I'm not going to run a marathon and you probably aren't either!)
The reality is that regular moderate-intensity exercise* can create energy in your life, by doing several wonderful things for your body and your mind:
1. It makes you feel good. Exercise can increase your endorphin levels. Endorphins are a type of hormone, but let's just call them the "feel good" chemicals, because they help to elevate your mood and reduce pain. Exercise also takes your mind off the small (and large) irritations that tend to dampen your mood – some experts call it "meditation in motion" because of its ability to soothe the mind.
2. It increases your physical endurance and capacity to get things done. The more you exercise, the more fit your heart and cardiovascular system become, which means that you're more likely to have some energy leftover after you've completed all of your tasks for the day.
3. It helps you sleep better. Regular moderate-to-vigorous exercise can help you fall asleep more easily, increase the amount of time you spend in deep sleep, and reduce the amount of time you spend awake during the night. And you often see these benefits right away – no waiting until you've been working out for 6 months!
4. It helps you handle stress and reduces anxiety. Regular exercise can reduce feelings of anxiety, both chronic anxiety and episodic anxiety that pops up in the middle of your busy life. Even modest amounts of exercise, like brisk 15-minute walks, can help to reduce anxious feelings.
5. It can help you feel more confident. Regular exercise can improve your body image, which for many women leads to a boost in confidence. Over time, it can firm up your muscles and help your clothes fit better.
More energy and strength, better sleep, and more confidence – these are things that I want for myself, but I also want them for you!
The energy to get through the day without feeling exhausted.
The satisfaction of realizing that you're stronger and more fit than you were a month ago.
The realization that the stress in your life is more manageable.
The confidence that comes from feeling more comfortable in your own skin.
I want you to want these things for yourself, because you deserve them. And if you do want them for yourself, or want to move toward wanting them for yourself, here's what I suggest you do this week begin to create more energy in your life with exercise:
Take 5 minutes to write down why you want to start exercising regularly and/or what you want exercise to do for you. Don't make this elaborate or let it bog you down – just write down (in your planner, on your phone, or on a notepad) why you want to start.
Commit to trying this for two weeks. You need to give exercise a little bit of time to see if it works its magic in your life!
Look at your calendar and find 5 times when you can exercise this week and 5 times next week. If you're not exercising at all, start with about 15 minutes each time. (Ideally, though, you want to work your way up to at least 30 minutes on at least 5 days each week.)**
4. Think about ways to fit exercise into the things you're already doing. For example, walk while your children are at soccer practice, walk on your lunch hour at work, walk and talk with a friend rather than sitting and talking, or exercise at home with a video when you would otherwise be watching mindless television or scrolling through social media.
Then actually add those 5 exercise times to your schedule – put them in your planner, your Outlook calendar, or whatever you use.
5. Get some additional information and find some encouragement. When I'm learning something new or trying to add a new habit to my life, I like to learn as much about it as I can. It reinforces my decision to make the healthy change and it gives me a boost when I feel like giving up.
Here are some articles that may help and encourage you:
And if you need a bit more help getting started, grab a copy of my ebook, Fit. Strong. Healthy. The Busy Woman's 30-Minute Guide to Exercise. It takes you through a 30-minute (or so) process that helps you get clear on why you want to start exercising and then walks you through setting up a plan to success with adding regular exercise to your life. It's regularly $5, but use the code FRIEND25 at checkout to save 25%. (The code applies to your entire order, so check out my other healthy life and happy marriage ebooks too.)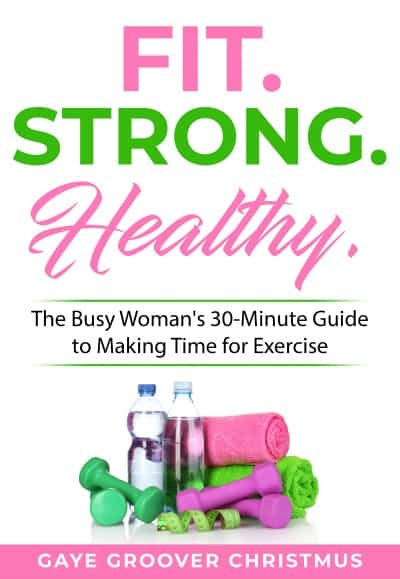 *The Physical Activity Guidelines for Americans recommend that healthy adults exercise at least 150 minutes per week – approximately 30 minutes, 5 days per week – and up to 300 minutes per week.
**If you have any health problems or concerns, talk to your doctor before beginning to exercise.