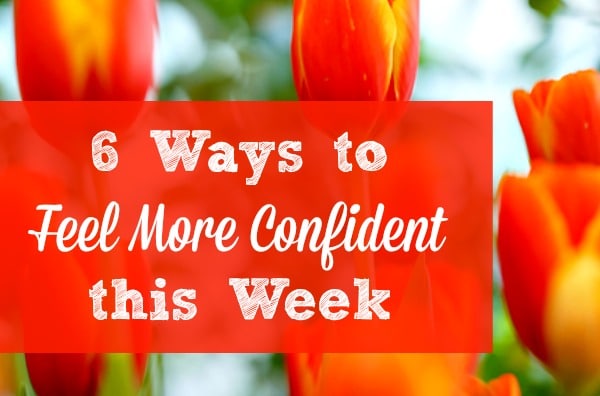 As women, we often lack confidence in important areas of our lives. Whether we're worrying about our weight, bemoaning our appearance, doubting our skills as mothers, comparing ourselves to other women, or wondering whether our husbands find us attractive, self-doubt often hangs over us. More often than not, the things we worry about aren't true, and focusing on them takes valuable time and energy that could go into more productive pursuits.
It's hard to change those thoughts and move in the direction of feeling more confident. But it can be done. So this week, I encourage you to begin taking steps to boost your confidence and create positive energy in your life. To help you get started, here are 6 simple ways to increase your confidence:
How to Increase Your Confidence this Week
• Stand up straight, keep your head up, tuck your butt in, and hold your shoulders back.  This is the posture of a confident person. If you don't feel this kind of confidence, fake it until you do. Don't think it will make a difference? Just try it. Make a conscious effort to do it for several days and see how you feel.
• Look people in the eye and smile at them.  Again, this is what confident people do. Make an effort this week to look at people and smile at them. Engage them in brief, pleasant conversation and focus on making them feel good. Do this in all of the places you go – the grocery store, the bank, your office, your children's school, church. Interacting with people in this way does several things – it blesses them, it takes our focus off ourselves, and it builds our confidence.
• Tackle something difficult.  If you're a parent, you know that the best way to build a child's confidence is by allowing him or her to accomplish things, particularly difficult things. The same is true for adults. We like to be comfortable, but if we want to be confident sometimes we have to tackle the hard stuff. Maybe it's a conversation you've been avoiding, a person you've allowed to affect your life negatively, a project you've been putting off, a dream you've deferred,or a call to serve you've been ignoring. If one of those things is rolling around in the back of your mind, now may be the time to face it head on.
• Do something to perk up your appearance.  If worries about your appearance are killing your confidence, do one thing that makes you feel more attractive. Get a haircut or color your hair. Buy one item of makeup to enhance your best feature. Wear clothes that make you feel good about the way you look. Wear the earrings or pair of shoes that makes you feel sexy and confident. Whatever helps you feel good about your appearance – do that.
• Exercise.  Regular exercise can increase your body confidence and boost hormones that make you feel good. In the long run, it can help you tone up and lose weight. If you lack confidence in your body, it's one of the best investments you can make. And you don't have to go to a gym or exercise class. Make time for exercise most days of the week, and I predict that you'll feel stronger and more confident within a few weeks.
• Enjoy sex.  Although sex can create a minefield of confidence issues for women, it can also build confidence and strength. Participating as an active and engaged partner with your husband, giving and receiving sexual pleasure, and building intimacy together, can make a woman feel like a million bucks. It can help her overcome body image concerns and fears about sexual performance.
Most women worry about those things, but many have decided to work through them and develop sexual confidence. After all, the odds are great that your husband doesn't expect you to look like a supermodel or swing from the ceiling fan! More than likely, he just wants to enjoy a meaningful sex life with you, and doesn't even notice the things you perceive as imperfections.
These are just a few of the things you can do to boost your confidence and feel more confident in yourself and your body this week. What are your greatest confidence boosters? Please share your ideas in the Comments – I would love to hear from you.
If weight is an issue that affects your confidence, please check out my ebook for busy wives and moms who are looking for a healthy, practical way to lose weight – The Busy Life Diet – Healthy Weight Loss for Women on the Go.