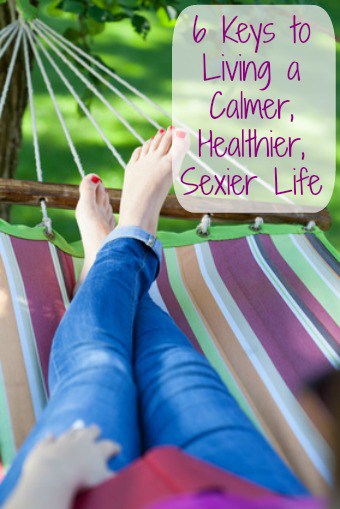 Welcome to Calm.Healthy.Sexy. – The life you really want. It's a place for married women who want to transform their hectic, hurried lives. If you want to feel calm and relaxed (most of the time!), eat well and strengthen your body, and feel sexy and enjoy a great sex life with your husband, then this is for you. Even if you only want to do one or two of those things, join the conversation with other women who want to enjoy their lives and their marriages more fully.
Most women are extremely busy and highly stressed. Often, we're trying to do it all – working (at home, in the workplace or both), caring for children, spending time with our husbands, volunteering, attempting to maintain good health, finding time for friends – the list can go on and on. Before long, important things get pushed to the side. Time for good food and regular physical activity – gone. Time for a relaxed and intimate marriage – gone. Time for doing the things that make us feel good about our appearance and body – gone. Time for doing the things we enjoy most – gone.
Imagine for a minute what it would be like to feel calmer, healthier and sexier. What would you be doing? What would you be wearing? Where would you be? How would you feel? If your answers say that you would be in a different place, doing something entirely different, maybe it's time for some changes.
The Calm.Healthy.Sexy. life is about balance, priorities and joy – making time for the people and things you love, enjoying a balanced life with the people who are most important to you.
Lots of things can contribute to feeling calm, healthy and sexy. But, six areas seem so important to me that we'll return to them again and again. These are areas women often let slide, because we're so busy working, serving, caring for others, and doing dozens of things that absorb a great deal of time and energy. They're the foundations of a life in which we can feel calmer, healthier, and sexier than we've ever felt before. These are areas that I've been working on recently, and they've made a real difference in my life.
The Keys to a Calmer, Healthier, Sexier Life

The Keys to Calm.Healthy.Sexy. are six things you can do to strengthen your body, mind and spirit. They are steps toward taking control of your life, and creating the life you really want, for yourself and your family. The six Keys are:
Please share your thoughts in the Comments – I'd love to hear about the things you've done to create a calmer, healthier and sexier life. I also would love for you to  subscribe to Calm.Healthy.Sexy. by email – just enter your email address in the box below and click Subscribe. Thanks.
Updated July 2014.
Add a little bit of spice to your marriage!
Get 18 Ways to Spice Up Your Marriage. Plus simple tips for a healthy life and happy marriage - right to your inbox.