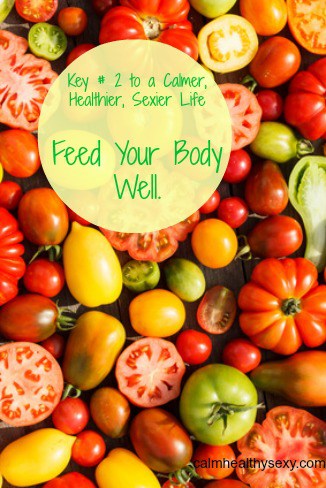 What have you eaten today? What did you eat yesterday? Think for a minute about the foods you've eaten recently. Did they nourish your body, or just provide it with calories to keep going? Were you able to enjoy them, or did you barely notice them as you rushed to the next task on your to-do list?
For some women, food is complicated. It conveys meanings in their lives that make it difficult for them to feed their bodies well. The reasons behind those  meanings are complex, and understanding them is beyond the scope of this blog. What we can do, though, is talk about ways to make small changes most women can make to eat more healthfully. I have a few ideas and hope you'll share some things that have worked for you. (For more tips on eating well, check out my HealthyEating 101 series.)
Nutrition advice tends to be confusing. My husband and I have done a lot of research, but we're still confused about some things. Are omega-3 fats good? Are omega-6 fats bad? Is a low-fat diet healthy? Is saturated fat good or bad? Should we go organic? So we've settled for now on making a few changes that seem to make good sense – eat more fruits, vegetables and whole grains, switch to organic dairy and eat fewer processed foods.
If you're not sure where to begin, try one change for a month and see how it works for you – eat three additional fresh fruits and vegetables every day. Regardless of your current intake, just add three more each day. (Unless you're a vegetarian, or a seriously healthy eater, almost everyone can benefit from more fruits and vegetables.)  Of course, in order to succeed at making this change, you need to figure out a way to make it easy and quick. Here are a few of the things that work for me:
• Take a few minutes when you get home from the grocery store to wash, rinse and cut-up some of the fruits and vegetables you've purchased, so they're ready to use in recipes or to grab for snacks. When those have been eaten, take another few minutes and get more ready to eat. If you wait until you need them, you may be pressed for time and decide to skip them altogether. It's much easier to choose between grapes and cookies if the grapes are washed and ready to go.
• Keep a steady supply of fruits and vegetables in your kitchen. I tend to buy them every time I go to the grocery store, because my family goes through them pretty quickly. (A teenage boy can eat an astonishing amount of fruit.)
• Serve simple fruits and vegetables as a side dish. I often serve a plate of carrot sticks, red and yellow pepper strips, cherry tomatoes or tomato slices with dinner. When my children were   younger I added a small bowl of low-fat Ranch dressing to the plate, but now they eat them plain. And in the fall and winter we often have homemade applesauce as a delicious side dish.
• Take fruits and vegetables as snacks when you're going to be away from home. I take at least one, and often two, to work with me every day. If you're going to be away from home for the day, throw some grapes, apple slices, carrot sticks or other portable favorites into a cooler.
• Make easy vegetable recipes and add more vegetables to favorite recipes. Toss chunks of vegetables with olive oil or vinaigrette and roast them in the oven until tender. We like a combination of potatoes, onions, peppers and baby carrots. Bake sweet potatoes or winter squash when you're baking chicken or meat and serve with a bit of butter and cinnamon. Add shredded vegetables to spaghetti sauce, taco meat or omelets.
So, what do you think about eating three additional fruits and vegetables every day? Is it a realistic goal for you? I'd love to hear about the successes and challenges you've had with adding more fruits and vegetables to your diet, or with other ways of feeding your body well. Please share your ideas in the Comments. Gaye
Healthy eating resources – Juggling Real Food and Real Life, My Sister's Pantry, The Kitchen Chopper, Real Food.