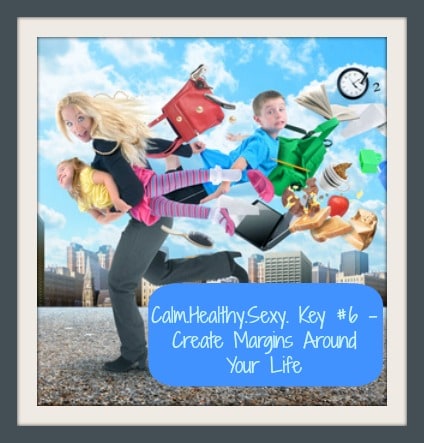 In order to live calm, healthy, sexy lives, we need to create and maintain "margins" in our lives. Dr. Richard Swenson, the author of Margin: Restoring Emotional, Physical, Financial, and Time Reserves to Overloaded Lives, defines margin as the space between people and their personal limits – their limits of time, health, money and other resources. Although people in every generation have experienced stress and hard times, modern 24/7 society has created new stresses, while also eliminating sources of margin available to previous generations, including extended family, concerned neighbors, community, downtime, and lower levels of stimuli.
For women, margins provide a "cushion" around our lives, allowing us to hold some time, energy and resources in reserve for unexpected events, emergencies, and high-stress periods. Margins also allow us to enjoy and devote time to the people and activities in our lives, and to maintain our health and peace of mind. If every day is packed with activities and responsibilities, how can we find time to exercise, to eat well, to get enough sleep, and to enjoy intimacy with our husbands?
How can we create margins that will allow us to enjoy life, rather than trudging through each day with a to-do list that's a mile long? Here are four ways to build additional margins – the space between your life and your limits – into your life:
Decide which activities and commitments make sense in your life right now, and stop doing or say no to other activities.  For example, if your children are playing sports, taking them to practice and attending their games are high-priority activities at this stage of your life. (Although, remember to control your family's schedule!)  However, leading the women's group at your church, volunteering three days a week, or taking an active role in a civic organization may not be high-priority activities at this stage of your life. You may have to let them go. At a different stage of your life, they may be fine.
Elicit and accept help from others.  Often, we women feel like we have to do it all, that all the responsibility is on us. Sometimes, however, that just isn't true. We don't accept our husbands' help with certain chores because "he doesn't do it right." We don't accept a friend's or neighbor's offer of child care because "I don't want to bother her." We don't accept our mother-in-law's offer to keep the kids for the weekend because "she spoils them." We don't ever pay someone to help with the house because "I should clean my own house." One of the hardest things I had to learn as a young mother was to let go of unrealistic standards of "how things should be!" Sometimes, they just couldn't be the way I wanted them to be – and it turned out that was okay!
Don't use busyness and activities as a primary source of self-esteem.  I hope this doesn't sound harsh, because I don't mean it to be, but I think that all of us have been here at one time or another. If I am super busy, and everyone comes to me when things need to be done, and everyone knows that I can always be counted on in a pinch, that's a big boost to my self-esteem! Which isn't always a bad thing, but is if it comes at the price of my health, stress level, or marriage. I'm pretty certain that my husband would rather spend some time with me than have me manage another bake sale for the school or carnival for the Cub Scouts! And if something unexpected happens to someone in my family, I want to have time to deal with it, without having to let down a lot of other people.
Figure out if you are using small margins as a means of control, and stop doing it.  Sometimes women use tremendous busyness as a way to control their lives and circumstances. If I am super busy and everyone is counting on me, I don't have to think about the things in my life that aren't going well and need some attention. If you suspect that the margins in your life are small for this reason, please consider letting go of some of your activities, addressing the issues you are avoiding, and building some joy, community and intimacy into your life. (If the issues are very difficult, consider enlisting a counselor or other professional to help you address them.)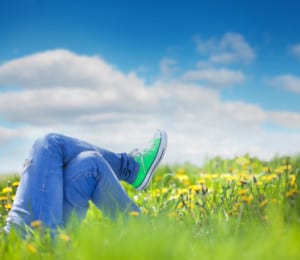 Do you find it difficult to build margins into your life? What strategies for controlling busyness and stress have worked well for you? Please leave a comment and share your thoughts and idea.
Do you subscribe to Calm.Healthy.Sexy. by email? If not, I'd love to send you an email whenever I publish a new post. Just enter your email address in the sidebar (under Subscribe to Blog Via Email). Thanks. Gaye
Sharing with Friday Pin Fest, The Pin It Party – Creative Geekery, Messy Marriage and To Love, Honor and Vacuum.
(Updated March 2014.)