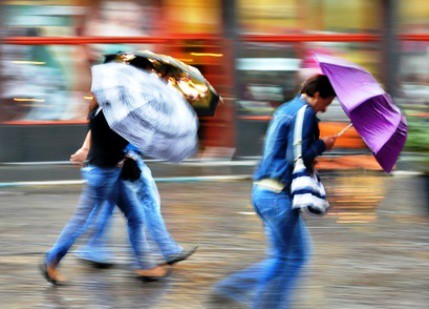 When it comes to sex and intimacy, do you sometimes feel like these people – leaning into the wind, making an effort to move forward, but having a hard time getting where you want to go?
I've felt that way many times during my marriage – I've wanted to move forward, to have a great sex life, but it seemed like all kinds of "winds," seen and unseen, were getting in the way. I've been pushed back by the "winds" of fatigue, busyness, worry, stress, self-consciousness, and fear. And, if I let those things have their way, it was easy to find myself moving away from a marvelous, fun and fulfilling sex life, rather than toward it. I'm guessing you've felt that way at times too.
But when those kinds of "winds" pop up, what if we were to lean forward just a bit in our approach to sex and intimacy? What if we moved ahead with purpose, determination and just a bit of extra effort? Instead of allowing the "winds" to push us back, what if we leaned into them and moved forward with a bit more vigor? I think it could make a difference. As a matter of fact, I know it can, because I've seen it work in my own life.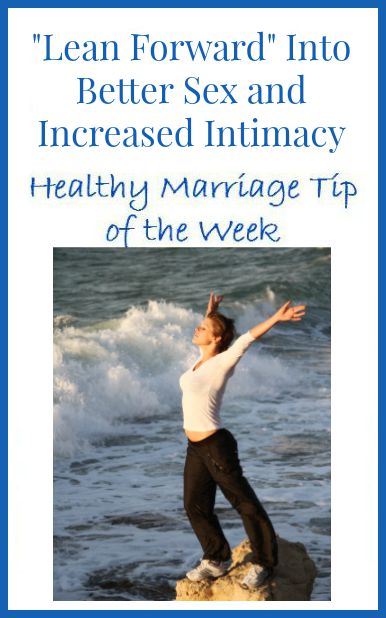 If you're ever frustrated by these kinds of "winds" in your life, here are some ideas for "leaning forward" into better sex and increased intimacy:
Adopt a positive mindset about sex.  It's easy to think of the negatives – I'm too tired, it takes too much time, I'm overweight, the kids might wake up, I'd rather read a book. But what if we replaced those thoughts with others – Sex is energizing, it's fun, it feels great, it bonds us as a couple, it makes me happy, it makes my husband happy. In many cases, what we think changes how we feel and respond.
Plan for and anticipate sex.  In the real world of children, jobs, homes and other responsibilities, it's unlikely that good sex will just happen. In reality, making it happen often takes some effort and planning. So consider taking steps to make fun, enjoyable sex happen on a regular basis. Steps like clearing your schedule of meetings and activities a couple of days a week, simplifying some meals, swapping child care with friends, saying no to additional responsibilities, wearing clothing or lingerie that makes you feel great, listening to sexy or romantic music, taking a relaxing bath, or getting away for a night or even just a day.
Give sex a chance.  In general, men have a spontaneous sexual response while women have a reactive response (this is often, but not always, the case). In practical terms, this means that women frequently don't feel in the mood for sex until they start fooling around. (Understanding this revolutionized my thinking about my own sexuality and helped me realize that there is absolutely nothing wrong with me if I don't get in the mood the same way my husband does!) So if you always wait to have sex until the mood strikes, you may be waiting a very long time! For that reason, sometimes consider just leaning forward and give sex a chance. It may turn out that you're "in the mood" after all.
I love the idea of women leaning forward – putting just a little extra energy and "muscle" into creating a great sex life with their husbands. What do you think? Can a little bit of effort make a difference? What has worked for you? Please share your thoughts in the Comments – I would love to hear from you.