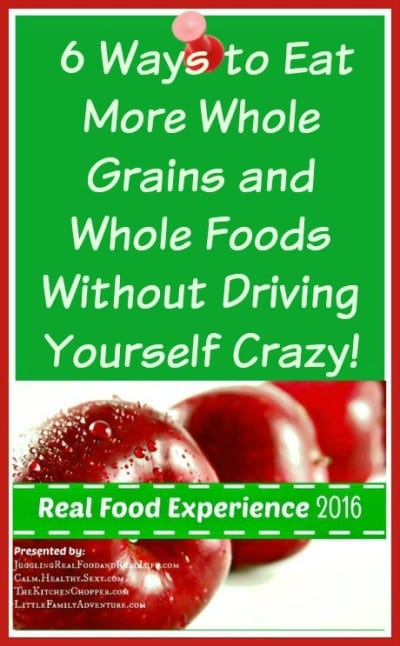 For many of us, the foods we eat are making us sick. They're causing us to gain too much weight and increasing our risk of diabetes, high blood pressure, heart disease and other illnesses. The foods I'm talking about are highly processed – high in sugar, salt and unhealthy fats and low in vitamins, minerals, phytochemicals, fiber and healthy fats. They include fast foods, snack foods, prepared foods, and most restaurant foods. They're usually quick and easy and often taste delicious – but they're damaging our health.
Many women would like to change the way they (and their families) eat, but don't know exactly where to begin. In fact, the whole idea can seem rather daunting – like something that should be put off until next week (or month or year)! But, it doesn't have to be that way. I want to suggest an approach that will allow you and me to eat more whole grains and whole foods by taking one step at a time to improve the quality of our diets and our families' diets.
The focus of this approach is to eat more whole grains and other whole foods. Whole foods are, basically, the foods your great grandparents and every generation before them ate. They're foods in their natural (or near natural ) state – fruits and vegetables served raw or cooked with herbs and spices; meats and chicken grilled, broiled or pan sauteed without breading or sauces; wild-caught fish; whole grains and legumes; plain dairy foods; and nuts. These foods are high in the things our bodies do need and low in the things they don't need. They provide vitamins, minerals, disease-fighting phytochemicals, fiber and healthy carbohydrates and fats. They help our bodies regulate blood sugar levels and make it easier to maintain a healthy weight. And, in most cases, they're delicious!
So here's the idea – pick one strategy for eating more whole foods from the list below and begin implementing it this week. Once it has become fairly easy to maintain that strategy (probably within 2-4 weeks) pick another and incorporate it into your family's meal plans and eating routine. Don't make changes too quickly, but if you're really committed to healthier eating, don't wait too long to make another change.
Replace processed grains with whole grains . Ditch the white bread and rolls, refined cereals, and while pasta and replace them with whole wheat bread, whole grain cereal, and whole grain pasta. When you bake, incorporate as much whole wheat flour into your breads and muffins as possible.
Replace packaged snacks (cookies, chips, crackers, etc.) with fruits, vegetables, nuts and other whole foods.  At the beginning of each week, organize snacks for the week so they'll be ready to go at a moment's notice. Wash fruits and vegetables, make up small containers of grapes or carrot sticks, bag single servings of raw almonds, fill small containers with plain yogurt or cottage cheese and fruit. If your family likes to have energy bars or baked goods on hand, make them yourself using as many whole foods as possible. These homemade energy bars are delicious, and they're loaded with whole food ingredients.
Stock up on whole foods for breakfasts and lunches.  Move away from processed, quick foods (sugary cereals, bagels, pre-packaged lunches) and focus on whole grain cereals (oatmeal), eggs, nut butters, fruits and vegetables, sandwiches you make with whole grain and other whole ingredients, and leftovers from the healthy dinners you will be making (!)  I used to take a frozen dinner for my lunch at work, but even the healthier ones are full of processed ingredients. So now I cook larger healthy dinners so that my husband and I can take leftovers for lunch. The recipes I often double include Spicy Italian Beef, Tex-Mex Shredded Beef, and Family-Friendly Butternut Squash Soup.
Stop eating fast food.  Take time each weekend to plan your week so that you aren't stopping for fast food lunches or dinners when things get hectic.
Cut out (or cut way back on) sweets.  Cookies, candy, baked goods, and other sweets are full of fat, sugar and processed ingredients. The more you limit them in your diet, the less likely you are to crave them. If you have to eat something sweet, try a small serving of semi-sweet chocolate chips, a small piece of dark chocolate, or dark chocolate-covered almonds.
Cook dinner (almost) every night and make your meals as "whole" as possible.  If most of your recipes call for lots of processed ingredients, start looking for new recipes. Find some "go to" whole meals that you can always make in a pinch. For example, I know that I can always cut up some potatoes, onions, and colored peppers (into chunks about the size of two bites), toss them with olive oil and a little bit of salt and pepper, and roast them on a baking sheet at 375 or 400 for 30 minutes or so. (Optional but good – sprinkle some lemon juice over the vegetables after they come out of the oven.)  Combined with some grilled or pan sauteed chicken breasts or fish, they make a delicious, healthy meal. My free ebook – The Busy Woman's Guide to Quick and Healthy Meals – includes 24 healthy meals you can cook in a flash, plus 22 tips for prepping whole foods quickly and easily. Download a copy today and put it to work for you.
These changes aren't easy to make, because they go against the grain of the entire American food system. But by making changes one at a time, and letting them become part of your family's routine, you can change your family's entire diet.
(You can catch up with all of the Real Food Experience 2016 posts here.)
What strategies for eating more whole foods have worked for you? If you've adopted these or similar strategies, how have you made them work? Please share your ideas in the Comments – I would love to hear from you.