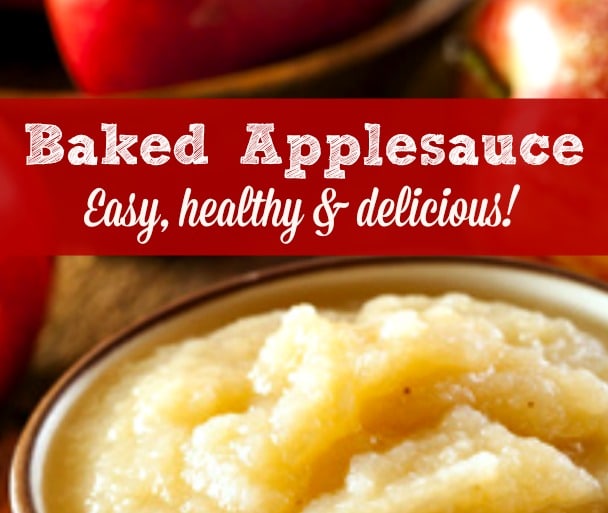 My family loves applesauce, and I make it often in the fall and winter. Homemade applesauce tastes wonderful – it's much yummier than applesauce from a jar. And when you use a simple applesauce recipe and make your own, you control the ingredients, particularly the amount of sugar.
Because I'm always looking for ways to feed my family healthy foods (applies are loaded with nutrients) and save time in the kitchen, I recently simplified my applesauce recipe. Actually, it's more a process than a recipe, but I'll share it in recipe format just to keep things simple.
And I'll admit right up front that, although I don't usually share recipes that require a specific piece of equipment, this one does. It uses a food mill, which allows you to skip the step of peeling, coring and slicing the apples – a huge timesaver. My food mill is an Oxo (affiliate link), and I love it. I tried a cheaper food mill first, but it aggravated me every time I used it. The Oxo is more expensive, but it repays me in time saved and frustration avoided.
If you have a food press (affiliate link) , you can use that instead of a food mill. However, the food mill is faster. (When I was growing up my aunt always made the most delicious applesauce, and she always used a food press.)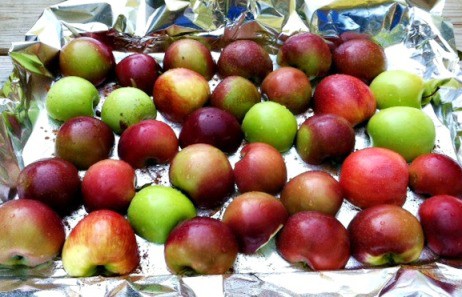 This method of making applesauce relies on baking the apples, rather than boiling them. Baking saves hands-on time, and it gives the applesauce a rich, sweet taste.
You simply wash the apples, cut them in half, place them cut-side down on a baking sheet, and bake at 350 for 30-45 minutes, depending on the type and size of apples you're using. (I line the sheet with foil to save clean-up time and sprinkle it with cinnamon to make the kitchen smell fantastic!)
When the apples are very soft, remove them from the oven and cool slightly, then place them in the food mill with a little apple juice or cider, cinnamon, and a small amount of sweetener. (I like to use organic demerara sugar, but have used regular brown sugar and even plain old white sugar. You could also use honey or maple syrup.)
Run the apples through the mill and enjoy this delicious, nutritious applesauce warm or cold.
Baked Applesauce

Print recipe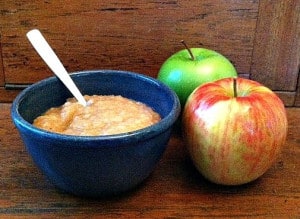 Ingredients
6-10 apples
1/4-1/2 cup apple juice or apple cider
1 teaspoon cinnamon
1-2 tablespoon sugar, honey, maple syrup or other sweetener
Directions
Line a large baking sheet with foil (to make clean-up easier), lightly oil or spray the foil, and sprinkle with a small amount of cinnamon (optional, but makes the kitchen smell wonderful). Use approximately 6 large, 8 medium or 10 small apples. (The amounts in this recipe are very flexible. Also, consider doubling the recipe - you'll end up with twice as much applesauce for only a little bit of extra work.) You can use all one type of apple or a combination of 2 or 3 types - whatever you have on hand. Wash apples, cut in half, and place cut side down on baking sheet. Bake at 350 for 30-45 minutes, depending on the size and type of apples. The apples will be very soft when fully cooked.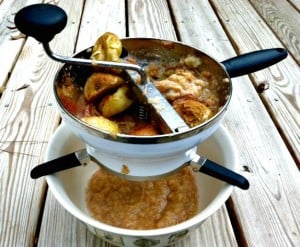 Remove apples from oven and cool slightly. Place them (carefully, they will be hot) into a food mill set over a large bowl or pot. Add any liquid from the baking pan. Add 1/4 cup apple juice or cider, 1 T. sugar or other sweetener, and 1/2-1 teaspoon cinnamon. Process the apples through the mill, adding additional juice/cider, sugar/sweetener and/or cinnamon as needed. If the applesauce is too sweet you can add a bit of lemon juice. If it's too tart add a bit more sugar/sweetener. Serve warm or cold. Store in refrigerator.
Sharing with Foodie FriDIY.