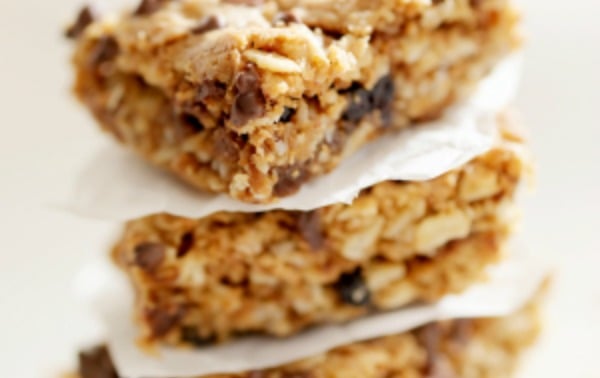 Do you struggle with a sweet tooth? (I do!) Are you looking for a healthier alternative to products with lots of added sugar. Me too. Fortunately, I discovered homemade energy bars recently, and they've become the healthy answer to my frequent cravings for sweets.
Homemade energy bars are a delicious and guilt-free treat, packed with real foods that contain healthy fats, fiber, and natural sugars.
And they're a great alternative to store-bought energy bars, which tend to be either ridiculously expensive or filled with processed ingredients.
One of the things I love most about these bars is that you can customize them to make everyone in your family happy. The basic ingredients are raw almonds, rolled oats, medjool dates, and coconut oil.
Beyond that you can pick and choose almost any additional ingredients or add-ins you like. My recipe has flax meal, which is full of healthy fatty acids, fiber and compounds that may fight cancer, and chia seeds, which contain healthy fatty acids, fiber and protein – and add a bit of crunch.
And dark chocolate because – well, it's dark chocolate.
If you're looking for a real food snack, give these healthy and delicious homemade energy bars a try.
Delicious Homemade Energy Bars

Print recipe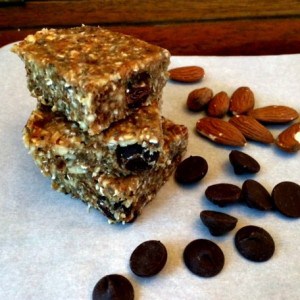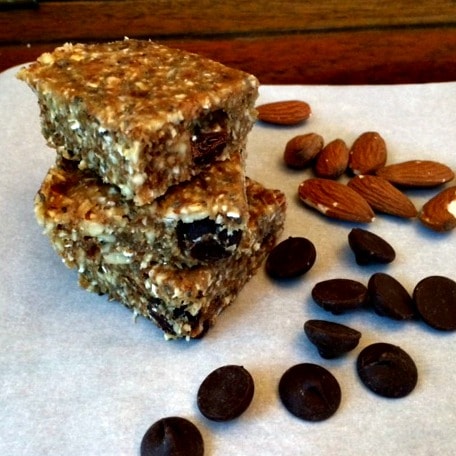 Ingredients
1 cup raw almonds
1 cup rolled oats
12 medjool dates (pitted)
1/4 cup coconut oil
1/2 cup shredded coconut (unsweetened)
2 tablespoons flax meal
2 tablespoons chia seeds
1/4 cup dark chocolate chips
1/2 teaspoon vanilla extract
1/2 teaspoon sea salt
water
Directions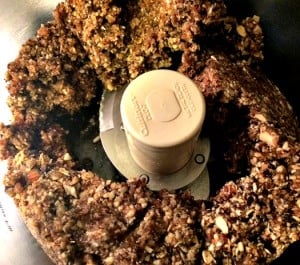 Line an 8x8 pan with foil or parchment and set aside. Combine almonds, oats, dates (pitted), and coconut oil in a food processor and pulse 6-8 times. Add coconut, flax meal, chia seeds, vanilla extract, and sea salt. Mix until all of the ingredients are finely chopped and they begin to come together in a sticky mass. Add chocolate chips. (You can add them earlier or later in the process, depending on whether you want them chopped or nearly whole in your bars.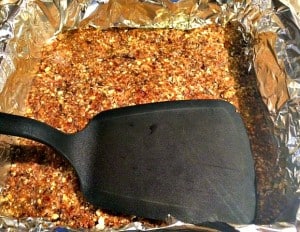 Test the mixture with your fingers to make sure it holds together easily. If it doesn't, add a tablespoon of water at a time, mixing well after each addition, until it does. (Err on the side of less water if you're unsure about the consistency.) Transfer the mixture to the lined pan and spread it evenly. Then press it down firmly with your fingers. To make the top smoother and flatter, finish pressing it with the back of a spatula.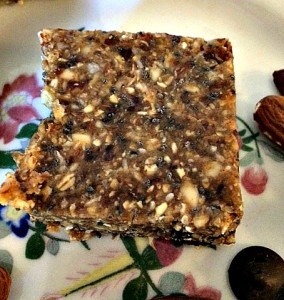 Refrigerate the pan of energy bars for about an hour. When chilled, take them out of the refrigerator and remove the foil or parchment from the pan. Cut into squares or bars using a pizza cutter or large knife. Store in the refrigerator in an airtight container (or freeze for later use).
Notes
The beauty of these homemade energy bars is that you can create your own version, adapting them to suit almost any taste.  The key ingredients are the almonds, oats, dates and coconut oil. Once you add those, you can play with the other ingredients, deleting ones you don't like or have on hand and adding others you do.
You may also like my ebook, Quick. Healthy. Delicious. Simple Meal Solutions for Busy Moms and Hungry Families and 10 Ways to Prep Food on Sunday to Eat Healthy All Week.