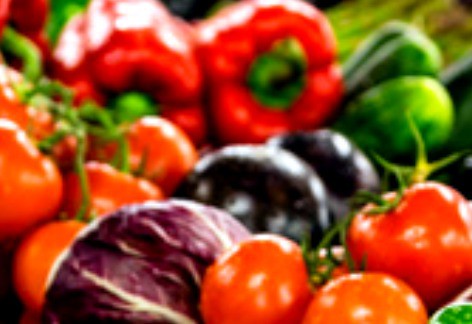 If you've set a goal to eat healthier this year, you know how frustrating it can be. You look at your calendar and wonder where to fit in shopping for groceries, prepping fresh food, and cooking healthy meals.
Sunday at midnight? Tuesday at 4 AM? Believe me, I know the feeling. I've been trying to eat healthier for a number of years, and it's always a work in progress. (Includes affiliate links)
In fact, it sometimes it seems overwhelming. When that happens, I just want to ditch the grilled chicken breasts and fresh vegetables and run to the nearest drive-thru window!
But that's not really what I want to do. And I don't think that's what you want either. What we both need are some practical ways to eat healthier – healthy eating tips and hacks for saving time and energy on prepping and cooking healthy meals and snacks.
Whether you've been working toward a healthier diet  for a while or are just getting started, these healthy eating tips will give you a big return on your investment. These are things you can do on a weekend afternoon or evening, usually in about an hour, that will give you the boost you need to eat healthier the following week.
They'll help you make a plan, get organized, and save time. If you're looking for ways to maximize your time and energy (while avoiding processed and fast food!), give these tips  a try this week: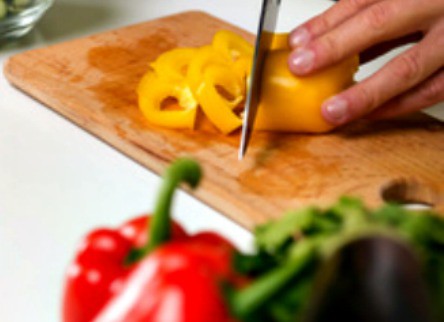 (For more quick and healthy food ideas, download our free ebook, 20 Quick and Healthy Family Meals, below. And be sure to download the printable Healthy Eating Hacks Checklist below and post it on where you can refer to it easily when you're making a menu plan or grocery list for the week.)
10 Healthy Eating Tips for Busy Women
• Make a menu that fits your family's schedule for the coming week.  This task is the key to everything else – in fact, I'd go so far as to say that the other healthy eating tips simply won't work if you don't have a menu and a plan. Your menu can literally "make or break" your diet for the week, so be sure to create one that actually works for you.
Take into account work schedules, after-school activities and evening meetings. For example, plan to make a Crock Pot meal, not try a new recipe, on a day when your husband will be working late and the kids have three after-school activities! And save a new recipe for a day when you'll have a little more time in the late afternoon or early evening.
• Clean out and organize your refrigerator, freezer and pantry/cupboards.  You need to know what you have on hand and be able to find it easily. It's much easier for me to cook healthy food if I can see what's in my refrigerator and pantry. When I can't, it's harder and more stressful to get a healthy meal on the table, or a healthy lunch packed, in a hurry.
So I try to do this about once every two weeks (for the refrigerator) or month (for the pantry). Give it a try – when you do it regularly, it only takes about 10 minutes each time.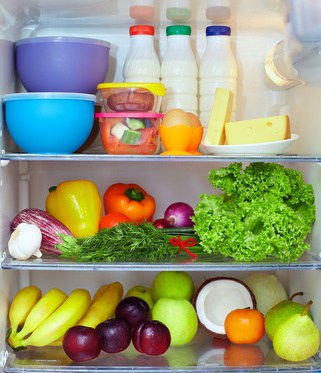 • Make a master meal list. This idea comes from my friend Christina, author of Juggling Real Food and Real Life, and it's a great one. Make a list of all of your "tried and true" recipes and refer to it when making your weekly menu, or when your meal plan falls apart and you have to come up with a new plan quickly.
I haven't done this yet – it maybe it will be one of my projects for this weekend! Check out Christina's article on meal planning and the master meal list.
• Make a list of healthy food items you want to have on hand and start stocking up. A pantry and refrigerator stocked with healthy, easy-to-cook staples can keep you out of the drive-thru line! Eggs, boneless chicken breasts, baby carrots, oranges, and other healthy staples provide lots of options for quick lunches and dinners when your day doesn't go as planned. So make a master list and  purchase a few items on the list each time you go to grocery shopping.
• Cook London broil in the Crock Pot to make shredded beef.  I like to use top round London broil, but you can use any roast that cooks well on long, low heat and shreds easily. Cook enough to serve your family at least two meals (and ideally more for lunches). Add a little water or beef broth and cook on low all day in your Crockpot. (This is the programmable Crock-Pot that I love and use at least once a week.)
Shred the beef and use it for tacos, sandwiches or shredded beef with rice. Freeze any extra for another meal. Also, consider getting an Instant Pot. I've been late to jump on the Instant Pot bandwagon, but I got one recently and it's going to be a big time saver.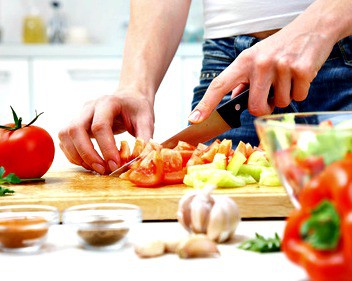 • Wash, peel, and cut fruits and vegetables for the week.  Doing this task on the weekend saves a tremendous amount of time on busy weeknights. You might skip making a salad at 7:00 pm on a Tuesday night if you have to wash and cut up vegetables, but if everything is cut and ready to go, it takes less than a minute to make a salad.
The same is true with fruits that can be popped into lunchboxes on a busy morning or served as snacks on the way to soccer practice. And you don't have to spend hours doing it – 30 minutes twice a week will save you time and stress on busy weekdays.
• Boil some eggs.  Serve them as part of a quick breakfast, add them to salads, or use them to make egg salad. The Egg Safety Center (eggsafety.org) says that hard cooked eggs spoil faster than raw eggs, so keep them refrigerated and use them within a few days.
• Roast one or more whole chickens or a number of chicken breasts.  Or cook them in your CrockPot. Shred or chop the meat for tacos, chicken salad, Chef's salad or Greek salad with chicken. It can also be used in a quick chicken and vegetable stir fry. Freeze extra meat for a super-busy day.
• Make a batch or double batch of granola. Granola makes a wonderful real food breakfast or snack. Store-bought granola can be high in fat and sugar, but when you make it yourself you control the ingredients. I usually make a double batch of my As-You-Like-It Granola because it requires almost no additional work. And my family eats it so quickly that a single batch is gone in a flash!
• Package snacks for the week so they're ready to "grab and go." Fill sandwich bags or small containers with popcorn, whole grain crackers, cheese, grapes, granola, healthy muffins and other items so that family members can grab them easily for lunches or quick snacks. Make up small containers of real yogurt and fruit (fresh or frozen), rather than relying on packaged fruit yogurt that contains a lot of sugar.
Be sure to download our printable Healthy Eating Tips Checklist and post it on your refrigerator or pantry door. And for more quick and healthy food tips and tricks, download our free ebook, 20 Quick and Healthy Family Meals. And check out our weekly food prep tips that help you prep food on the weekend to eat healthy all week.
\