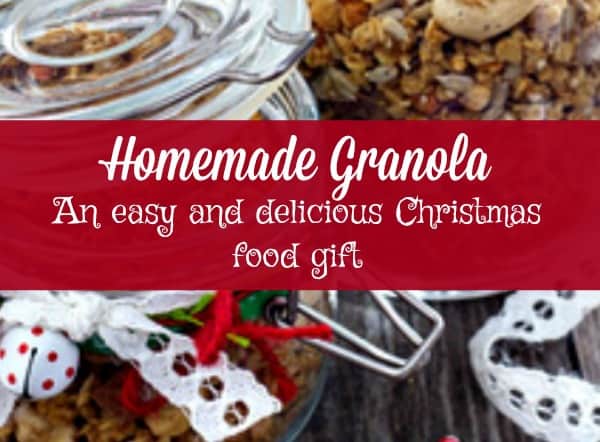 Are you stressed out about the Christmas food gifts you need to make for family, friends, teachers, co-workers or neighborhoods? In the past I always stressed about them; for some reason, making food gifts was one of my biggest stresses of the Christmas season.
Most years, I started thinking, worrying and strategizing about them early in November, and didn't stop until the last one was delivered. But not anymore. Because a few years ago I came up with a Christmas food gift (which is also a healthy food gift!) that has ratcheted my stress level way down – homemade granola. (This post includes Amazon affiliate links.)
Your Christmas food gift problem – solved!
Yes, granola.  It's easy to make, and people love it. I mean, they really love it – probably because it's delicious AND it's often the only healthy food gift they recieve – a welcome respite from cookies and candy. Once you start making it, they will look forward to it every year!
It's also easy to package. You can use standard canning jars (of different sizes, depending on the size gift you want to give) or slightly fancier jars. You can also use cute brown craft paper bags like these (or these) or Christmas cellophane bags. Check out the options on Amazon or in Target, Walmart or Michael's.
I'm not crafty or artistic in the least, but even I can make a cute little granola package.  Last year I used tall Mason jars for some of my granola, and I liked them so much that I'm planning to use them again this year. And if I don't have enough jars I'll just use simple cellophane bags with ribbon.
This Christmas food gift saves time and reduces stress!
But even though I love all of those things about granola, there's one thing I love even more – you can make it way ahead of time and freeze it. So you can start making food gifts right now that you won't need until right before Christmas. Just make the granola, cool it, and freeze it in freezer bags or containers. When you need it, pull it out, open the container so it can breathe, let it come to room temperature, and package it. It is  a life saver.
So, if you're worried about running out of time, money and energy, and you still need to make some gifts, use my As-You-Like-It Granola recipe to make some Cherry Pecan or Cranberry Almond Granola – or any other combination you like. Your friends and your stress level will thank you.
(Want more ideas for reducing stress and enjoying the season? Be sure to download my free ebook, 75 Healthy Ideas for Your Life and Marriage this Christmas.)
Easy and Delicious Homemade Granola

Print recipe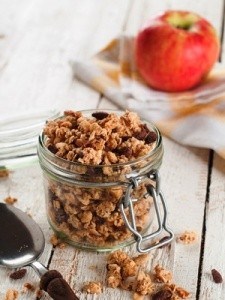 Ingredients
4 cups rolled oats
1 cup nuts (pecans, almonds, walnuts, etc.) (chopped)
1 cup dried fruit (raisins, cranberries, cherries, etc.)
1/3 cup light brown sugar
1/4 teaspoon salt
1/4 teaspoon ground cinnamon
1/3 cup vegetable oil (e.g., light olive oil, fractionated coconut oil))
1/4 cup honey
1 tablespoon vanilla extract
Directions
This recipe doubles easily, and I recommend doubling it whenever possible. You get twice as much delicious granola for very little extra work! If you have two large baking sheets you can bake both batches at once - just switch them to the opposite rack halfway through. A double batch may take a few extra minutes to bake.

Preheat oven to 300°. Lightly oil a large baking sheet or spray it with cooking spray. (I like to line it with foil, then oil or spray it, for easier clean-up.) Mix the first 6 ingredients (through cinnamon) in a large bowl. Combine oil and honey in a small saucepan; heat to simmer. Remove from heat and stir in vanilla. (Sometimes it foams up when you add the vanilla.) Pour over oat mixture and mix well, using a large spoon. Spread evenly on the baking sheet. Bake for 30 minutes, stirring once or twice. (For softer dried fruit, wait and add it the first time you stir the granola, after about 15 minutes of baking.) The baking time may go a few minutes beyond 30; you want it to be dry and crunchy, but not too crisp. Watch it carefully the last few minutes, as it can go from "just right" to "too brown" fairly quickly! Cool completely and store in an airtight container.
Notes
This recipe requires a large rimmed baking sheet (I think it's the quarter-sheet size).  If your baking sheets are smaller, use two; you want the granola to be spread out in a thin layer while it bakes.
You also can add other ingredients you like in granola, such as coconut or seeds, both of which may need to be added halfway through the baking time to avoid over-baking.
This granola makes a wonderful food gift for Christmas or an occasion.
Making a double batch gives you double the granola for only a tiny bit of extra effort!