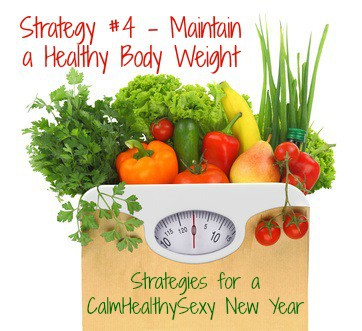 Let's talk about Strategy #4 of the 12 Strategies to a CalmHealthySexy New Year. Are you frequently frustrated by your weight? I am! How many times have I looked at the scale and thought, "That just isn't possible!" Can you relate? If so, consider working this year to achieve and maintain a healthy body weight.
(Check out all 12 strategies for living calmer, healthier and sexier this year.)
You already know that maintaining a weight that's ideal for your height and build is great for your health – it helps to prevent high blood pressure, diabetes, heart disease, some forms of cancer, and many other health problems. But, it may actually be the non-health benefits of weight loss that motivate us. Losing weight, even a modest amount, can increase self-confidence, improve body image, create a feeling of accomplishment, and increase sexual confidence, all of which can lead to feeling calmer, healthier, and sexier! Simply losing 10 or 20 pounds can make you or me feel like a new woman!
So the question is, how?  To lose weight, you need to burn more calories than you consume. And all calories probably aren't alike when it comes to weight loss. For example, a 1500-calorie diet that consists primarily of simple carbohydrates and processed foods probably won't promote weight loss in the same way as a 1500-calorie diet that's full of fruits, vegetables, complex carbohydrates, protein and dairy. Here are some steps you can take to get started:
Determine how many calories you need each day to maintain your current body weight. Calculators like this one and this one can give you a  reasonably good estimate, if you enter accurate information. These calculators said that I needed 2000 and 2200 calories per day, respectively, and a personal trainer calculated that I need about 2100. So the average of 2 or 3 calculators should give you a fairly accurate number.
Based on that number, determine how many calories you should eat in order to lose weight. Currently I'm eating 1500-1600 calories per day, which should let me lose about one pound per week. Don't go below 1200 calories per day; most people probably can't maintain less than 1300-1400 for very long – it's just too restrictive.
Eat a healthy diet that includes lots of whole foods and no or few processed foods. When you're eating fewer calories, you want them to provide as much nutrition and satisfaction as possible, and whole foods are more likely to provide both. (OK, a candy bar may provide a lot of temporary satisfaction, but it won't help you achieve your weight loss goal!)
Calculate and track your calories. Research shows that almost everyone underestimates how much they eat. Even dietitians underestimate their caloric intake by up to 10%, and the rest of us by as much as 25%. Let's think about that for a minute – eating 25% more than we think we're eating could mean 400 extra calories per day on a 1600 calorie diet! Those extra calories would sabotage all of our weight loss efforts! So track your calories and your exercise. I use MyFitnessPal on my phone, and you can also use it on a tablet or computer. Livestrong has an online calculator, plus lots of other weight loss tools, and you can search "weight loss and calorie apps" to find dozens more.
Do some physical activity or exercise every day.  Yes, move your body every day! The more you move, the more calories you burn. Add strength training several days a week to strengthen and build muscle, which burns more calories than fat. Strength training is my weakest exercise area, and the one I plan to focus on this year.
Research, read and learn. Keep an eye out for information on nutrition, weight loss and exercise, and read it with a critical eye to see if it seems valid and makes sense for you. I often learn something new from articles like Simple 100-Calorie Food Swaps and 4 Ways to Outsmart Your Food Cravings.
Be kind to yourself and be patient.  Losing weight in a way that allows you to keep it off takes time. The best approach to weight loss is the slow and steady approach – the tortoise, not the hare. Reward yourself for small successes, and set interim goals and celebrate when you reach them. If you need to lose 50 pounds, losing 20 pounds is a significant achievement, one you should celebrate. You may even want to maintain that weight for a while, before attempting to lose more.
Is weight loss one of your goals for this year? What's your plan for losing weight? What strategies have worked for you in the past? I would love to hear from you. Gaye
Sharing with Empty Your Archive.