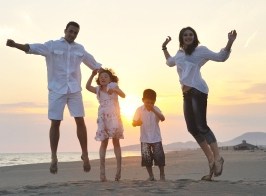 A SmallStep is one simple thing you can do to live calmer, healthier or sexier. This week, consider taking the small step of moving your body every day.

Exercise, physical activity, working out – whatever you want to call it, it's one of the best things you can do for your body, mind and spirit.  When I talk about moving your body every day, I'm talking about something almost everyone can do – simply being active on purpose in a way that increases your heart rate and breathing just a bit.*
Moving your body includes brisk walking, dancing, hiking, biking, skating, exercising to a video or DVD, taking an exercise class, walking on a treadmill, riding a stationary bike, playing a sport or game outside with your kids – anything that gets you up and moving, using the large muscles in your body.
For this SmallStep, I want to encourage you to move your body for about 30 minutes on 5 or 6 days over the coming week.  You can break the 30 minutes into two 15-minute sessions. Then evaluate and see how you feel. If you feel pretty good (and I predict you will!), try it for another week. Then add one more. By making several brief commitments rather than one long-term commitment, you'll give your body, mind and schedule time to adapt to the small changes you'll be making.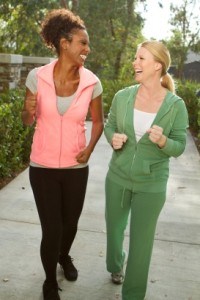 Here are some ideas for getting started, based on your current physical activity level. If your current activity level is:
No or very little regular exercise/physical activity – Consider beginning with walking, something almost everyone can do. Look at your schedule for the next week and find a 30-minute block (or 2 15-minute blocks) on 5 or 6 days – and schedule yourself for walking during those times.
You might decide to walk after dinner with your husband, at lunch with a co-worker, at soccer practice with other moms (thereby obeying one of my exercise "rules" – "Never sit on the bleachers during soccer practice – walk!"), or at the mall in the morning.
The best time to walk will vary from woman to woman, so find the time that works for you! Put it on your calendar and do it. At the end of the week, evaluate how it went, think about changes you may need to make, and consider trying it again for another week.
Some exercise 2 or 3 days a week – If you're moving your body 2 or 3 days a week, that's good. Now make it better. Find at least 2 additional 30-minute slots in your schedule. Maybe you'll walk during those times, but maybe you're a bit bored with walking.
If so, consider adding something new. Can you fit in a Zumba or dance class? What about working out with a video or DVD? How about kicking around a soccer ball or shooting hoops with the kids, or getting everyone out of the house on Saturday for a hike or bike ride?
Can't find any more time? Then consider the possibility that your schedule is too full. What can you do to change that?
Fairly consistent exercise 4 or 5 days a week – This is great – keep it going. But maybe you aren't meeting your goals for toning up or losing weight. If that's the case, consider increasing the intensity of your exercise. Are you walking at a moderate pace? If so, speed it up, alternate walking and slow jogging, or add some interval workouts.
Also, consider varying your activities. Your muscles adapt to movements repeated over time, so you need to mix things up to keep them guessing. Do you skip strength training. If so, add it 2 or 3 days a week.
Whatever your current activity level, check out these resources for great information on physical activity and becoming more active – Best Body Fitness, Prevention, Cooking Light and Physical Activity Guidelines for Americans.  (And check out all of our SmallSteps here.)
Do you move your body every (or almost every) day? If so, how do you make it work? If not, can you try it for a week and see how you feel? Please share your thoughts in the Comments – I would love to hear from you.
*The Physical Activity Guidelines for Americans recommend that adults participate in moderate physical activity for at least 150 minutes per week and note that activity above that level provides additional health benefits. *People with chronic health conditions, symptoms or health concerns should consult their healthcare provider about safe ways for them to be physically active.