When I read a recipe that begins with "Peel and cube a butternut squash," I try to picture the person who developed it. I usually imagine it's someone who works in a test kitchen, or has a sous chef hanging around. Because I'm pretty certain it's not a regular person – someone who wants to feed her family healthy food, but has very little time to do it! The regular person needs some healthy eating tips – not a recipe that requires lots of time and fancy knife skills!
Preparing real food takes time and effort, but it shouldn't take more than is absolutely necessary. Because if it does, many of us will have to resort to the processed meals we'd rather not feed our families. If you want to cook and serve as much real food as possible, in as little time as possible, here are 5 healthy eating tips that will help you do it more easily:
Healthy Eating Tips – and What to Avoid
(This post contains Amazon affiliate links.)
•Never make just one batch of anything that can be frozen. This is one of my favorite healthy eating tips because, let's be honest, real food often takes longer to prepare than processed food. Homemade spaghetti sauce takes more time and effort than opening a jar. Cooking brown rice takes more time than cooking instant white rice. And homemade casseroles take more effort than those made from jars of this and cans of that.
So on busy days, it's tempting to take the easier and more processed route. But don't. Instead, double or triple your efforts whenever possible. Make a big pot of spaghetti sauce and freeze it in meal-size containers. Cook a double or triple batch of brown rice and freeze the extra portions. Cook a large batch of shredded beef, pork or chicken in your slow cooker (I use this programmable Crockpot) Make two of any casserole or dish that freezes well. Making extra adds very little time and mess to your task, but saves you oodles of time down the road.
•Never wait until you need something to prep it. Prepping fruits, vegetables, lunches and snacks before you need them is one of the best strategies I know for making it easy to eat more real food. Taking time on the weekend to wash and cut up vegetables, grate cheese, bake chicken breasts, boil eggs and package snacks for several days saves valuable time and reduces stress during the week.
Check out this article on Sunday food prep for 10 ways to prep healthy meals and snacks quickly and easily. And consider investing in some g food prep storage containers or lunch prep containers to make things easier.
•Never peel and cube a butternut squash (or any winter squash). Unless you're a professional chef, you don't have the knife skills to do this safely. At least I don't. And unless you have that sous chef sitting around twiddling his thumbs, you don't have time. Instead, cut the squash in half, scrape out most of the seeds and fibers (but don't agonize over it, because you can finish it later), and place it cut side down on a lightly greased baking sheet.
Better yet, bake 2 or 3 at once, because you can freeze cooked squash easily to use later. Bake at 350 for about an hour, until it's soft all the way through. (The time may vary, depending on the size and number of squash and your oven.) Remove from the oven and cool. Gently scrape out any remaining seeds and fibers, then scrape out the yummy, golden cooked squash. Use it as a side dish, whipped or mashed with a bit of butter and whatever seasonings you like, in a savory custard or soup, or in a pie.
•Never transfer hot soup or sauce to a blender to puree it. Just like that whole "cut up a winter squash" thing, this can be dangerous. Transferring hot soup to a blender and giving it a whirl? Um, no. Too much mess and danger of hot soup flying around your kitchen! 
Instead, invest in an inexpensive immersion blender. You can get one for about $20 on Amazon or at WalMart, and it will save you lots of time and hassle. Use it to puree soups (like my Family-Friendly Butternut Squash Soup) or sauces right in the cooking pot. You still have to let things cool a bit and make sure they don't fly out of the pot, but the time and stress savings over transferring hot stuff to a blender and back are huge.
•Never make homemade dough by hand. Yes, I know that making dough and bread is therapeutic for some people, and if that's the case for you, knead away. But right now we're talking about speed and efficiency – getting real food on the table when you don't have much time to cook. And the only way to produce homemade bread or pizza crust quickly and easily is to use equipment, letting a stand mixer, bread machine or food processor do most of the work.
Any of those wonderful machines can quickly turn whole grain and/or unbleached flour, yeast, salt, olive oil and water into a delicious real-food dough that can rise while you do other things. And while you're at it, make and extra batch and freeze it after the first rise. Here's my simple recipe for dough you can use for pizza, flatbread, rolls and more.

(Need more healthy eating tips and ideas? Download our free ebook – 24 Quick and Healthy Family Meals. It includes 24 easy breakfasts, lunches and dinners and 22 tips for making real food cooking quicker and easier.)
Preparing real food takes time, but these 5 healthy eating tips can help you speed things up when your schedule is packed and time is tight. Do you have a tip for making real food prep quicker or easier? Please share it in the Comments – I would love to hear from you.
Looking for healthy food, at great prices, delivered to your door? Check out all of the organic food, real food, and products for a healthy life at Thrive Market. Click here for a special offer – an additional 20% off  Thrive's already-low prices on your first three orders+ free shipping on all orders over $49.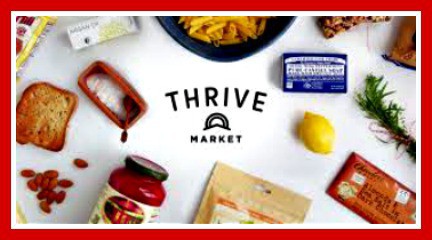 You May Also Like these Healthy Eating Tips